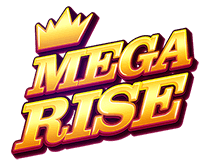 Mega Rise
It's the old school slot with a whole load of new school boosts and bonuses. Try Mega Rise today
Mega Rise
GAME INFORMATION
Video slot presentation with 3 reels, 3 rows and 5 pay-lines
Hit a win and the winning symbol is stored in the rising multiplier bar
3 symbols at any one time can be stored in the bar
The last symbol into the bar is also the first to be replaced by a new symbol
Every time you hit a win with a symbol on the bar it is increased by the multiplier
Hitting wins with symbols in the bar also will subsequently increase their multiplier
Land a mega rise chip to either boost a multiplier by 3x or lock a symbol in place
Land a golden mega rise chip to boost a multiplier by up to 7x
Golden mega rise chip can also double lock a symbol in place rather than boosting
Locked symbols stay locked until you hit a combination prize with the symbol
Maximum of 2 locked symbols in place on the multiplier bar
RTP and paytable information is stored within the game
HOW TO PLAY BONUSES
Want that traditional slot machine experience that's straight out of the Las Vegas school with a big difference? Climb the ladder of potential in the awesome Mega Rise. This game gives you 5 red hot pay-lines of action waiting for your wins, with an innovative multiplier feature that's simply dripping with potential. Boost your combination prizes by up to a maximum of 100x as you use the mega rise chips and golden mega rise chips to help you on your winning way. Read on to find out more…
Rising Multiplier
Hit a win with any symbol and it will be added to the rising multiplier bar to the right of the grid with a win multiplier. Any future wins you hit with this symbol will be powered up by the multiplier and will in turn increase the multiplier for subsequent wins. With the ability to go up to 100x this crazy feature can really help max out your prizes. However there are only 3 slots available in the rising multiplier bracket, so the last winning symbol to enter the bracket will always be replaced by the latest.
Mega Rise Chip
Land the mega rise chip on any spin and it will either boost one of the symbols in the rising bar by up to 3x or lock it in place until it forms a win line. As you would expect only 2 symbols can be locked at any time to allow the third to be replaced by the next winning symbol.
Golden Mega Rise Chip
If you can hit the golden mega rise chip on any spin then this has the effect of boosting one of the symbols in the rising bar up to a whopping 7x or can lock a symbol in place with up to 2 locks. The max locks any symbol can have is 3 locks in place and as with the normal chip only 2 symbols can have locks at any given time. This awesome feature has the power to suddenly turn a normal looking game into one that looks incredibly promising.
JACKPOT OVERDRIVE
The Jackpot Overdrive is a group of progressive jackpots that increase incrementally each time one of the Jackpot Overdrive slots is played. When one of the progressive jackpots is won, the main prize is reset again to a predetermined value, and resumes increasing as players play one of the Jackpot Overdrive slots.
There are 3 progressive jackpots within the Jackpot Overdrive:
Rapid Jackpot– hits hard and fast
Daily Jackpot– guaranteed to hit before the timer reaches zero
Jumbo Jackpot– for an enormous win!