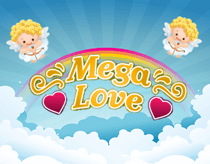 Mega Love
This valentine, love inspired game boasts 11 winning symbols including chocolates, flowers, strawberries and jewelry. Let Cupid shoot an arrow straight to your heart as you play.
Mega Love
Mega Love, mega prizes! Play for love, play to win!
How to play
Set the amount you wish to wager per round (ticket) using the "+" and "–" buttons located within the "BET" box.
Once you have set your bet amount, hit the "BUY TICKET" button.
Now click/tap on each hidden area to reveal the hidden symbols or click "REVEAL ALL" and automatically all the hidden symbols will be shown.
If there are 3 matching symbols, then the amount won will flash in the center of the screen. The total win for a round will also be shown in the "WIN" box located next to the "BUY TICKET" button.
Use the autobet feature to put your game play on auto-pilot. Simply click on the autobet icon located next to the 'BUY TICKET' button. You have the choice of selecting from 5 up to 50 autobet rounds that can be paused or cancelled when you choose.
For the full payout table, simply click on the "?" button on the bottom left.