Lotto Knowledge 19 December 2014
Christmas tradition across Spain
Celebrate El Gordo like a Spaniard!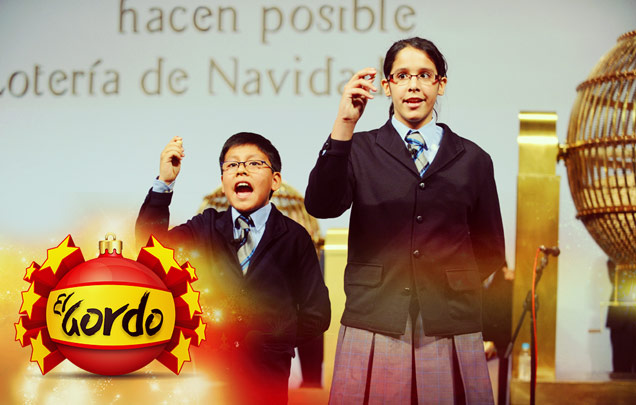 While the first Spanish lottery took place in Cadiz, for over a century it has taken place in the capital of Madrid since. The date of the draw has changed from time to time because of war or other internal strife, but the vast majority of the time it happens on 22 December.
The Spanish lottery is a unique celebration rather than a simple lottery and watching the draw has been a Christmas tradition across Spain since televisions became widespread.
The lottery has a close association with children. Traditionally much of the generated revenue has traditionally been used to fund a former orphanage and the current Colegio San Ildefonso school.
In times past two orphans would make the El Gordo draw however today 36 students work in shifts as the lottery has grown to encompass all of Spain. Students are selected for their singing voices and being chosen carries much esteem since almost all of Spain will watch and hear them on live TV.
Of course all students are hoping that they will get to sing the El Gordo number as this carries the most prestige. It is traditional for El Gordo winners to donate a small amount of their winnings to the school and many choose to donate upwards of 10%.
The total draw can take up to 3.5 hours from beginning to end. This is because there are literally thousands of prizes to give away and the El Gordo prize can be drawn at any time in the proceedings. La Pedrea, literally the "avalanche of balls" consists of the 1,794 smaller prizes worth €1000. There are almost 10,000 other prizes determined by the number of players and the total cash raised.
Very few people actually buy full tickets. Instead rather most Spanish people will buy 1/10th shares called decimos with different social groups. Tickets are printed in 195 series and the El Gordo jackpot is €4 million.
The draw has been broadcast live on TV since 1967 with almost the whole country tuning in to see the results and check their numbers. Numbers are drawn from two golden drums, one with all the possible total numbers from 0,0,0,0,0 to 9,9,9,9,9 and the other with the prize amounts. Each prize amount is matched to a number until there are no prizes left. This means that most viewers will watch all the way until the end, as any ball may be a prize, possibly a small one, or possible El Gordo.
This year why not take part in in El Gordo with Lottoland, it's the same numbers, for the same prizes but you have the option of also playing a 1/50th ticket if you don't want to spend as much. Of course you also won't have to wait in line and can choose your own lucky numbers. But hurry - the draw is this Sunday, so don't miss out on your chance to win El Gordo.
---