Lotto News 17 November 2016
And The Winner Of The Sappiest Christmas Ad Is…
Have Your Tissues Ready – It's El Gordo Season!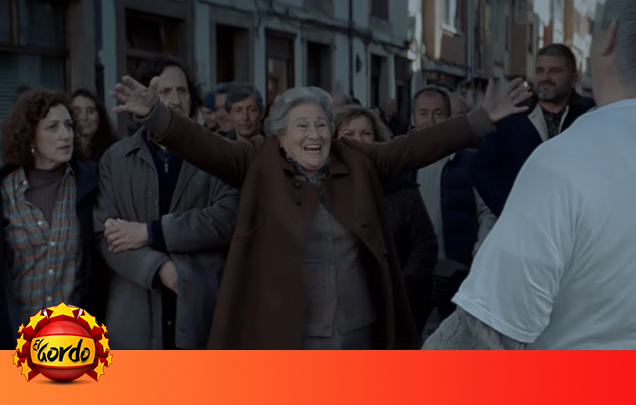 Christmas and sappy TV adverts go together like pudding and brandy butter, mulled wine and hangovers, Chef sauce and leftover ham…
Ok, ok, you get the idea.
There's plenty of examples of it on Irish telly though to be fair it's nothing compared to the sentimental arms race of UK advertisers.
John Lewis' annual Christmas ads are perhaps the most famous examples – and this year's ad, featuring Buster the Boxer, is no exception.
But even a bouncing Boxer on a trampoline (cool though that is, let's face it) is no match for those maestros of mawkishness, the Spanish Christmas lottery.
This years "El Gordo" ad has only just come out and already it's gone viral on social media and making headlines across the world, with The Irish Times warning people this morning to "prepare for tears."
Last year's animated spectacle (see below) was a hard one to top but this year they really have gone all out. In fact, this isn't so much an ad as a short film that just also happens to sell a product.
And that product is the world's biggest lottery – in terms of player numbers and total prize pool no other lottery, even America's mighty PowerBall, comes close.
Running since 1812, it's the second oldest lottery in the world and, with partipation rates averaging around 90%, an integral part of a traditional Spanish Christmas.
The televised draw is one of the most viewed programs of the year – sort of like the Late Late Toy Show is here, except instead of "one for everybody in the audience" there's a prize pool of over €2.3 billion!
The thing that makes El Gordo so special, and something that's captured beautifully in this ad, isn't the money aspect, but rather its sense of community spirit.
If you want to win hundreds of millions, then barricade yourself away in a big mansion with huge gates counting your money like Ebenezer Scrooge this ain't the lottery for you.
If, on the other hand, you're instilled with the Christmas spirit of giving and sharing and would love nothing more than to be able to create a secure and prosperous future for you and your loved ones then you'll understand exactly what this ad is all about – in fact you probably won't even need the subtitles!
Previous Christmas Lottery Ads
A notable break from previous ads, the 2015 ad was a Pixar-style animated short featuring Justino, a lonely night watchman at a mannequin factory. Again this proved to be a firm favourite on social media – bittersweet, but also very humorous.
2014's ad, meanwhile, once again sums up the spirit of El Gordo in a very touching, but genuine, way. It's quintessentially Spanish, with a local community playing the lottery together in the corner tapas bar.
In Spain players pool together to play – buying ticket shares in essence – then famously celebrate together after winning. In fact, it's not uncommon to hear of entire towns and villages winning the lottery at the same time.
In this ad everyone buys their ticket shares as usual, except for one poor soul who can't afford to. Roll on the December 22nd (the date of the draw) all the bar's patrons have become millionaires while he can barely afford a coffee.
This ad, in particular, clearly resonated with people, coming at a time when many Spaniards were feeling the pain of austerity and unemployment was more than 25%.
Of course, Christmas is a time of giving and consideration for others, which is why Antonio, the local barman, put aside a ticket so his friend could join the fiesta too, instead of being left out in the cold.
Once again have your tissues ready – this one's bound to thaw even the frostiest heart!
Feliz Navidad
Of course all the other ads on telly these days are only nagging at you to start your Christmas shopping - and for most of us the effect is like a particularly shrill alarm clock with a broken snooze button.
But maybe, instead of getting worked up over it, you can take a more laid back cue from the Spanish this year. El Gordo ticket shares are common gifts in Spain and make great stocking fillers for you and your loved ones.
Starting at just €4.99, with prizes of up to €4 million, not to mention some of the best lottery odds on the planet, they're a great way to spread some Christmas cheer.
Plus, the purchase should only take a couple of minutes tops – meaning you could get a huge chunk of your Christmas shopping sorted in the time it takes to make a cup of tea!
So, forget the stress this year and enjoy having more time to spend with the ones you love. We might not have the sunshine here in Ireland, but for sure we have the warmth! So there's no reason why you can't also share in the excitement, and the potential rewards, of a traditional Spanish Christmas by playing Spain's world-famous El Gordo Christmas Lottery.
---