Lotto Knowledge 17 October 2016
Is EuroMillions Falling Out Of Favour?
Here's Why Smart Players Are Switching To EuroJackpot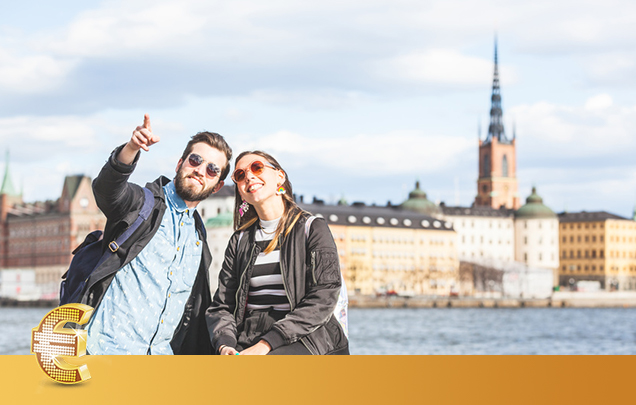 Although EuroMillions remains Ireland's most popular game (followed shortly by the Lotto) here at Lottoland Ireland we've noticed something – a subtle migration.
It's a similar trend across all our other EuroMillions markets, people are switching to EuroJackpot and, in a significant number of cases, aren't switching back!
Now we've been champions of EuroJackpot for years, so we're happy to see that people are beginning to take notice.
At last consumers have a choice – because what's better than having one huge multi-national European lottery jackpot? Having two, of course!
What Is EuroJackpot Exactly?
In a nutshell, it's pretty much the same as EuroMillions – a giant, multi-national European lottery with huge jackpots. Generally speaking it's available in countries where EuroMillions is not (except for Spain, where you can play both). The lottery is also available throughout Scandanavia and Eastern Europe along with several central European countries such as Germany.
The basic rules are very similar; pick five regular numbers and two special numbers called Euro Numbers.
Although the basic format is identical, EuroJackpot has only ten Euro Numbers, compared with EuroMillions' 12 Lucky Star numbers. This means the jackpot is much easier to win. There are also differences in the prize tiers, most notably that EuroMillions has 13 prize tiers while EuroJackpot has 12.
EuroMillions Vs. EuroJackpot: Price
The biggest sticking point with EuroMillions of late has been the increase in prices. When the Irish Lotto price was put up last year there was uproar. It was a similar case when the UK Lotto doubled its price in 2013.
So it should come as no surprise to learn that the recent EuroMillions price increase drew similar ire when it was announced earlier this year. The British tabloids being particularly savage, the online comments even more so, though that's not to say that Irish people weren't up in arms also.
As of September 30th the cost to play was increased by 50c, taking the cost for a single-pick ticket up to €2.50. A slight sting in the pocket you might think, were it not for the fact that the odds of winning were also increased dramatically.
The overall sense was that the price hike was just one more thing whereby the public have to pay more to receive less – something had to be done.
Our response was to implement a price freeze, to ensure EuroMillions is 20% cheaper than everywhere else. Since you bet on the results with us and we pay out directly anyway, it made sense.
The trade-off, however, is that you won't also be entered into the new millionaire raffle like you would with an official EuroMillions ticket bought in your local newsagents.
Of course now's there's a second alternative, and people are quickly learning about it.
A EuroJackpot ticket also costs just €2.50, but the odds of winning are much better…
EuroMillions Vs. EuroJackpot: Odds
EuroJackpot was already the clear winner in this match, even before the EuroMillions rule change.
But, by adding an extra Lucky Star number at the end of September, the odds of winning EuroMillions increased from already high 116,531,800 : 1, to a significantly higher 139,838,160 : 1.
This is in stark contrast to EuroJackpot's 95,344,200 : 1.
Still a tough nut to crack, admittedly, but that's also 44,493,960 worth of a difference between the two, or to put it another way, EuroJackpot's 44 million times easier to win!
EuroMillions Vs. EuroJackpot: Jackpots
In many respects EuroJackpot is a far superior lottery; it costs less to play than EuroMillion (unless you play at Lottoland!) and it's easier to win too.
The only difference being it's only drawn once a week, on Fridays, roughly the same time as EuroMillions, but, of course, EuroMillions is also drawn on Tuesdays.
Rumours persist, however, that sooner, rather than later, that's all going to change and a second EuroJackpot draw will be added.
Not only would this make both lotteries virtually identical, double the draws means double the rollovers, making room for ever bigger jackpots.
Currently EuroJackpot's maximum jackpot is capped at €90 million, versus EuroMillions' €190 million. A second draw would allow twice the money to be collected into the pot and creating a higher jackpot would make perfect sense.
Plus, EuroJackpot's potential player pool is higher, which, when doubled up, could easily apply to its prize pool too.
So, although EuroMillions remains Europe's biggest lottery by jackpot size, EuroJackpot isn't far behind and there's always that chance it could overtake it in the not-too-distant future.

But The Real Reason Why You Should Play EuroJackpot…
…Is because it's responsible for the record Lottoland payout of €90 million! Christina had a pop at the EuroJackpot lottery and in only her second lottery bet with Lottoland she scooped the top prize!
EuroJackpot regularly exceeds EuroMillions top prize so it's always worth checking both of them to see which jackpot is higher on any given week.
I mean you'd be silly NOT to give it a go, right?
Plus, there's practically no difference when it comes to playing – pick five regular numbers and two special numbers and submit your ticket as before!
Limerick's own Dolores McNamara was famously the first ever high-profile EuroMillions winner.
Maybe this Friday you could well end up as Ireland's first big EuroJackpot winner!
---