Lotto News 14 September 2017
Expert tips for your Offline and Online Presentation
How to Make a Good First Impression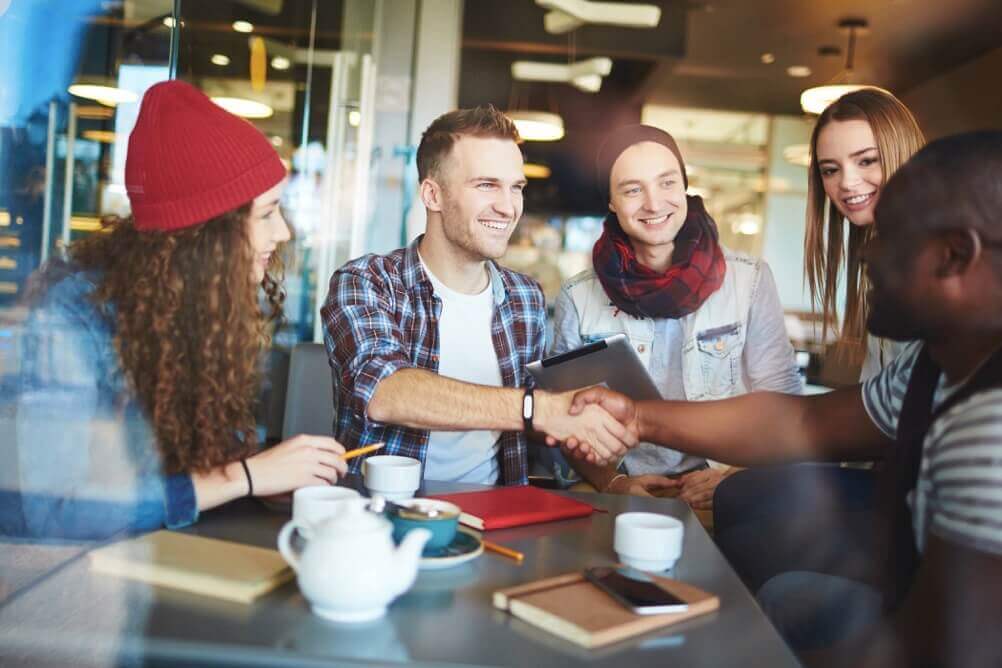 Find out more about why a good first impression is just so important: both online and offline!

Expert tips to help you make a good first impression
Wear appropriate clothing
Studies have shown that visual stimuli determine the first impression to over 50% of people. However, this does not only refer to the clothes you wear (although that does count for the majority), but also, the way we move, enter a room or shake someone's hand.
Since we generally find people more sympathetic when they appear to be similar to us, it is of particular importance that you dress appropriately for the occasion. If there is a dress code, it is advisable to follow it, if you do not want to get strange glances from the beginning. Of course, this does not mean that you should be completely disguised and suppress your personality, but be sure that your outfit is appropriate to the environment.
Demonstrate self-confidence through your body language
The first thing we notice about other people is their physical appearance. The second is body language, according to research on the subject. How someone enters a room, whether they stand or sit down, whether he or she gesticulates with their hands while talking, all this has a great effect on what we think about that person.
One piece of advice from experts is to enter a room slowly and confidently. When you walk upright with your shoulders and your head raised, holding your arms loosely beside the body, it conveys a positive message to people. You make a much more self-assured impression than when you are scurrying into the room like a mouse with a bowed head.
Show interest
Imagine the following situation: Two people meet for the first time and one of the pair talks to the other one non-stop, without letting his companion get a word in edgeways. What impression would this scene make on you? Certainly not a particularly good one. The talkative person is clearly very taken by himself and uninterested in what the other has to say. On the contrary, we convey a different impression, for example, when we ask questions. This demonstrates that we are interested in what the other person has to say. Seems obvious, but you'd be surprised how few people follow this advice.
Listen carefully
A conversation should always be a dialogue in which two people exchange ideas. This includes allowing the other person to talk and listening carefully. If you are so enthusiastic about the sound of your own voice then perhaps you should devote yourself to the art of stand-up comedy. That's a situation where the audience pays to hear monologues!
If you do not belong to any comedy club, however, the experts agree that you should give your conversation partner your full and undivided attention. By the way, always looking at your smartphone, letting your gaze wander around the room and being distracted by other things is very rude.
Maintain eye contact
While you are listening and during a conversation, you should always look into the other person's eyes. Eye contact strengthens your self-assured appearance, shows personal interest and open-mindedness. Your conversation partner will automatically find you more sympathetic.
Note, however, that the length of the eye contact is important. You do not want to stare at your conversation partner to an unnerving degree! According to a study at University College London, the optimal duration of the eye contact is 3.3 seconds. After this, continued eye contact can start to become awkward and uncomfortable. Some people would even tend to classify the other person as threatening when eye contact continues for too long. So if you do not want to lose sympathy points, you should stick to the 3.3 second limit!
Talk to the other person by name
Once you know the name of the person you're speaking with, experts advise you to use it several times during the conversation. It seems simple, but think about it: If someone you have just met can remember your name correctly, he or she is certainly more attractive to you. We feel immediately more important when someone takes the trouble to remember our name. In addition, it gives the impression that we have known each other for a long time, which creates trust. Conversely, it makes a pretty bad impression to address our conversation partner by the wrong name.
Improve your communication skills
Improving your communication skills helps you select the right conversation topics. Small talk has to be learned! But not only what you say is important, but also how you say it. You should not speak too quickly and make sure to use the appropriate emphasis. When you put enthusiasm and conviction into your voice, it gives a much more positive impression to your counterpart. Also make sure to express yourself grammatically correctly. Of course it depends on who you are talking to, and you need to be able to adjust to use looser language if the occasion demands it.
Be Complimentary
The art of being complimentary without seeming sarcastic or overly fawning is sure to leave a good impression. Especially good as a way to break the ice, compliments can have miraculous powers as a way to lighten the atmosphere. Psychologists even claim that the ability to make honest compliments is the best way to become sympathetic in the eyes of others. But be careful: compliments must be honest, otherwise they can easily come across as fake or as though you are laughing at the other person.
Take the first step
Going up to speak to strangers is not so easy, but it shows self-confidence, which is a character that's especially appreciated in professional life.
So if you really want to make a good first impression, you need to be able to approach others confidently. Overcome your shyness and take the first step!

Expert tips on how to make a good first impression online
Nowadays, the Internet has a prominent place in our lives. We handle our affairs online with the bank or the authorities, communicate with friends and family through social networks, go shopping on the net and play games online as well. More and more, we are looking for a job or even a partner on the Internet. The possibilities offered by the Internet are almost unlimited. But especially when we are online, the first impression is crucial and can determine our later success. We have brought together the advice of various experts to make the best possible first impression online.
Use your real name
Mike Schnoor from the video portal sevenload.com declares that we should appear on the Internet with our real name, in order to look like we are serious. A nickname such as "Princess123" or "HappySpud" does not really look too great if we want to be viewed by a company's personnel department as a potential candidate for a post. We only become credible when we don't hide behind a pseudonym. Anyone who uses their own identity gains trust from the company they are applying to. Caution is still required: for your own security you should never give too much information about yourself online, especially not sensitive data like ID numbers or credit card details.
Pay attention to correct spelling and grammar
The importance of spelling and grammar cannot be stressed enough. You should double, and if necessary, even triple review what you write on the net. Remember that your Internet profile is your business card for the online world. Even a small mistake can cause you to be passed on by others. This is especially true for professional pages, but also in social media which you use privately, you should make an effort to write grammatically correctly.
Select colours carefully
If you run a personal blog, you should clearly structure the layout of the page. The navigation should be simple and differently coloured, and you should pay attention to making the site clear and easy to read. Communication designers advise the courage to use colours, we want the blog to make a strong visual impression. But be careful, because ultra-bright colours (e.g., neon yellow) are too extreme for business events. If you want to stay on the safe side, however, you should consider using dark blues and greens for your visual design. Subtle colours convey objectivity. Also note that you can optically create emphasis by using bold font, but again this should be done in moderation.
Be unique, and authentic
There are countless internet users out there, so you have to try to make an impression. However, with so much competition around it is not so easy to stand out from the crowd. One thing you should be aware of: do not exaggerate. Don't be tempted to play around with details about yourself and your life. And you should definitely not lie! Experts emphasize this again and again. When you write about yourself with honest passion and enthusiasm, it is much more attractive to other people!
Post a variety of pictures
The photos you put online often reveal more about yourself than what you write, so choose your pictures carefully. Communication researchers recommend having a variety of different images, in different life situations and poses. For group images you should be careful because at first sight it is hard to see who you are. For example, imagine that you post a picture with a friend on a dating page. Surely you do not want potential admirers confusing you with your buddy or your best friend, right? But you should not go the other way and sacrifice too much of your own privacy. It's always best to keep a few things secret!
Stay positive
From time to time we all have a bad day when everything goes wrong, and we just want to crawl into bed and stay there. Perhaps you have been particularly stressed at work or you have had a row with your partner. Even when this happens, media professionals warn you that you should beware of letting your anger spill into your social media profiles. Notorious complainers and constantly negative people are not particularly good at attracting others.
We don't want to say that you need to lie and pretend your life is perfect and a constant party. But you should pay attention to some essential things: it is never advisable to express annoyance with your boss online, for example, as you never know who is going to read your literary efforts. Also, you should not spread social problems in social networks. Some people have deeply regretted rash or awkward comments which can't be un-said. So try to remain positive and optimistic in your profile and messages.
Show yourself as being interested, not just interesting
Of course, it is important that others find your online presence interesting. That's important whether it's a professional site where you're looking for work, or dating portals to help you find love. If, at first glance, you are not attractive and interesting to others, it can happen very quickly that you are passed over. There is no compassion on the Internet, a second chance is rare. That's why you should try to stand out from the crowd. An appealing profile image, interesting texts with which you describe yourself, the experts agree that all this helps to draw positive attention to you.As we said at the beginning, we tend to judge a book by its cover and people according to their appearance. As soon as you attract some interest, you must be able to hold that attention. To be successful in the long term, one must not only be interesting, but also interested.
People who are so self-absorbed that they speak only of themselves are boring. Even if the Internet appears like a shop window to present yourself in the best light, we should not forget that it is ultimately about communication. The World Wide Web is supposed to connect people. This is why it is important to be interested in people at the other end of the spectrum (this also applies to interpersonal communication in the real world). To interact with others online, to ask them about their opinions and, above all, to listen when they tell us something is massively important.
Unfortunately, there is no secret recipe as to how to make a fantastic first impression. You will see, however, that if you follow our expert tips, it is much easier to leave a good first impression. Armed with our advice you should be ready for any situation! We keep our fingers crossed that your dreams will soon become reality!
Sources:
businessinsider.com
statista.com
en.wikipedia.org
wealthygorilla.com
---