Lotto News 13 October 2017
Win a Brand New Car
Introducing the WorldMillions Raffle!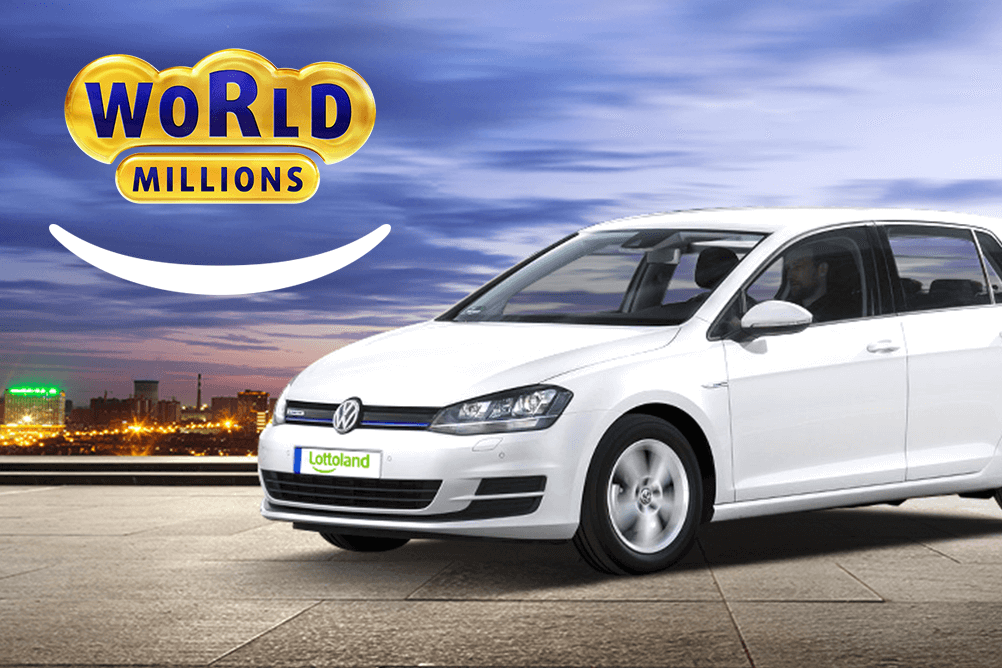 Lottoland is all about creating winners, and our new WorldMillions Raffle will see one lucky winner driving off into the sunset in a brand-new VW Golf Trendline. The competition couldn't be simpler. Every time you buy a 1/10 line for a WorldMillions draw during the promotional period, you will receive an entry, in the form of a lottery number, into the WorldMillions Raffle. The more lines that you buy, the more entries you get!
For example: if you buy a full line ticket for a Thursday draw and a 1/10 line ticket for a Sunday draw, you would automatically receive a total of 11 raffle numbers (entries) for the WorldMillions Raffle. The promotional period runs from October 15th up to November 30th. Everyone with a raffle number will be entered into the draw which takes place on November 30th for that fantastic prize of a VW Golf.
WorldMillions is drawn twice a week, and offers you the opportunity to play for a jackpot of up to €100 million! A full stake for the Thursday draw costs €5, and allows you to play for a top prize of €50 million. The Sunday draw has a jackpot of €100 million, with a full stake costing you €10. Remember that you only need to buy 1/10 of a stake in order to gain entry to the WorldMillions Raffle. So you can choose to play for the Thursday draw for just 50c (or €1 for the Sunday draw) to qualify for the raffle. The 1/10 stake allows you to play for 1/10 of the jackpot prize, but you can also choose to play for the full stake for either draw and earn 10 raffle entries.
If you want to check your raffle numbers, please go to your history (in the My Account section) and you will see them there. You can also see your raffle ticket in the emailed confirmation that you have purchased a line for WorldMillions.
This is a fantastic opportunity to win a beautiful new VW Golf Trendline, while you are entering the fantastic WorldMillions lottery. With a raffle ticket on offer for as little as 50 cents, this truly is an outstanding opportunity to upgrade your ride. Remember that the promotion finishes on November 15th, so don't delay and go over to the WorldMillions page on Lottoland today to purchase your lines.
For full details of this promotional offer, make sure to check out the Terms and Conditions.
---