Lotto News 09 December 2014
The El Gordo annual draw
Spain's pain lifted on 22 December!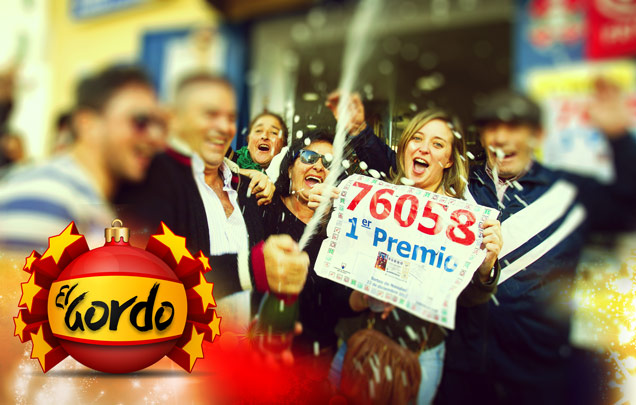 For some players the day ends with greater celebration than others, especially if they manage to win the big El Gordo prize with a full ticket to receive a massive €4 million pay-out.
The Christmas Miracle
With over a quarter of its population out of work, Spain is one of the worst hit countries by "la crisis". The rate has fallen this year, down from a peak of 27%, though such news comes as little consolation for the millions still out of work.
Much like in Ireland, Spain has been utterly crippled by austerity with local businesses closing on a daily basis and a mass exodus of young people forced to leave their families and friends behind and immigrate abroad.
It's no wonder, then, that so many Spanish families are praying for a Christmas miracle.
When the miracle occurs, as it did last year – and every year since 1812 – it doesn't just change the lives of individuals, it transforms entire communities.
In Mondragon, a town in the northern Basque region, over 2,000 people lost their jobs when the its main employer, an appliance manufacturer, went bust. This pain was eased significantly, however, when residents collectively won €180 million in last year's Christmas lottery.
Similar stories are to be heard throughout Spain, from a working class neighbourhood near the capital Madrid, which received €360 million, to the southern province of Andalucía, where Spanish unemployment is at its highest.
The El Gordo annual draw
In Spain it's not the jolly fat man in the red suit but rather the jolly fat jackpot that captures the public's imagination at Christmas time. As a deeply Catholic country the Spanish place considerable importance on family, community and charity – the true meaning of Christmas – and El Gordo reflects this. Likewise the draw also sees plenty of the passion and pageantry we associate with Spanish culture, not to mention plenty of singing, dancing and celebration.
Unlike the Irish and UK National Lotteries or Euro Millions, which are technically lottos, the Spanish Christmas Lottery is a true lottery. A true lottery is more like a raffle, as it will always produce a set number of winners. Lottos, on the other hand, don't always have winners and therefore the jackpots rollover to the next draw.
With El Gordo the same series of numbers is often sold in the same village(s) or town(s). For this reason, and because of a long-running tradition of people playing the lottery jointly, wins tend to shared more evenly throughout communities.
Each 5-digit set of numbers comes in a series (last year it was 160 but it can vary with demand) that can then be divided into ten "decimos". It's common for Spaniards to purchase these "decimos" for various family members and friends. Workplace syndicates are also hugely popular.
With Spain's poor economic situation many of this year's winners are likely to use their winnings to pay of their debts and mortgages, give their children a start in life and prepare themselves for an uncertain future.
In the meantime, the yearly draw gives Spaniards something to get collectively excited about and forget about their troubles for a while. And you too can share in the excitement – and the winnings – this Christmas by playing the Spanish Christmas lottery online at Lottoland, where you don't have to be Spanish to win El Gordo.
---