Lotto News 11 February 2015
If Money Was No Object
The Best Valentines Money Can Buy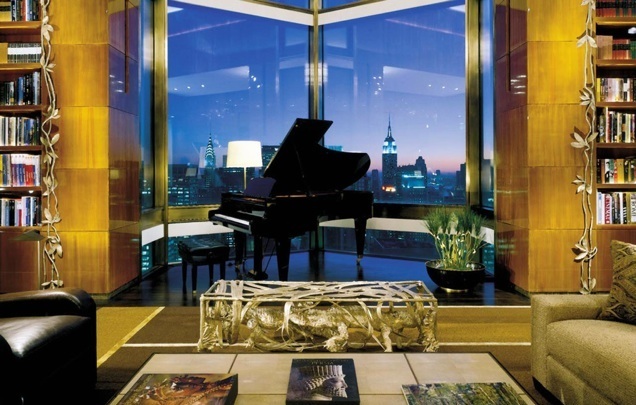 Sure, romance has nothing to do with money, but once in a lifetime it really would be great to be able to truly sweep one's lady off her feet, not in some sappy rom-com "grand gesture" kind of way, but rather in a grand-slam-down-a-fat-wad-of-cash and tell the snooty maître d "just make it happen" kind of way.
"Azz you wish - sir!"
Considering the size of the upcoming PowerBall jackpot this week your chance for the perfect whirlwind Valentines could be at hand. This week's record jackpot, at $485 million, is one of the biggest jackpots in all history. So, to commemorate both events, let's combine grand gestures with big bucks to create the ultimate romantic weekend.
Step One: The Limo
So you're picking your lady up, but how exactly? In your car? In a taxi? I don't think so! So, what then? A regular cheesy limo like you might rent for a hen party? Eggghh! Wrong answer, try again!
If you really want to treat your lady like a queen then you'll need some transportation fit for a queen. In the case of the Queen of England that's a Bentley. Bentleys are luxurious and sophisticated, but not in a stuffy way, they somehow manage to be both timeless and ultra-modern at the same time – perfect!
Step Two: The Private Jet
There's no point picking your lady up in a Bentley if you're not going to take her someplace proper. For extra brownie points take her someplace unexpected, maybe someplace she's always wanted to visit. Soon she'll realise that the limo's bound for the airport and is sure to ask. But don't tell her just yet.
Now I don't need to tell you this flight should be by private jet, not Easy Jet. Once aboard it's time for a glass of champagne then, as the plane lifts off the runway it's time to ask, "so, where's that one place you've always wanted to go?"
Step Three: Dinner
A romantic dinner for two is something of a Valentines standard. It's the one thing every man knows in theory but we often fail spectacularly in execution. Our idea of a romantic meal may differ from that of our special lady, as we tend to think too literally. We might also tend to take our queues from what TV and movies tells us is romantic, instead of listening to those subtle signals.
So, while dinner on top of the Eifel Tower might be the ideal romantic option for one lady, for another it might seem way to cheesy. I know my lady likes the quirky and exotic which is why I have a special restaurant in mind. Not only is it one of the priciest restaurants on the planet, more importantly, it's under the sea.
Nestled amidst coral reefs and teaming shoals of fish the Ithaa Undersea Restaurant in the Maldives lies at the bottom of the Indian Ocean. It also screams Bond villain kitsch. Prepare yourself, however, the bill's likely to come in at around a grand for the both of you and it's not easy to run out on a bill in a restaurant at the bottom of the sea.
Step Four: The Hotel
As a lottery multimillionaire there's no shortage of expensive hotels you can stay at. Since I'm such a smarmy, swaggering sort who wants to start spreading the news my choice is the penthouse at the Four Seasons in New York.
It's huge, it's got luxury oozing from every pore, it's got panoramic views of Manhattan and comes with it's own private butler - click! click! make with the Martinis Jeeves! - and a chauffeur-driven Rolls Royce that will take us anywhere we want to go. At $45,000 per night it's beyond extravagant, it's at a level of opulence that's borderline criminal – still though, ignore the gaudy interior and the cheesy piano and just look at that view!
Live The Bigshot Lifestyle
Tomorrow's US PowerBall jackpot is an incredible $485 million, just shy half a billion US dollars – that's €428 million! Don't miss out on your chance to become one of the super rich! Play PowerBall online now for just €2.50 per line!
---