Lotto News 15 January 2015
The Latest In A Growing Trend Of Lottery Ticket Theft In The US
The Curious Case Of The Cookie Monster Ticket Thief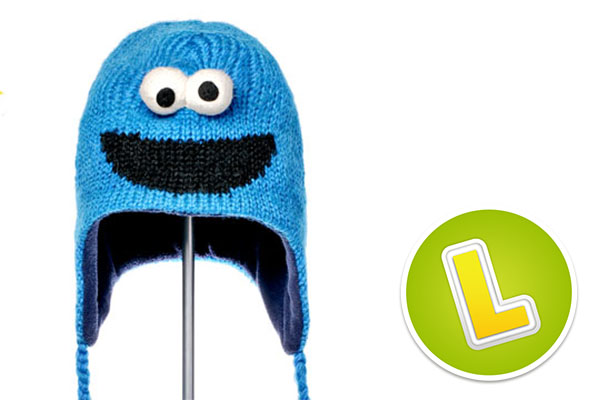 Police in Massachusetts and New Hampshire are looking for a lottery thief caught on CCTV wearing a wooly Cookie Monster hat. The man was filmed walking into a petrol station before making off with a full rack of lottery tickets. He was later traced to another store where he cashed them in. He hasn't been caught yet, but it's only a matter of time.
Lottery ticket theft seems to be a craze that's sweeping America from coast to coast. In the state of New York thieves are also targeting lottery tickets with one group making off with over 400 tickets in the space of two days.
It's the same story in Illinois where thieves drive up to retailers, brazenly smash through the glass and grab as many lottery tickets as they can before the police arrive. In one particular case $12,000 USD worth of lottery tickets were stolen. While in Pennsylvania a car thief cashed in a ticket from a car he broke allowing police to get a clear picture of his identity. The really silly part is that the winning ticket was only worth £100 USD - hardly worth risking jail time over. Now, just like Cookie Monster, the net is closing in fast.
While the value of the tickets to the thieves is minimal, the loss to the vendors is quite high – in some cases many thousands of dollars. To the thieves, however, only the winning tickets have value, so, from a strictly criminal standpoint, the strategy makes no sense whatsoever.
"I don't know what the trend is", one vendor told NBC Chicago, "because lottery tickets are no good once you report them."
In Freemont, California, meanwhile, even more ambitious thieves were caught on camera stealing an entire lottery ticket vending machine. The machine was quite large, and therefore heavy. Not the easiest thing to make a fast getaway with, and not easy to hide either.
This is a perfect example of a crime that doesn't pay. Scratch card tickets are traceable and, once reported stolen, it becomes extremely difficult for the thieves to cash their winnings – if any – without their identity being discovered.
In order to make their criminal ventures worthwhile thieves have to frantically scratch off hundreds of tickets to find winners, and then cash them in before they're reported stolen – no easy feat. Even if they manage to do so they're invariably caught on CCTV, revealing their identities. In other words we're not exactly talking about ingenious criminal masterminds here.
Finders Keepers? Not Quite
On this side of the Atlantic, meanwhile, there was a case recently of a "stolen" lottery ticket, though found would be a more appropriate term. The person who bought the ticket, Dorothy McDonagh, lost the ticket, worth £30,000, in a Co-op in Swindon.
The ticket was discovered by Amanda and Michael Stacey who promptly cashed it in and quickly proceeded to spend half the money setting their debts.
When she realised she'd picked the winning numbers Dorothy contacted Camelot, organizers of the UK lottery, who verified that she was indeed the rightful claimant, but refused to reimburse her for the loss.
Contrary to popular belief, however, the so-called "finders keepers" rule is not, in fact, law. Instead the onus was on the Staceys to take "reasonable measures" to find the ticket's original owner. Not doing so, as it happened, rendered their claim fraudulent.
The case eventually went to court and the couple were given 11 month suspended sentences for fraud and false representation. They were subsequently ordered to pay the remaining £15,000 to Dorothy, however the judge did take into account that the Staceys used the money to aid their difficult financial circumstances. Had this not been the case chances are their sentences could have been a lot more serious.
How To Protect Yourself From Lottery Fraud
In the case outline above Camelot took the opportunity to advise all players to sign the back of their tickets and also write their addresses. In an ideal world this might well work, but it in reality it's all too easy to forget to do so. After all, who has the time to carefully add their contact details on every lottery ticket they buy? Furthermore, in this creepy age of widespread identity theft who wants to be throwing out tickets with their names and addresses on the back every week?
The solution is to change your habits and only play online with a reputable and licenced lottery provider, like Lottoland, where lost and stolen tickets are never an issue. Had Dorothy McDonagh done so too she'd be £30,000 richer, instead of loosing £15,000 to strangers, and would have also been spared the ordeal of an exhausting court case that quickly turned into a media circus.
If you haven't played online with us before now's a great time to try, risk free. Lottoland offers a special Welcome Bonus where, if you don't win on your first ticket, the amount will be re-credited to you for a second try.
Our biggest jackpot this week is worth $270 million USD (approx. £177.92 million) for the colossal American lottery, Mega Millions. The draw will be held State-side this Saturday. So, if you've never played with Lottoland before, sign up today and see if you can do what these others tried to do – scoop a massive lottery win, for free!
---