news 13 July 2017
Free Lotto Lines for new SportsJOE Live members!
The Lottoland Chipping Challenge with SportsJOE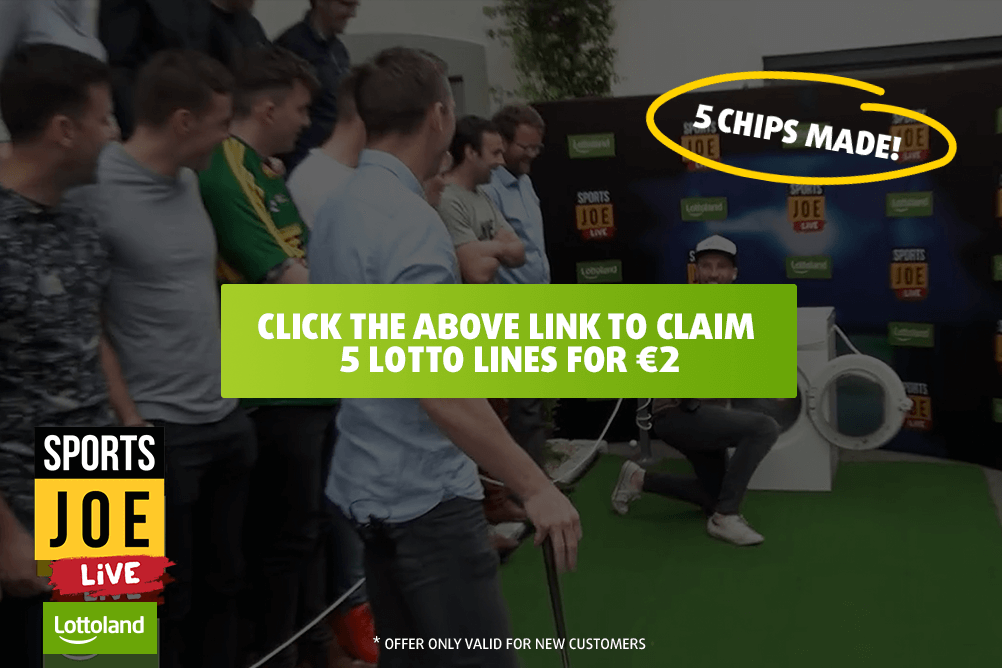 Chipping Challengers have 60 seconds to chip as many balls as they can into the maw of a strategically placed washing machine, which turns out to be a lot harder than you might imagine. For every successful shot in the Chipping Challenge, Lottoland will give a minimum of one line to new sign ups for the next Lotto draw on Lottoland.
Chipping Challenge: Andy Reid
You knew Andy Reid would be good at chipping, didn't you? He got 5 on target this week.
Chipping Challenge: Jackie Tyrrell
This man knows his way around a washing-machine: 5 successful chips from Jackie.
Chipping Challenge: Shay Given
The fact that Shay hasn't hung up the gloves yet means his golf game leaves a bit to be desired. Still, 2 successful chips isn't too bad.
Chipping Challenge: Jason McAteer
Jason has obviously been spending a lot of time on the golf course lately: he scored an impressive 6 shots!
Chipping Challenge: John Mullane
The Waterford hurling legend tries to see if his skills with the hurl translate to chipping golf balls into a washing machine. A late flurry gave him a respectable score of 5.
Chipping Challenge: Colm Parkinson
Wooly had a go at the Chipping Challenge this week, with the (modest) aim of beating Ronan O'Gara's score of 2. He scored three.
Chipping Challenge: Daithi Regan
The latest to take on the Chipping Challenge in an epic battle of Man versus Kitchen Appliance was former Offaly hurler Daithi Regan, who rallied to make 3 successful chips.
SJL EP20 - Chipping Challenge from Lottoland on Vimeo.
Chipping Challenge: Lar Corbett
This week Tipp hurling legend Lar Corbett visited the SportsJOE Live Studios to try his hand at the Chipping Challenge, making a fantastic 8 successful shots to go level with Stephen Hunt!
Chipping Challenge: Shane Curran
On this week's edition of SportsJOE Live, the well-known GAA pundit Shane Curran managed an admirable 4 successful chips:
Chipping Challenge Classic: Rory McIlroy
Some people are late bloomers, whereas others seem destined for greatness at an early age. Fair to say that Rory McIlroy falls into the latter category, as evidenced by the golfing skills he demonstrated on the not-at-all lamented Gerry Kelly Show at the tender age of eight years old. Based on his recounting the tale of chipping golf balls into his mum's washing machine at home, Gerry got the fresh-faced Rory to recreate the trick in studio.You can see how the young Rory got on here (*Spoiler* Rory McIlroy has been very, very good at golf for a long time!):
Claim this week's Chipping Challenge offer by clicking the link at the top of the page.
We will keep you posted with details of how the latest Chipping Challenger gets on!
You can find all the best video content from SportsJOE Live here.
---