Lotto News 01 July 2016
Three Super Jackpots From America & Spain
This Saturday Is Your Financial Independence Day!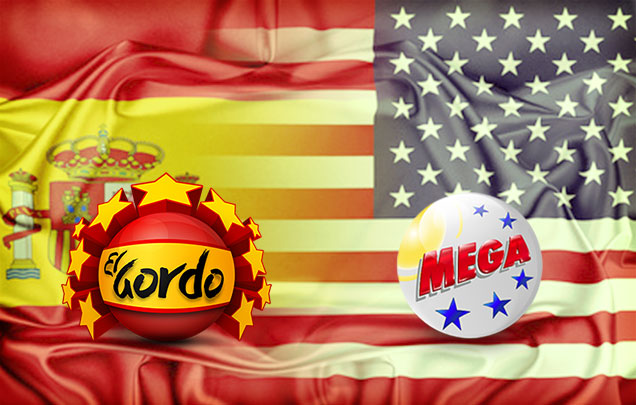 While it's certainly nothing to be sneezed at, this Saturday's €3 million Lotto jackpot isn't an overly dramatic amount by any manner of means. Not when you compare it with what we've got here at Lottoland. Our featured lotteries this weekend hail from both sides of the Atlantic and offer you two different ways to get rich.
El Gordo De Verano – Spain's Summer El Gordo
Held annually, on the first Saturday of July, El Gordo De Verano is the summertime sister lottery of Spain's famous El Gordo Christmas Lottery – the biggest lottery in the world. El Gordo De Verano literally translates as "The Big One Of Summer", or more accurately, the fat one, with a big fat prize pool of €120 million!
The Summer El Gordo is not a lotto, so you don't actually pick your own numbers. Format-wise it's more like an old school raffle whereby you purchase numbered tickets. Of course at Lottoland you have the option of adjusting your ticket numbers, something you can't do if you were to buy your tickets in Spain.
Generally you don't buy a full ticket but rather a fraction of a ticket. In Spain families, friends and co-workers generally form mini syndicates and pool their money together to buy a full ticket.
The prices are different to what you might be used to, but the Summer El Gordo is noteworthy in that it gives you a one in three chance of winning a prize.
In fact El Gordo De Verano is designed specifically to hand out as many large prizes as possible, rather than simply awarding a single large jackpot. So, if you're looking for more chances to win big this is the one to play. If, on the other hand, you'd rather have fewer chances but walk away with a hellova lot more, then you'll want to head across the Atlantic to our next big lottery this Saturday…
America's Record Breaking Jackpots
America does everything bigger, and lotteries are no exception. And at Lottoland we've got both of the world's biggest lottery jackpots. Top of the food chain is PowerBall, the lottery that became world-famous after breaking all previous lottery jackpot records with a January jackpot of $1.586 billion, or approximately €1.43 billion!
Nipping at its heels is MegaMillions, the previous record holder and our biggest lottery jackpot this weekend, worth €373 million!
This July 4th weekend, however, it's not just the Americans who'll have two chances to become massive, multimillionaires. You can do it too – with Lottoland.
| | | |
| --- | --- | --- |
| | MegaMillions | PowerBall |
| Global Ranking | #2 | #1 |
| Current Jackpot | €373 million | €218 million |
| Draw Day | Saturday 2nd | Sunday 3rd |
Even the smaller of the two jackpots still makes this Saturday's Lotto draw, and even Friday's EuroMillions, look like chump change in comparison.
Both games also offer huge second-tier prizes. With MegaMillions, for example, you can also enable the special MegaPlier option which can multiply non-jackpot wins by up to 10x!
This Saturday Is Your Independence Day
The Spanish and the Americans have many things in common. Neither nationality is known for their shyness or silent contemplation. Instead they revel in bright, colourful displays, pagentry and, of course, lots and lots of fireworks! Now, this Forth of July, is YOUR chance to play the world's biggest and most famous lotteries and set off some serious financial fireworks of your own!
The Spanish Summer El Gordo costs more to play and offers comparatively smaller jackpots but offers you LOTS more ways to win than pretty much any other lottery out thre. Whereas all-American mammoth MegaMillions costs just €2.50, so for 50c more than this Saturday's Lotto draw you could walk away with a jackpot that's over a hundred times bigger!
With that kind of money you'd be set for life, several lifetimes in fact. You could use that money to make a real, lasting and positive impact on the world, and still have lots left over to buy a new Ferarri every week! More importantly, you'd be able to enjoy complete and total financial independence for your and your loved ones, for generations to come, all while getting a taste of the good life. Sweetest of all you get to savour that Monday morning phone call where you tell your boss where to stick it! How's that for a declaration of independence?!
So which will you go for – Spanish generosity of American excess? Or perhaps you'd rather not pledge allegiance to either flag and would prefer to go all-in and play on both sides of the pond!?
But remember, it's now or never; the Spanish Summer Lottery is a once-a-year event and, with ticket sales through the stratosphere this US holiday weekend, it's extremely unlikely these huge jackpots will last the weekend.
So don't miss your chance to win financial independence for life!
Grab The Bull By The Horns – Play The Spanish Summer El Gordo this Saturday!
Start Your Week €373 Million Richer - Play MegaMillions this Saturday!
America's World Champion Lottery – Play PowerBall this Sunday!
---