Lotto Winners 13 May 2015
Can They Finally Have A Happily Ever After?
What's Next For Lottery Winners Kat & Alfie?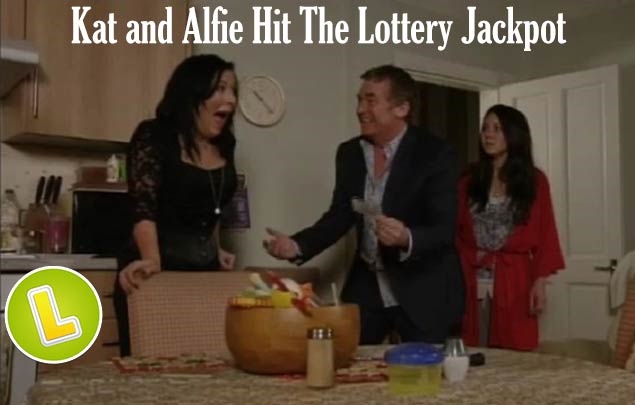 Previously we revealed the EastEnders lottery story – we knew that somebody was going to have a win, but we weren't 100% sure which character it would be. EastEnders producers had leaked information saying that the plot was meant to be an antidote to the current spate of dark and depressing storylines including the conclusion of the Lucy Beale murder story arc, Dot Cotton facing the music for "murdering" her son and Kat hitting rock bottom and attempting suicide.
The producers had hinted that it would be one or more popular characters that have had their fair share of ups and downs and that fans would be happy for their good fortune.
So, on that basis, we listed all the potential characters who might win the lottery and how it might turn their lives around. Of course we didn't want to give away who we thought it would be, but at the same time we weren't shy about suggesting it – maybe you noticed our not-so-subtle hint whereby we put Kat and Alfie right up at the top of the list!
"Lucky Boobs"
Kat and Alfie's lottery win scene will likely go down as one of the all-time EastEnders classic moments. The pair return feeling quite amorous, shall we say? Or will we just come out and say it – like a pair of love-struck, horny teenagers.
But Alfie didn't realise just how lucky he was about to get. As he takes his jacket off the forgotten scratchcard falls on the floor so Alfie suggests "I'll rub it on your boobs for luck".
Then Kat insists he finish what he started and scratch the card first. The result? A £1 million cash prize prompting Kat to remark, "I must have the luckiest boobs in the world!"
Well Deserved
Reaction on the Square has been positive. Even in the normally cut-throat borough of Walford the pair haven't made the sorts of grudge-holding enemies that other residents have.
As for viewers, reaction to the win has been universally positive. An overall sense of happiness prevailed and the general sentiment was that their change of fortune was well deserved. Indeed when we checked on social media we couldn't find a single person who wasn't happy for the fictional couple.
And yes, they are fictional. Though so beloved are the pair that sometimes it was hard to know whether people had forgotten this fact.
For millions Kat and Alfie are more than just characters on a TV show, they feel like friends or close family members. A couple they have watched for years, sharing every one of their dramatic ups and downs with. So obviously it's natural for us to feel happy for their good fortune.
Meanwhile there was an election this week, but nobody cared – because, unlike our politicians, Kat and Alfie are real and relatable people.
What Will Kat & Alfie Do With Their Money?
Although Alfie's offer of £900,000 to buy the Queen Vic was initially rebuffed it's possible that Mick's family members may well revolt and try to force his hand to accept the offer. Tina may well decide she wants to leave the Square, and its associated heartbreak, behind. Lee, meanwhile, eager to find a place for himself and his girlfriend, is likely to see the offer as the solution to his money problems.
So Alfie may well get his chance after all, but would it really be a smart investment? Time and time again we come across stories of lottery winners who make impulsive business decisions without considering the true financial viability of their chosen venture. So although the Queen Vic is the centre of the EastEnders universe Kat and Alfie could do well to realise that there's a whole wide world outside the Square.
Thankfully it does indeed look like this might be the direction they are leaning in.
What's Next For Kat and Alfie?
Alfie has already suggested that Kat and her children come with him to Australia, where Alfie's brother Spencer is living. But will she really be able to just pack up everything and leave the Square behind? While there are many reasons why she might want to, she may not be ready to do so just yet. Kat still has one more suprise in store - this time a family surprise.
In the short term, at least, the money will inject a much-needed sense of confidence and dignity which the normally-fiesty Kat had lost. The win should mean no more flogging tat down the market. And, if she's smart with her money, she need never again worry about providing for her family.
A New Life
Of course the lottery win isn't the real story here. There are still plenty of loose threads to be tied up. Rumours of a spin-off short series starring the couple, meanwhile, were confirmed recently on the Radio Times.
Kat and Alfie are to feature in their own six-part spin-off series which will be based in Ireland and is set to start filming in Autumn.
According to the BBC they will go there to "search for answers to some very big questions" and encounter a whole new set of characters along the way. (Let's pray it's not a Fair City crossover!)
Despite the fact that we've already seen more twists than a pretzel factory producers have hinted at a series of huge changes in the future "that will change their lives forever".
Hmm, maybe after another rub of Kat's boobs (beats kissing the Blarney Stone!) they'll get doubly lucky and win the Lotto!
Can Kat & Alfie Life Happily Ever After?
Life, as we all know, has its ups and downs. And EastEnders is one of those shows that takes that principal and pumps it full of steroids.
And therein lies the problem. As we said before, EastEnders writers often feel like cruel Olympian gods, putting beloved characters through one torturous ordeal after another as though for their own perverse amusement.
But considering the love for Kat and Alfie any further attempt to pile on the tragedy is bound to result in some serious fan backlash.
So we believe that, although the couple still have some soul-searching and shock revelations to contend with, overall their future looks rosy.
EastEnders' enduring popularity has much to do with its gritty realism. In this instance it provides a strong lesson which you can apply to your own life – good luck and fortune can come when you least expect it. And sometimes 24 hours is all it takes to turn your life around. What makes it so exciting is that you never truly know when that might happen.
Indeed it might well happen to you this week – which is why you should check out our top three jackpots:
#1 – MegaMillions: €141
#2 – EuroJackpot: €90
#3 – PowerBall: €89
---