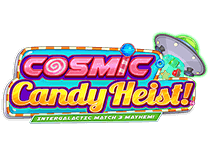 Cosmic Candy Heist
Get that awesome match 3 feeling with the sugary wins and sweet prizes on Cosmic Candy Heist
Cosmic Candy Heist
GAME INFORMATION
Classic grid game of match 3 symbols to gain cash prizes with skill and luck elements
Each game has a selected time for you to make your cash matches
Match 4 similar symbols for a striped candy that explodes on the grid
Match 5 similar symbols for a swirly candy that explode adjacent candies
Match 5 similar symbols in a row to form a candy bomb with different effects
Candy bombs have different blast effects depending on matched candies
Match candies next to rockets to gain multipliers – with 8 levels available
Grab 8 rockets in a single game to boost your multiplier to 25x
Freeze time and get longer round times when you match with the number overlay
Use the dinosaur symbol to munch through all the candies on the reels
Blockers will slow your progress as you move through the levels of the game
Use matching symbols to blow blockers off the grid and get moving
Maximum bonus coin win of 250x your stake available
Return to player rated at 90% - 95%
Hit frequency rated at 21.1%
HOW TO PLAY BONUSES
Cosmic Candy Heist is one of those games in line with the match 3 games that have proved to be such a hit with the internet over the past decade and then some. Take your time to match up symbols and grab bonuses along the way.
In classic fashion every combination you hit disappears off the grid leaving spaces into which the symbols above can drop. In addition to the standard prizes offered for hitting combinations, the following special symbols are available:
Candy Rockets
Match the 3 or more candies next to the rocket symbol to gain the rocket. The more rockets you accrue in a single game, the bigger the multiplier. Gain a maximum multiplier for hitting 8 rockets in a single session. Earn up to a maximum of 25x multiplier.
Exploding Candies
Match 4 of the same colour candies to create a striped candy that explodes in a vertical or horizontal line when matched with similar candies. Match 5 of the same colour candies to create a swirly candy that blows up all adjacent candies when matched with same colour candies. Finally hit 5 candies in a single line to earn a bomb that blows up the grid.
Power Ups
There are three special candies that can help you on your winning ways. These are as follows:
Bomb candy - the bomb candy has a different effect depending on the candy that you use to activate it.
Freeze time - some candies have a number overlay. Match these candies to gain extra time to find your matches.
Cookie monster - free the cookie monster and watch as he mashes through all the candies on the grid.
Blocks
There are 5 different types of blockers that can delay your progress through the grid. Each of these has varying attributes. Most can be destroyed with matching blocks but watch out for the indestructible blocker that cannot be shifted.
Mystery Boxes
During any game three mystery boxes can appear. Select one to win a prize that ranges from free plays through to bomb candies, cookie monsters and bonus coins.