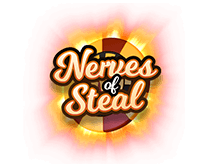 Nerves of Steal
Have you got the skills, the cunning and the talent to risk it all on Nerves of Steal?
Nerves of Steal
GAME INFORMATION
Instant win game with unique set up and game-play features
Choose stake amount to start the game
Select 1 of 50 boxes on a 10 x 5 grid to uncover your space.
If you uncover a chip then you are paid a cash amount
If you uncover nothing then you lose a life and continue
Following 4 lost lives you lose the game
Every time you lose a life the value of the next chip and the pot decreases
Cash out at any point during the game with the current pot value
Game can be played perfectly with 10 exact picks over the course of a game
Perfect game wins you the top prize jackpot
Top prize available of €1,000,000
Return to player rated at 92.00%
HOW TO PLAY – BONUSES
Nerves of Steal is quite a simple game, but it's also fiendishly fun. All you have to do is find the casino chips hidden in a grid of 50 boxes. Every time you pick a box that doesn't contain a chip, you lose a life. When you lose 4 lives in a row, the game ends.
If you do find a chip, you receive a cash prize and your number of lives is reset to 4. The cash prize goes into a bank and you can cash out at any time. The conundrum is this; do you take the money now? Or should you continue playing and go in search of bigger and better riches?
Every time you lose a life, the value of the next chip you find decreases slightly – as does the value in the cash-pot awaiting you if you decide to cash out. This means that to play the perfect game you need to pick all chips without missing a single box. Complete this task, and you win the jackpot.