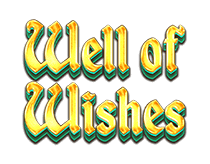 Well of Wishes
Go on throw in a coin. You never know quite what might happen on the fantastic Well of Wishes slot machine
Well of Wishes
GAME INFORMATION
Video slot presentation with 5 reels, 3 rows
Coins are wild on the reels and substitute where possible to help you make combos
Collect 5 coins in the Well of Wishes to turn all instances of one symbol into wilds
Land 3 lucky spin scatters anywhere in view with a second chance teaser respin
Trigger the bonus with 3 scatters to win 10 free spins on the second reel set
Land more lucky coins in the base game for more lucky coins in the bonus
Collect 5 coins in the bonus to change all instances of one symbol into wilds
During bonus feature all converted symbols remain wild for the rest of your spins
RTP and paytable information is stored within the game
HOW TO PLAY - BONUSES
Take a little walk in the garden of slots and you'll discover a truly magical opportunity. It's the Well of Wishes slot machine and its crazy wild mechanic. Collect coins left, right and centre to power up your symbols and then pull up buckets of wins and prizes in the fast paced bonus game. There's a ton of potential lurking behind these reels, giving you an opportunity for some big hits all over the show. Read on to find out more…
Coin collect
During the base game you can collect wild coins from the reels. Each coin you collect will be stored in the Well of Wishes and when you have accrued 5 coins this triggers a magical reel modifier. One game symbol is selected at random and all instances of this on the grid are transformed into wilds. This is a powerful feature that can turn even the most humble looking spin into a tower of cash.
Free spins
Lock in 3 scatters on the reels to trigger the bonus with 10 free spins. And if you stop in 2 scatters and miss you'll be given a second chance to hit from an extra spin with locked in scatters.
Take your free spins on a second set of reels with the Well of Wishes wild collect mechanic still in play. In this bonus the rate at which wild coins appear is dictated by the rate at which you collected them in the base game. So if you've had a strong base game then you know you have a great chance for a bountiful bonus. What's more, any symbol that you turn wild during this feature stays wild for the duration of the bonus round helping you line up the biggest multiple combination pays.
JACKPOT OVERDRIVE
The Jackpot Overdrive is a group of progressive jackpots that increase incrementally each time one of the Jackpot Overdrive slots is played. When one of the progressive jackpots is won, the main prize is reset again to a predetermined value, and resumes increasing as players play one of the Jackpot Overdrive slots.
There are 3 progressive jackpots within the Jackpot Overdrive:
Rapid Jackpot– hits hard and fast
Daily Jackpot– guaranteed to hit before the timer reaches zero
Jumbo Jackpot– for a life-changing win!