Lotto News 17 October 2017
No Tricks, But Plenty Of Treats
Halloween Scratch – Win €250,000 Instantly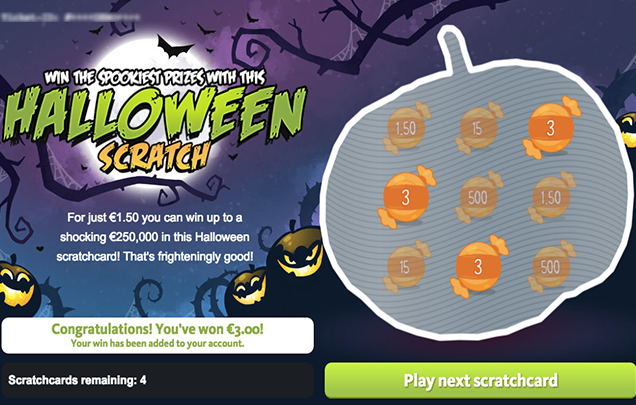 Fancy winning some cash this Halloween? Well with our fantastic Halloween scratchcard you can win up to €250,000 instantly!
The game consists of a pumpkin head scratchcard, move your mouse, swipe on your mobile or simply click the Reveal all button to reveal the sweet symbols underneath.
There are three rows of three sweet symbols of different values. All you need to do is match three symbols to win one of ten prizes.
If you're really lucky you could end up winning the top prize – a quarter of a million euros!
Best of all, it only costs €1.50 per single game, and if you buy in bulk you pay less and can save up to 10% per game.
So if you fancy getting lots of cash stashed in your goodie bag this Halloween then you've got a perfect reason to try your luck with our new instant win Halloween Scratch a go!
---