Lotto News 03 November 2021
Earn A Living While Sitting On A Beach!
How To Become A Digital Nomad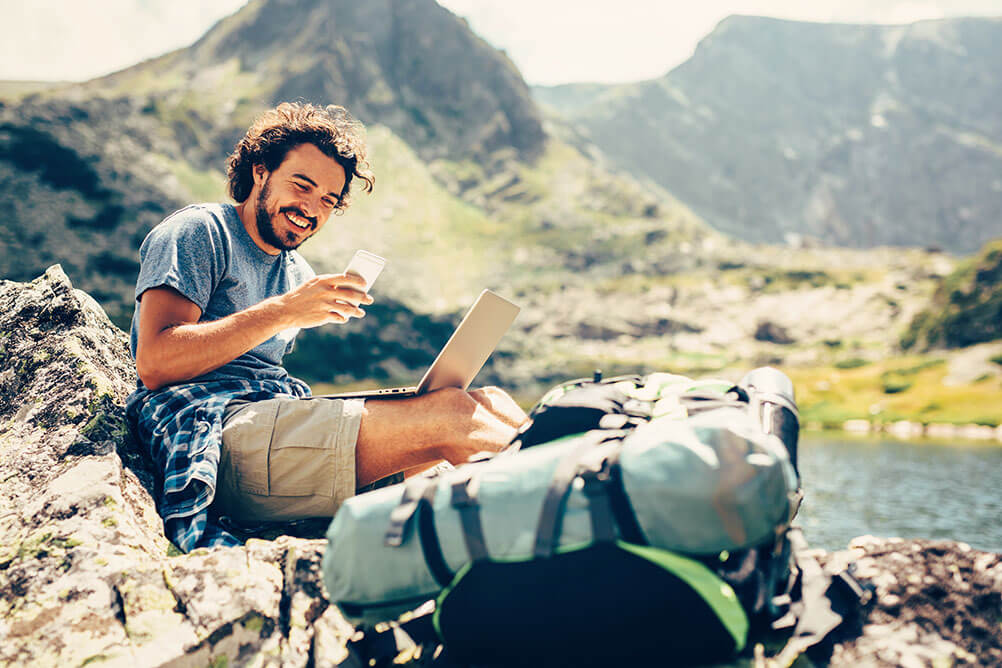 Table of contents:
WHAT ARE DIGITAL NOMADS?
Firstly, what exactly is a digital nomad? It's one of those slightly vague terms that seem to crop up more and more these days. A digital nomad is someone who makes money online while moving from location to location, basically the dream for anyone who loves travel.
By setting up streams of income that can be generated online from remote locations, the digital nomad is free to go wherever they want.
The principle is simple, becoming one is a little bit trickier… However, we have come up with a ten-step plan to follow if you are thinking of escaping from the 9-to-5 routine and becoming a digital nomad.
10 TOP TIPS ON HOW TO BECOME A DIGITAL NOMAD
If you are planning on making the change and becoming a digital nomad, we have ten useful tips to steer you in the right direction. Simply quitting your job and starting a blog is not going to get you anywhere except back on the job market in a hurry. Take our advice and lay the groundwork before you decide to take the plunge:
1. IDENTIFY YOUR MONEY-MAKING SKILLS
The first thing to do is to figure out which types of jobs are available to somebody who is working remotely. These days such a working arrangement is becoming more and more common, so it is just a case of seeing which of your skills match the requirements of potential employers. Writers and photographers can find plenty of freelance opportunities, although these are competitive fields. Programmers and website developers are sought-after jobs and some of the most common amongst digital nomads. Other popular options include customer support, SEO roles, marketing, and language teaching. We will get into these in more detail later on.
2. BOOST YOUR QUALIFICATIONS
If your own skills don't match the type of jobs listed above, or you want to boost your chances of landing regular work, it is a good idea to invest in your education. Get some qualifications which can set you apart from the competition and make your CV stand out in the crowd. Money spent on gaining internationally recognised qualifications and certificates can be repaid many times over once you start your career as a digital nomad.
3. JOIN FREELANCER SITES
The next step to take is to join an online freelancer website, where you can connect with potential employers. There will be a lot of competition for roles from prospective workers from all over the world, so try to make sure that you are offering something special. Be prepared to provide examples of your work and start off by accepting roles at a low rate. As you gain more experience you will have a greater portfolio of work and satisfied clients and will be able to charge more for your services.
4. CREATE YOUR OWN SITE
A good way to advertise your services is by creating your own blog or website. Even complete newbies with no technical expertise will be able to do this. Some research will be required but there are plenty of Youtube videos out there which will take you through the process step-by-step. You will need to buy a domain name, but these are also relatively cheap, and using a platform like WordPress can allow you to create a high-quality site. This can also be used as a source of passive income if you manage to build up a large audience, as you can earn revenue by advertising on your site.
5. GET SAVING
Before taking the plunge and packing in the 9-to-5, it is a good idea to save up a decent-sized fund to use in case of emergencies. Every freelancer experiences periods when work is less regularly available, so a fund like this will get you through any dry spells or should a major expense arrive. Try to cut down on expenses and unnecessary outgoings so as to build up a good amount of savings in your account. Aim for a sum of at least £3,000 before you embark on any overseas adventures to far-flung lands.
6. MAKE PLANS & SET GOALS
Once you have decided on your chosen field and built up a portfolio of work and clients, you should start planning how to go full-time as a digital nomad. Sit down and write out a plan of what you hope to achieve. Investigate your chosen destination and the cost of living you can expect. How much money will you need to earn per month in order to keep yourself afloat, and how much time per day will you need to spend working? Give yourself a timeframe within which to meet your targets, and to find out whether what you have planned will be manageable in reality.
7. CONNECT WITH OTHER DIGITAL NOMADS
The internet allows you the opportunity to connect with other digital workers, and this can be a lifeline. You can get in touch with people working in the same field or the same part of the world. Get hints about the best places to work and how much you can expect to earn as a digital nomad. Plus connecting with groups on social media like Facebook can provide the opportunity for social meetups, as working as a solo freelancer can be lonely at times.
8. UNLOCK YOUR PHONE
One simple tip if you plan to travel a lot is to make sure that your phone is unlocked. That way you can pick up sim cards from wherever you are in the world to make sure that you always stay connected. Your digital devices are your gateway to the world of online freelance working, and it is important to always be available.
9. INVEST IN A MOBILE HOTSPOT
In the same vein, investing in a mobile hot spot is a great way to make sure that you are never off the grid. A mobile hotspot allows you to access the internet via your devices no matter where you are in the world, or how remote your location is. This can prevent you from losing out on those all-important jobs, as potential employers will expect you to be available and contactable on a regular basis.
10. GET YOUR DOCUMENTS IN ORDER
A final step is to make a checklist of all your important documents before you venture out into the big, wide world. Passport, driving license, bank accounts, PayPal or other electronic wallets, visas and insurance are all crucial documents to remember. Check those expiry dates too so that you are not caught out.
Follow our tips and you will be ready to spread your wings and take flight as a digital nomad!
WHERE TO LIVE AS A DIGITAL NOMAD
Choosing where to travel to, and where to live is a huge question for all digital nomads. Many opt for Latin America and Southeast Asia due to the low cost of living, the lure of the tropical climate, and the exotic culture.
Whilst the popular image of a digital nomad may be of someone swaying on a hammock on a white-sand beach, with a laptop and a cocktail at the ready, many digital nomads choose the city over the beach as having a strong and reliable internet connection is a must for many digital nomads, along with other comforts which can be found in the city.
In some of these places, you can live for under £500 a month and live well. In Western Europe or America, that kind of money would probably cover your grocery bills and the cost of a tent.
Here are some of the best places to work as a digital nomad from:
ASIA
According to a study by Club Med, Thailand ranks as the most popular global destination for digital nomads. Digital nomads are lured by the favourable climate, the beauty of its beaches and amazing nature, its wonderful temples, and fantastic food. Then there is the notorious party atmosphere of places like Phuket or if you are looking for inner peace, you could 'find yourself' at a spiritual jungle retreat such as Chang Mai. Bali, Indonesia, is also one of the top hotspots for many of the same reasons as Thailand. Malaysia is an ethnically diverse country with its population mainly comprised of Malays, Chinese and Indians. Malaysia's capital, Kuala Lumpur, is a city with a fascinating mix of cultures and colonial architecture but is also a bustling modern city but cheaper than Singapore and Hong Kong. KL has a large ex-pat community and is increasingly becoming popular with digital nomads who want to enjoy the convenience of city life.
LATIN AMERICA
Over recent years, Medellín, Colombia, has built up a reputation as a digital nomad-friendly city due to its growing 'hipster' culture, favourable 'eternal spring' climate, and very affordable cost of living. Playa del Carmen and Tulum in Mexico are also very popular destinations because of their Caribbean location. The colonial cities of San Miguel de Allende and Oaxaca are very popular choices for those who are looking for a more authentic experience whilst still being able to network with and be around other foreigners.
EUROPE
In Western Europe, Portugal is by far the biggest attraction for digital nomads due to its low cost of living and comfortable climate. The Algarve is home to some wonderful beaches and surfing hotspots whilst the cities of Lisbon and Porto are bustling with history, culture, beautiful architecture, and of course, great wine! The Central European cities of Budapest (Hungary) Prague (Czech Republic) and Ljubliana (Slovenia), are three very popular destinations because of their cultural richness and great locations whilst Croatia attracts digital nomads mainly because of its crystal-clear waters and stunning islands.
Of course, these are just a select few destinations, there are many more amazing places which are great to work from as a digital nomad. The beauty of becoming a digital nomad is that you can choose to work from wherever you prefer. However, it should be noted that some countries are stricter than others and, in certain countries, where you need to apply for a visa to visit, there could be restrictions on undertaking any type of paid work from within the country so make sure to check before you decide where to go.
BEST DIGITAL NOMAD JOBS
CONTENT CREATION
BLOGGER
One of the first things that spring to people's minds when they think of becoming a digital nomad is to become a blogger. Whilst it may be one of the easiest ways to start, it is one of the most difficult to make money from due to the sheer amount of people doing the same thing, particularly travel blogs. Making money from blogging is likely to be a long-term goal, it takes time to build up a big enough following to generate income, and even still, you may not make enough to give up on the rat race completely. Bloggers can make money through sponsored posts, advertising, affiliate marketing, and the sale of e-books and seminars.
VIDEO CREATOR
Video creation has blown up over the last few years. YouTube stars such as Logan Paul have become household celebrities and are raking in millions. The rise of TikTok has also greatly added to the amount of video content available and given many people the opportunity to create video content to profit from. The amount of variety when it comes to video content is truly incredible, videos of the most random things can get millions of views which can then be monetized.
WRITER
One of the great things about being a writer is that you can work offline, meaning that you can work whilst in remote areas, although you will need internet access at some stage in order to post online of course. Whether it's an eBook, review, advert, or video script, there are plenty of things to write about and get paid for.
BUSINESS AND MARKETING
SEO SPECIALIST
SEO stands for 'Search Engine Optimisation', the role of an SEO specialist is to make a website rank as high as possible on a search engine, usually Google, this is attained through both technical know-how involving tweaking HTML codes and creating high quality and useful content which includes keywords which search engine algorithms detect. SEO is often a factor which is overlooked by many people who start websites and blogs but having good SEO is crucial in order for people to discover your brand/business/blog.
SOCIAL MEDIA MARKETER
The influence of social media in today's society cannot be avoided. Every major brand has some sort of social media presence in order to keep face with the public. Running a company's social media accounts involves constant interaction with the public, responding to comments, and keeping things up to date.
AFFILIATE MARKETER
An affiliate marketer acts as a sort of digital agent, or go-between that connects customers to a product or service through referral. You basically point potential customers in the right direction to find what they are looking for and make money when the company makes a sale.
DIGITAL ENTREPRENEUR
Digital entrepreneurs need to be versatile as they own and manage their own business and are thus required to perform various roles simultaneously, from content creation to marketing and managing sales. Most digital entrepreneurs have built up an online service or website which they usually go on to sell and then create another. They also tend to develop or create new technology to sell services and products online.
TECHNOLOGY
PROGRAMMER
This is one of the most common jobs for digital nomads. Programmers write code for websites, software and apps. They need to be fluent in computer languages such as HTML, CSS and JavaScript. Programmers are highly skilled and being a programmer requires a great deal of commitment to study in order to learn the skills required. However, gaining the knowledge is worth it as being a programmer is one of the highest-paid digital nomad jobs.
WEB DEVELOPER
Developers are generally more involved in the full project of building and maintaining a website than programmers, who are more limited to coding. Developers are very experienced code writers who actually develop the software that programmers write code for. Salaries for developers are very high. Of course, this job requires plenty of hard work and dedication so perhaps hold off the mojitos whilst you work if you are looking at this way to become a digital nomad.
CUSTOMER SERVICE REPRESENTATIVE
This is a great option for anyone who has good social skills and telephone manners. There are pros and cons of working in Customer Service as a digital nomad. One huge benefit is that you have a steady work schedule and guaranteed salary as you would do with a full-time job. On the downside, you may have to work shifts at unsociable times and have to respect the work structure and company policy. You won't have the flexibility of working for yourself and you will need to find somewhere quiet to work in, along with a strong and reliable internet connection.
TEACHING
LANGUAGE TEACHER
Language teaching has long been a popular way for people to work abroad. You already have the knowledge of your own language; you just need to learn the techniques to be able to teach it. It is always a good idea to get certified, for example with a TEFL (Teaching English as a Foreign Language) course, if you are teaching English. It is a very rewarding job and you can make friends for life with the students that you teach. Teaching digitally has grown incredibly recently and is one of the best options if you don't have technical skills.
ARTISTIC/CREATIVE
GRAPHIC DESIGNER
Graphic design covers a broad range of creative digital visual work from marketing (brochures, posters, infographics) and corporate material (reports, PowerPoint presentations) to branding (creating logos, labels, etc). The good thing about this job is that it's not super difficult to pick up the skills, you just need to have a creative mind. Like everything, you pick things up with experience it takes time to perfect but it is an easier option than becoming a developer or programmer. You will have to face off stiff competition though as bloggers, graphic designers are in abundance amongst budding digital nomads and as the job does not require as much specialist knowledge as some of the other jobs listed, you will have to do your best to stand out from the crowd.
WHAT ARE THE CHALLENGES?
Becoming a digital nomad is easy, becoming a successful digital nomad who can sustain the lifestyle and make a decent profit, is a different story.

Competition is tough, there are literally millions of travel blogs, it seems as if everyone is trying to get in on the act! It's not just travel blogs, digital nomads could blog about anything and there are blogs on just about every topic under the sun!

This doesn't mean that you should abandon your dreams of making a blog, just be realistic about things and know that you will really have to stand out from the crowd with your content and you will need exceptional SEO skills to get your blog noticed. It will also take time. As they say, Rome was not built in a day, and nor was any successful blog.

By all means, try and get a blog going, this is always a good idea even if it is initially a side project which you can grow over time whilst you make your money another way.

If you are already a programmer or a web developer, you have a huge advantage over other wannabe digital nomads. If you are thinking long-term and are planning on studying to be a programmer or developer, you can plan ahead to escape the rat race someday.
It's more than just competition from other digital nomads which is a challenge. Firstly, there is a financial challenge, so it would be wise to have a good amount of savings in the kitty for a rainy day. If things don't go well, the last thing you want to do is to be stranded in Kathmandu with no money and no clue! A backup plan is essential.
HEALTH & SAFETY
You will also have to think about health and safety. It would be a good idea to get adequate medical insurance, especially as there is a high chance of getting sick at some point, whether it's from tropical diseases or unsanitary food preparation. Those mosquitos can sure be pesky and that street food can smell and look so delicious! If you are an active person, you may have an accident doing some sort of activity or even just from the crazy traffic in some countries.
Crime is, unfortunately, a factor that needs to be considered in many popular digital nomad destinations. You should always be streetwise and use common sense. Of course, you could be a victim of crime anywhere, even in developed countries, but the reality is that foreigners are indeed targeted in countries where they are seen as easy pickings. You may think it's a great idea to get on your laptop down by the beach but there may be someone who thinks that it would be a great idea to relieve you of your cumbersome baggage.
Always be sure to check the DFA's Travel Advice to stay up to date with any potential security risks as well as check to see which jabs are recommended or required for that country, plus any visa requirements. It is also worth keeping up to date with current affairs, so check the news now and then.
THINK POSITIVE
Despite the challenges which you will be faced, if you dream of life as a digital nomad, you should face those challenges and give it a go. If it doesn't work out, at least you tried and it will be a great life experience which you will learn from. You could have a great time travelling at least or in the worst case, you can always learn from your mistakes and become a better person. The key thing is to always stay positive and to be optimistic. If you don't leave your comfort zone, you'll never be able to grow. Life is all about taking chances.

Speaking of taking a chance, you can always try your luck with Lottoland, who knows, maybe a cheeky win could set you up to start yourself out on your journey as a digital nomad! Just remember to be sensible and not blow all your savings before you travel. It's always a good idea in life to have savings, no matter what plans you have.
Hopefully, this article has provided you with some inspiration, as well as some practical advice. While there will certainly be obstacles to overcome, millions of people around the world enjoy the freedom and ability to travel that the life of a digital nomad enables them to. Why not you?
Sources:
clubmed.co.uk/l/blog/digital-nomad-index
dfa.ie/travel/travel-advice/
Last Updated: November 2021
---