Lotto News 09 April 2020
The numbers behind the life of a sofa
Sofa so good!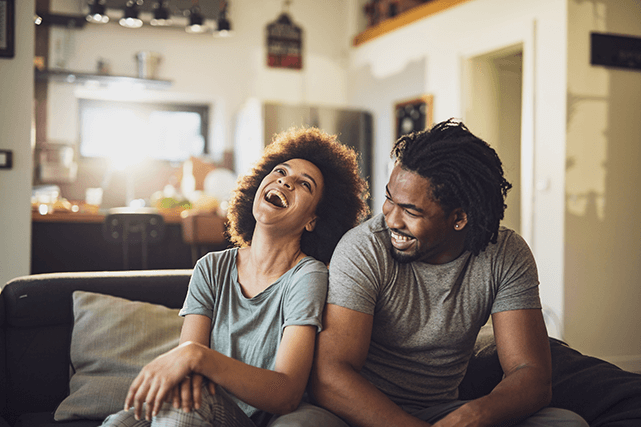 The sofa: a friend through thick and thin
Dogs are undoubtedly man's best friend, but the humble sofa is also a faithful companion! It's there through good times and bad, and if you don't believe that, just look at the numbers - you'll be surprised! A Lottoland survey of 2000 people carried out via OnePoll reveals some very interesting figures about the life of a sofa.
The average sofa has seen love blossom, being present for at least 4428 kisses between couples, 4287 hours of cuddling and 3204 dates. It has also welcomed people kicked out of their bedrooms on some 612 occasions, without judging them or asking what they did. And let's not forget how patient it has been, silently tolerating 6960 food and drink spills, and its good nature towards the 12% of participants who admitted to never cleaning their sofa in 12 years.
And when it comes to home entertainment, the sofa never lets us down! It's always there to welcome family - including our cats and dogs - and friends, any day or time.
What's more, the sofa is also the perfect place to play your favourite online lotteries, but don't take our word for it - 43% of the adults surveyed said they regularly enjoy online betting from their sofa.
As time goes by, the sofa also gathers experiences. Read on and find out what it means for a sofa to be 12 years old!
Fun facts about the life of a 12-year-old sofa!
Just like lottery jackpots, which accumulate over time, your sofa also amasses experiences as the day go by.
The average 12-year-old sofa has watched 7482 hours of television (that's 312 days) and has served as a comfy spot to enjoy 3588 soap opera episodes, 5340 films and 4239 naps. It's also witnessed at least 3276 hours of video games, 4349 hours of reading books, 3240 arguments and 5248 hours spent surfing social networks.
And if you thought it was only adults enjoying the sofa, you're wrong! As well as our furry friends, children are also drawn to the sofa: they like jumping on it at least 5 times a week, or 3096 times over 12 years. It's worth noting that the sofa is where kids lose their toys at least four times a month, too.
What's more, the survey shows that our beloved companion, the sofa, has been present for 4293 hours of phone calls and 3095 hours of video calls, without ever revealing any secrets or confessions.
As you can see, the sofa is forever present in our lives - much more than we imagined. Having a sofa at home definitely helps us to sit back and relax, but it's also essential for entertainment. See the table below and get a closer look at the experiences of an average sofa.
A 12-YEAR-OLD SOFA HAS SEEN:
AMOUNT
WHAT?
552
lost toys
612
people kicked out of the bedroom
900
remote control losses
2976
online bets
3095
hours of video calls
3096
kids' jumps
3120
tearful moments
3204
late-night dates
3240
arguments
3276
hours of video gaming
3432
hours of work
3576
online games
3588
soap opera episodes
4212
times people fall asleep while watching TV
4239
hours of naps or rest
4287
hours of hugs
4293
hours of phone conversations
4349
hours of reading
4428
kisses
4776
telephone calls
5248
hours on social networks
5340
films watched
6960
food and drink spills
7482
hours of television
What can you find in a sofa?
One of the many great things about the sofa is that it's literally full of surprises. It's like a box of chocolates - you never know what you're going to get!
Sixty-one percent of survey participants have discovered money behind the cushions and 68% have found lost jewellery and pens. As well as the usual food crumbs and dog hairs concealed between the cushions, nail clippers, sweets and chewing gum have also been found.
Beyond physical objects, the sofa is where you can find that much-needed rest and relaxation: a good film, a chat with your family or a solitary moment of respite to reflect on your day.
Before you read this article, you probably either loved your sofa or wanted to exchange it for a new one. Maybe you even underestimated its role in daily life for you and your family! But now that you know how great the humble sofa really is, we hope you'll value it, love it even more and, most importantly, keep enjoying it - but maybe clean it more often! There's nothing better than a sofa for unwinding at home and spending time with our loved ones. Remember that your sofa is a friend through thick and thin!
---