Lotto News 25 September 2018
Written in the Stars!
Lotto Horoscopes: Which Sign is the Biggest Winner?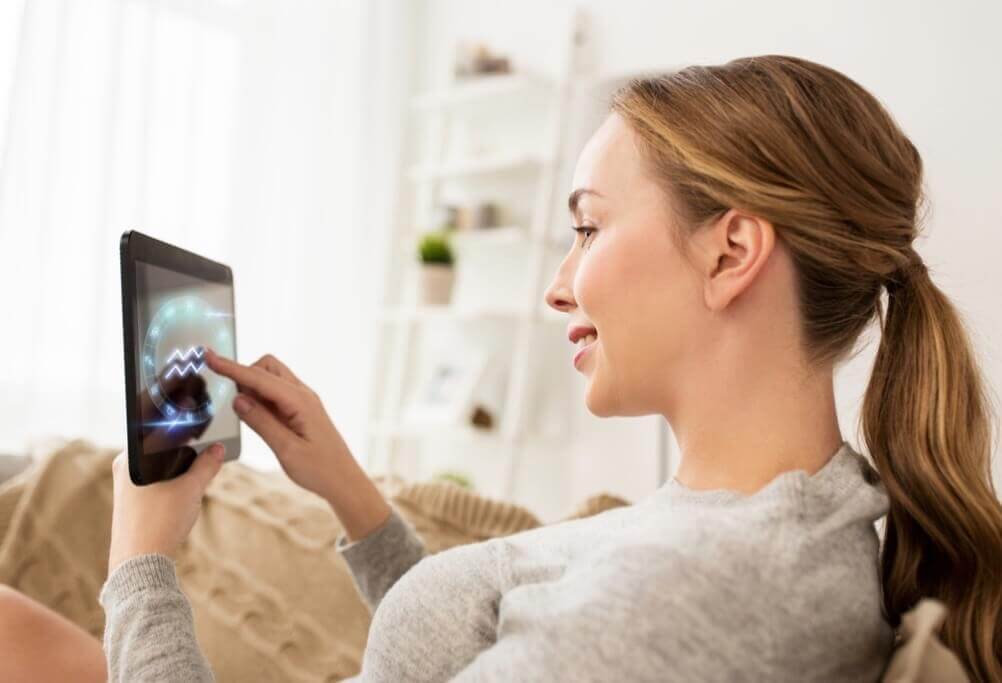 THE LUCKIEST PEOPLE ACCORDING TO LOTTERY HOROSCOPES
If you want to believe in certain websites, there are supposed to be three star signs that should enjoy particularly good luck when it comes to the lottery. Geminis take first place, because according to horoscope experts, people born under this zodiac sign are experimental and like to try new lotteries to test the best winning strategies. Immediately behind come the Leos, who are said to 'challenge fortune' - a tactic which supposedly often yields fruit. Leos commit to their lottery choices because they are convinced of their luck. Sagittarians also belong to the group of chosen lucky ones. As fun-loving and impulsive optimists they always have faith that things will work out alright in the end, and Fate seems to reward their beliefs with lots of lottery wins.
That sounds very interesting, especially for those of us who are among the chosen ones. But just how reliable are these claims? We did some tests to see whether any of these astrological predictions hold water. Our data analysts have focused on finding out which star signs have had the best luck from betting on lotteries with Lottoland. Do you think that the results are consistent with the interpretations of those horoscope specialists on the internet?

THE HAPPIEST STAR SIGNS IN LOTTOLAND
Let's take a closer look at the results of our analysis. First of all, we can confirm that most of the winning lottery tickets in Lottoland were held by people born under the Leo, Aries and Capricorn zodiac signs. If you are one of those signs then perhaps you are already considering making a bet to cash in on your good fortune! Just remember that there are no guarantees when it comes to lottery draws, no matter how many lucky stars you were born under.
Back to the topic that concerns us. Has it paid off for those star signs that bet on lotteries most often? The answer is yes! Leos, Aries and Capricorns (in this order) win more often in Lottoland. Doubters will now complain that we needn't have bothere analysing data to come up with this result. Basic logic tells us that the more you enter, the more chances you have to win. With that in mind you can save the walk to fortune teller and just invest in an additional bet if you really want to improve your chances of a win.
But what about the biggest winners? Which star sign has won the highest amounts in Lottoland? When we take a closer look at the data it is clear that Aquarius and Gemini are those zodiac signs that have made the biggest gains. You may recall that we celebrated two jackpot winners in 2016 who were able to collect incredible amounts of money.
A young man from Chemnitz hit the jackpot in February with a six plus bonus number to take home 14 million euros. Only a short time later, Matthias from Berlin also cracked the lottery jackpot with 22.3 million euros. And what a surprise, the zodiac signs of these new millionaires are Aquarius and Gemini.
Regular readers of our articles will surely remember Christina. The 36-year-old from Berlin hit the 90 million Euro Jackpot exclusively with Lottoland in June of 2018. By doing so she set a new world record, because she took home the biggest online win of all time! However, the data our analysts have studied does not yet include Christina's earnings, so her zodiac could not be included in our investigation this time.
THE MOST POPULAR NUMBERS IN LOTTOLAND
Which numbers are most often selected in Lottoland? Are there differences between the individual star signs? We asked ourselves these questions at the beginning of our research. After careful investigation we found an interesting fact: from the three most frequently ticked numbers, the number 7 is clearly ahead of the pack. A total of eleven of the twelve zodiacs prefer this number when placing their bets. Only Geminis buck this trend, as this zodiac sign makes number seven only the seventh most popular lottery number chosen.
In second place on the popularity scale in Lottoland is number 17, with just about every sign of the Zodiac choosing this number as one of the most popular. Only Librans, Scorpios and Sagittarians prefer other numbers - with 10, 11 and 12 proving popular with this group.
Taking third place is number 19, although this one is quite far behind the 7 and the 17 in the popularity stakes. In fact, only three zodiac signs made 19 a top choice, with Cancers, Geminis and Scorpios selecting 19 most frequently. If you look at the three most typed numbers on our infographic, you notice that there are no outstanding differences between the rest, and there is quite a balance among all the signs of the zodiac.
For the numbers that are not chosen very often by our Lottolanders there are also no noticeable peculiarities - with one exception. Only the number 23 stands out clearly as being one of the most unpopular numbers. 23 was one of the least chosen numbers by no fewer than 8 different zodiac signs. Meanwhile for half of the signs of the zodiac, 11 was among the least popular numbers.
THE FOUR ELEMENTS OF LIFE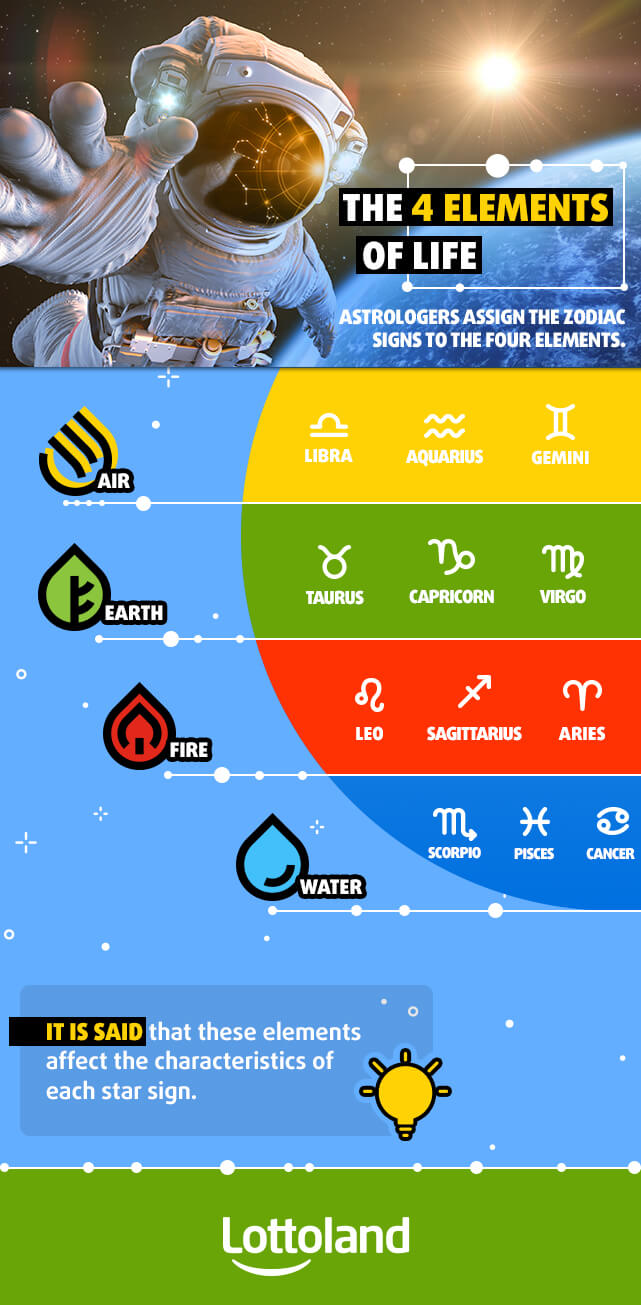 Horoscope specialists like to assign the twelve star signs to the four natural elements of fire, air, water and earth. In this model, Leo, Sagittarius and Aries are among the fire signs while Libra, Aquarius and Gemini belong to the element of air. Water signs are Cancer, Scorpio and Pisces, and the element of earth is assigned to Taurus, Virgo and Capricorn. According to astrologists, these elements influence the characteristics of the individual signs of the zodiac.
For example, the symbol of fire stands for self-confidence, energy and independence. It is generally claimed that Leo, Sagittarius and Aries are particularly brave and impulsive star signs, and leaders are often found under these fire signs. In the lottery, this could mean that jackpot opportunities are acted upon spontaneously and with a fair amount of confidence.
According to astrologers, the air signs are intellectual and very communicative. They love to talk and engage with other people, and just like their element, Libra, Gemini and Aquarius are constantly on the move, so they are particularly adventurous. Zodiac experts also suggest that the air signs quickly adapt to change and have a pronounced need for sociability. For this reason, they can often be found in social and artistic professions.
Water stands for depth and unfathomability. The three signs of the zodiac that belong to this element are said to have great empathy and sensitivity and Pisces, Scorpios and Cancers act intuitively. According to experts, these zodiacs are therefore primarily artistic and interested in culture. Perhaps we could infer from this that the water signs are most likely to be those who choose lottery numbers based on patterns or famous rows of numbers.
Supposedly, the earth signs Virgo, Capricorn and Taurus are rather practical compared to those water signs. Astrologists attribute qualities such as stability, determination and reliability to them, which is why they are considered to have down-to-earth personalities. Earth signs are also said to be persistent and disciplined, not only at work, but also in their interpersonal relationships.
You may already be thinking that our numbers and data confirm the alleged connections between zodiac signs, horoscopes and lottery only partially if at all. In individual cases it can of course fit perfectly and if you are a believer then you may be guided by your astrological symbol in all manner of ways, including lottery betting.
WHICH STAR SIGN ARE YOU?
For all Astrology fans, the following info is probably unnecessary. But if you are not an expert in the field of lotto horoscopes and find yourself becoming curious just the same, you might at least want to know to which sign of the zodiac corresponds to your birthday. For this reason, we have prepared a table in which each star sign is clearly listed along with the respective date. Now it's up to you as to how to use this new information!
Signs of the Zodiac
Sign
Date

Aries
21 Mar – 20 Apr

Taurus
21 Apr – 21 May

Gemini
22 May – 21 Jun

Cancer
22 Jun – 22 Jul

Leo
23 Jul – 22 Aug

Virgo
23 Aug - 22 Sep

Libra
23 Sep – 22 Oct

Scorpio
23 Oct – 22 Nov

Sagittarius
23 Nov – 20 Dec

Capricorn
21 Dec – 19 Jan

Aquarius
20 Jan – 18 Feb

Pisces
19 Feb – 20 Mar
Conclusion: Your personal lottery horoscope is no guarantee of an actual lottery prize. You can of course try to use the numbers of your star sign. But this is a method like any other. It does not matter if you're dreaming of lottery numbers, choosing your favourite nephew's birthday, or making beautiful patterns on the lottery ticket. The simple fact is that all numbers have exactly the same chance of being drawn. Chance alone determines the outcome of a lottery draw. But it is still true to say that if you're not in, you can't win! Our suggestion: don't waste too much time researching your Lotto Horoscope and just use the random selection instead. We wish you lots of success!
Sources:
astroschmid.ch
charaktereigenschaften24.de
das_sternzeichen.de
horoskop.com/glueckshoroskop
mein.astrocenter.de/astrologie
sternregister.de
sterntaufe24.de
---