Lotto Winners 20 January 2021
It's a Win-Win!
Lottoland Launches First Charity Lotto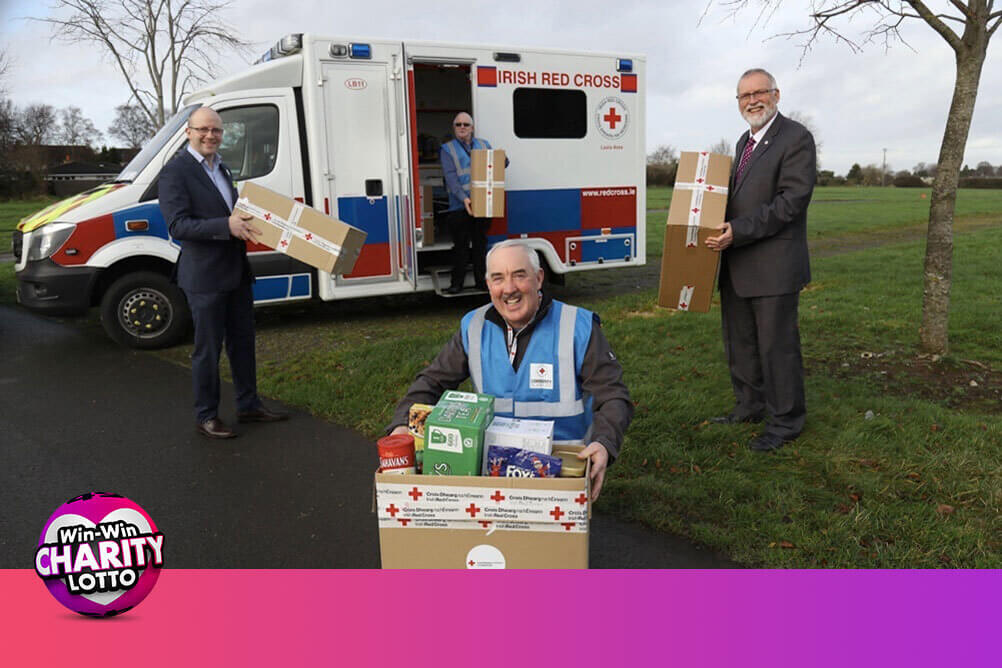 The Win-Win Charity Lotto will offer players jackpots that can often be worth well over €5 Million with each bet costing just €1.50. The draw takes place every Sunday at 8.30pm GMT.
Table of contents:
WHAT IS WIN-WIN CHARITY LOTTO?
Lottoland is proud to support two fantastic Irish charities and that's why we're bringing you our Win-Win Charity Lotto – a lotto betting game for Irish players that donates 30 cents of every €1.50 bet that you place to our Irish Charity partners, the Irish Red Cross and the Dublin Society Charity of Prevention of Cruelty to Animals (DSPCA). So, what are you waiting for? Come join us for a Win-Win!
HOW MUCH LOTTERY MONEY GOES TO CHARITY?
Our two chosen Irish charities meanwhile, will enjoy 20% of all bets from the Win-Win Charity Lotto to support them and the amazing work that they do to make Ireland a better place.
That means, no matter what, 30 cents from every single bet will go to charity!
LOTTOLAND CHOSEN CHARITIES
In order to ensure these charity funds could have the biggest impact on Irish lives, we carefully hand-picked two truly amazing charities from Ireland.
DSPCA
For over 180 years, DSPCA has grown to be the leading animal welfare charity in Ireland. They exist, uniquely to rescue, rehabilitate and rehome sick, injured and cruelly treated animals. Their work is very important to the community to promote and protect the welfare of animals.
With your support, their Vet Team will be able to continue their work 7 days a week, providing critical care, carrying out lifesaving surgeries and performing over 3,000 neuter/spay operations through our programmes each year. They will also be able to provide ongoing care and veterinary support to over 300 animals in our Foster Programme.
An unprecedented 2020 saw the DSPCA team deliver a significantly increased level of services that included:
The rescuing, rehabilitation and rehoming of over 2,500 animals through the last 12 months from situations of cruelty, neglect, abandonment and straying
Directly helping over 1,900 pet owners via the DSPCA's Mobile Veterinary Clinic, which is a subsidised Veterinary service to low-income communities in 2020. The Clinic will expand its subsidised spaying/neutering surgeries services in 2021 to neuter over 3,000 animals as part of their growing commitment to the community
Irish Red Cross
Established over 80 years ago, the Irish Red Cross continues to uphold and work within the Redcross Principles by delivering a wide range of services to some of the most vulnerable people in the community through a network 87 branches countrywide.
Their vision is to be a leading humanitarian organisation, providing impartial services and support to vulnerable people and communities both at home and abroad. With your support, the Irish Red Cross' core, critical services can continue to support the vulnerable and elderly, refugees and asylum seekers who are facing destitution and those experiencing economic hardship at this challenging time for society.
Key activities during a challenging 2020 included:
Delivering over 10,000 food parcels since March to isolated and vulnerable households, older people and individuals in remote rural regions
Ambulance hospital transfers for more than 600 patients, particularly older people, since March this year for non-emergency treatments
Massively growing the charity's community volunteering work, with the recruitment of 378 new individuals, a 300% year-on-year increase
HOW TO BET ON THE NEW WIN-WIN CHARITY LOTTO?
You can bet on Lottoland's new Win-Win Charity Lotto for just €1.50. To bet, all you have to do is select five numbers from the main pool of 1-54 and a bonus number from a further pool of 0-9. You will win our jackpot if your 5 main numbers and SuperBall is the same as that in the official Spanish Primitiva lottery draw.
You can also select the QuickPick option (Quick+1) and this will automatically choose your numbers for your chance to win a prize with a minimum of €3.5 Million guaranteed!
Combine the thrill of a bet together with supporting two Irish charities who impact many lives. Are you ready to give it a try? Bet here to get the chance to win the current jackpot!
---