Lotto Winners 17 March 2021
13 useful tips to dress like a rich man
How to dress like a Millionaire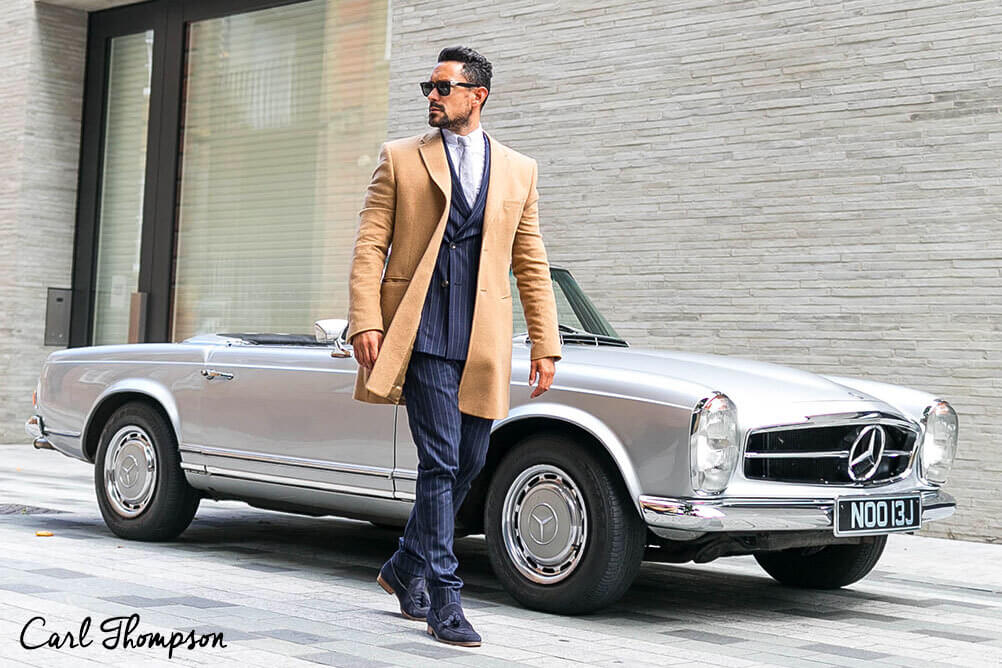 Table of contents:
Here are thirteen tips and tricks on how to look rich on a budget:
1. Pay attention to the fit of your clothes
This is not a checklist where one point is greater than the other, however, this is at the top of the list for a reason. When anyone asks Carl how to improve their wardrobe, he always informs them to start with what they have. It might be that suit that's not forgiving those extra years of comfort, or maybe you've managed to lose weight in the lockdown and your trousers are no longer as snug as they need to be.
Ensuring that your clothes fit is crucial to how people will perceive you. It's not always what you wear, but if what you wear has lost its shape or has become to look shrink-wrapped, you should consider taking them to your tailor, or an alterations team at your local dry cleaners.
You'll be amazed at what they can do and how a fitted garment can make you look and feel!
2. Look out for fabrics that look luxurious
Carl emphasises the fact that there are some fabrics that have an extremely luxurious feel and others not so much. For example, a herringbone weave. 100% Cashmere or wool can be expensive, so go for fabric blends such as 5% cashmere or 20% wool. Polyester is also not as bad in a blend as many people will have you believe. However, something 100% polyester can look a little cheap. A pinstripe wool for example oozes authority or class and is often the go-to for highflyers or professionals.
Velvet is also synonymous with wealth, mix and match velvet so it's not too overpowering.
3. The modern-day boot-fair for the fashion conscious
You be surprised at the fantastic quality pieces you can find in thrift shops. Many Costume Designers for films have done so and sourced some iconic pieces. The red jacket for Brad Pitt in Fight Club for example. You can shop on sites such as Thrifty, Spice Vintage or Depop for discounted new or used fashion attire.
4. Outlet stores can offer exceptional value on high-street and luxury goods
According to Carl, one of the greatest examples of this is Bicester Village (an outlet shopping centre on the outskirts of Bicester, Oxfordshire, UK). Not only do you manage to find great bargains, but it also makes for a wonderful day out. A short train ride out of London and you'll find designer fashion labels aplenty. A village so big you need a map to find your way around and plenty of great discounts on all the major fashion labels selling last season's stock.
However, if you're not visiting London anytime soon, there are plenty of these outlets and you might even discover a new village closer to you!
5. Get your old suit tailored to fit
This was mentioned at the top of the list, however, it's important to highlight the details a little more. It is important to know what to tell your tailor to ensure a comfortable fit. Taper the legs and turn-up the hem are some examples and yes, they can be done at a good dry-cleaner or tailor. Alternatively, you could buy a suit slightly bigger (but fits over the shoulders) and have it cheaply tailor to fit you.
6. Give your shoes a polish. Simple. Quick.
Whilst this might sound obvious, you'll be amazed at how oblivious men can be to the state of their footwear. According to Carl, women notice men's footwear before anything else. Even their height. There is no bigger deal-breaker than dirty shoes or trainers. It says so much about you, your projected wealth and how much pride you take in your appearance.
7. Buy cheap staple pieces
You shouldn't have to overspend on the staples that will be the elegant pivots of your wardrobe. Black and white t-shirts for example will be the most versatile pieces you'll own, but they won't be looked at as much as your outer garments. You can pick up some great quality jersey cotton black and white tees from the likes of Zara for next to nothing. Instead, spend your money on the statement items such as coats or footwear.
8. Replace your buttons
Again, guys are typically lazy when it comes to things like buttons. They either rarely replace or sometimes not at all. What's the point of having a good watch but a button missing from your soldier cuff? Think of it if you're cheaply renovating your kitchen, you'll give it a lick of paint and change the handles. Apply that to pieces of clothing that the buttons are hanging off.
9. Rotate your clothes - care and repair
Do not over wear your clothing, as it will quickly look cheap and tacky- Carl says. Make sure you wash the pieces of clothing correctly to keep them in the best possible condition. You'll often find brands that have care and repair products for their garments. Always check with the brand what they can do to help you maintain the quality of your garments.
10. Replace your laces
Seems like such an easy one. But replacing laces is a great way to refresh a pair of footwear. Most trainers and shoes come with a spare set already. So Carl suggests to keep all the boxes safe and make a note to replace them once in a while. Even get into the habit of washing them every couple of months or so if required.
11. Pick a statement piece
Try not to have 2 or more statement pieces of clothing fighting for attention. Carl suggests to pick one and go basic on the rest. More often than not your coat or blazer being the showiest of pieces. When working from a budget strip back on trying to have every garment become the focal point.
12. Layering your clothes
In Carl's opinion, anyone that knows how to layer their clothes effectively will exude a lot more confidence and will ameliorate themselves from the rest of the herd. The key to layering is not mixing and matching too many textures of fabric and working your way out from light to dark. Hence, you'll see a lot of lighter waistcoats to the darker blazers or coats. There are plenty of colour wheel charts online you can resort to if you're unsure. However, if you have to layer, chances are it's Winter/Autumn and sticking to earthy hues, greens, browns, dark reds, mustards etc, is generally considered the way to go.
13. When dressing formally generally speaking do not overmatch
It's tricky this one - says Carl. There are certain 'rules' of matching ties with pocket squares. Yet if we are too on the nose then it looks like we're just wearing the matching tie and pocket square gift set that our Aunty bought us from an outlet closing down sale. Wearing the same colour pocket square, tie and socks just screams wedding and a poor dress sense. Try and have a bit more fun with accessorising your accoutrements. Again, knowing your colour wheels can help, but also don't stray too crazy into patterns and fabrics that will clash.
---