Lotto News 19 February 2020
Winner Stories
Would You Quit Your Job if You Won the Lottery?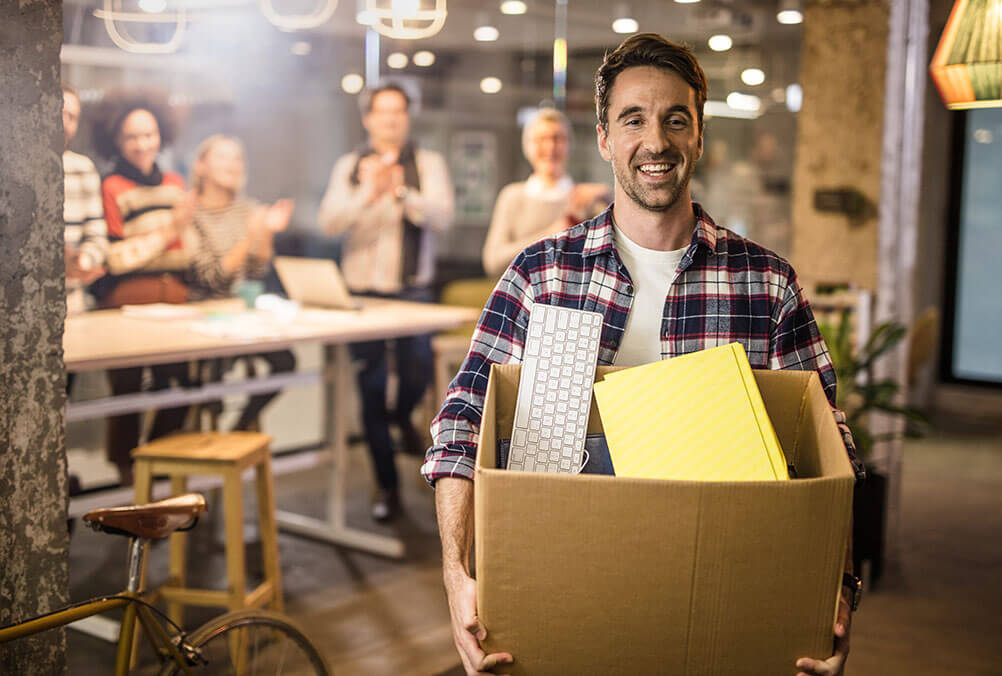 There have been many studies carried out into how a lottery windfall affected the winners, and when it comes to their attitudes to work, you may just be in for a surprise.
A famous study by Berkeley in the 1980s found that out of 549 American lottery winners surveyed "only 23% of the million-dollar winners quit their jobs. And none of the winners who won less than $50,000 quit." A 2004 study seemed to back this up, finding that 85% of lottery winners kept on working, with around 63% remaining with the same employer they had before their big win. In the UK the results were a little different, as a study from Ipsos MORI about British lottery winners found that less than half of those surveyed kept the same job after hitting the jackpot.
They say that 7 is a lucky number, so let's take a look at seven stories of lottery jackpot winners. As you will discover, the decision of whether or not to quit your job after a big lottery win is not always clear-cut!
From Amazon to Amazing
One lottery winner used his stroke of good fortune to pack in the day job and follow his lifelong dream. Dean Weymes was working for Amazon when the 24-year-old hit the jackpot on a lottery with a top prize of £10,000 a month for 30 years. Dean, from Peterborough in the UK, quit his job as a shift-worker the day after discovering that he would no longer need to worry about money from that point on.
Instead, the lucky winner would follow his dream to become a screenwriter, saying "I studied screenwriting at university, as this has always been a passion of mine. Now I can turn my passion into a job — something I never thought I could do." A representative from Amazon wished the young man well, expressing the hope that one day he would be creating blockbuster movies for Amazon Studios. We haven't seen any of Mr Weymes' creations make it to the big screen just yet, but time is certainly on his side!
TV Reporter Celebrates Too Soon
Our next story is a cautionary tale about the dangers of celebrating too soon! The Spanish 'El Gordo' Lottery grips the imagination of Spain every Christmas, with virtually the entire country settling down to watch the draw live on TV on December 22nd. It is common for people to buy shares in tickets, meaning that friends, neighbours and families get to celebrate together if their numbers come up.
One such winner was a Spanish TV reporter who discovered that she had a winning ticket live on air, whilst covering the draw for Valencia television. Reporter Natalia Escudero got a little bit carried away, screaming "I'm not going in tomorrow!" and wagging her finger in front of the camera. However, she had to backtrack upon discovering that she hadn't bagged the top prize, but instead would take home a prize of just €5,000. A contrite tweet was issued the following day, and as far as we are aware Ms Escudero hasn't given up her day job just yet.
Record-Breaking Winner with Lottoland
In June of 2018 Lottoland was delighted to announce that one of our lucky Lottolanders had scooped a record-breaking prize from betting on the EuroJackpot lottery. With just her second-ever Lottoland bet, Christina, a 36-year-old office cleaner, claimed a massive €90 million prize. This monster win was a world record for an online gambling pay-out, and it didn't take long for Christina to embark upon a new phase in her life.
Our fortunate winner selected her lucky numbers with the help of her mother and found out about her giant windfall after finishing her late-night cleaning shift. You won't be surprised to discover that Christina quit her job on the spot! "I've always wanted to travel and visit new countries," said Christina when we spoke to her after her big win. "Finally I'll be able to afford my dream holiday: driving coast-to-coast across the USA in a camper van!" We wish her lots of happy travels and hope to give many more Lottolanders the chance to realise their dreams in the years to come.
Quit First, Win Later!
Most lottery winners make the decision to quit their job after they win the lottery, not before, but one lucky lady did things the other way around. After dedicating 30 years of her life to working as a nursing assistant, Yanique S. from Colorado decided that it was time to make a change. She left her job in January 2017 without any solid notion of what the future would hold, little realising that her fortunes were about to change in a very dramatic way.
Yanique bought a quick pick ticket for the Colorado Lottery at a local grocery store, and when the numbers were drawn on Saturday, January 28th she discovered she had just won $3.3 million. Having been an avid lottery player for 30 years, the Aurora native couldn't believe it when she saw that she had finally hit the jackpot. Husband Bruce was equally astonished when he saw the winning numbers displayed on the lottery home page, saying "I was highly suspicious but then I thought, there's no way she could mock up their whole website!" The win was a genuine one though, and Yanique could start making plans for a very comfortable retirement.
How to Annoy Your Colleagues
Perhaps not every lottery winner is as deserving of a jackpot windfall as our dedicated nursing assistant. Our next story is about somebody who quit their job for quite a dishonest reason. Truck driver Gary Baron was a member of a work syndicate in a courier company when their numbers came up from their weekly bet on the Australian lottery. The group won a more-than-healthy prize of $16.6 million, but when Gary realised that dividing the sum among the 15-person syndicate would leave him with just over a million, he hatched a not-so-cunning plan.
Mr Baron quit his job without informing his colleagues about the win, planning to take the whole jackpot for himself. Unfortunately for him, the lottery organisers sent a congratulatory bottle of champagne to his workplace – one which was delivered by another member of the syndicate! Gary had made no efforts to conceal his new-found wealth, with his girlfriend (also a syndicate member) flaunting their lavish purchases on social media. A court case followed, although as Mr Baron claimed to have won the prize from a ticket he purchased for himself, the rest of the group did not get to share equally in the prize, and had to settle instead for smaller sums.
No Wedding, No Win
One of the biggest lottery jackpots of all time was claimed by 53-year-old Mavis Wanczyk in 2017. The 53-year old hospital worker from Massachusetts won a gigantic $758.7 million from the US PowerBall lottery, taking home a lump sum of $443 million after taxes were deducted. Mavis had worked in patient care in the Mercy Medical Centre for 32 years, but quickly decided that she would spend the rest of her days caring for herself instead of others!
Less fortunate was her partner of 15 years, Richard Lord. Although they were together for a decade and a half, Richard had never gotten around to popping the question. This meant that when the couple split up just a year before the big win, Mr Lord was not entitled to a cent of her new fortune. He remained philosophical though, wishing his ex-partner the best and saying "I'm happy for her. I certainly don't hold anything against her. I hope she enjoys all that money - she's certainly got a lot of it now."
The Janitor Who Didn't Hang Up His Mop
Let's finish up with an account of one lottery winner who shocked everybody by NOT quitting his job after a big win. Vito Halasan won a whopping $7 million from the Canadian British Columbia Lottery draw in April 2019, just a few days after celebrating his 58th birthday. Vito had trouble coming to terms with his stroke of fortune after scanning his winning ticket, saying "I have really blurry vision so I had to hold the ticket right up to my face. I couldn't believe it!"
Mr Halasan stunned everybody by announcing that he had no intentions of giving up his job as a janitor, although he did at least plan to cut down on his hours. Instead, having left his native Filipino to forge a better life for his family in Canada, he planned to use the money to secure the futures of his three children and four grandkids. Whenever Vito does decide to put away his tools for the last time, we hope that he and his family are able to enjoy a long and happy retirement.
A study published in 2010 by the Journal of Applied Psychology found that 73% of the Americans they polled would continue to work, even if they no longer needed to for financial reasons. Would you turn up for work on Monday morning after a big lottery win, or would you follow the example of some of our winners and quit on the spot?
There's only one way to know for sure, and that is to see your lucky lottery numbers come out of the draw. Until then, most of us will have to stick with the day job!
Sources:
theladders.com
bbc.com
theatlantic.com
dailymail.co.uk
washingtonpost.com
businessinsider.com
lottoland.ie
news.com.au
stat.berkeley.edu/~aldous/157/Papers/kaplan.pdf
ipsos.com
bizfaculty.nus.edu.sg/
---