Lotto News 20 December 2021
Foster a Furry Friend
Support the DSPCA with Win-Win Charity Lotto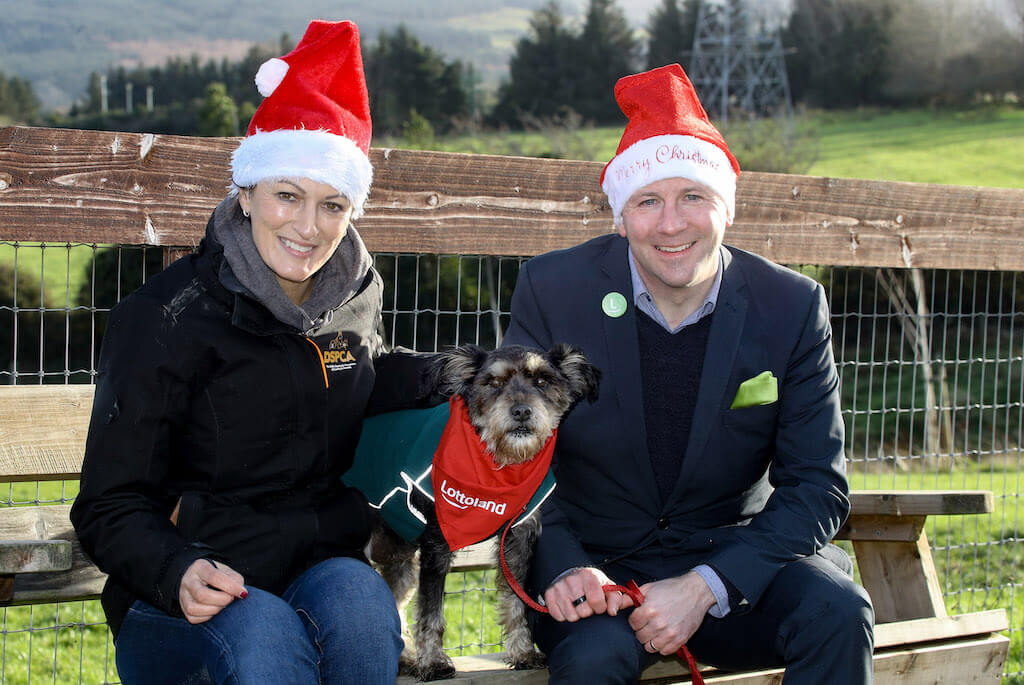 Table of contents:
40% INCREASE IN OLDER PETS BEING ABANDONED
In the opening sequence of the 1955 film Lady and the Tramp, a cocker spaniel puppy is presented as a Christmas gift in a hat box. This scene was inspired by a real-life incident when Walt Disney himself once gifted his wife a Chow puppy in a hat box. The film reenforces the stereotype of giving a puppy as a Christmas gift. We've all heard the saying 'a dog is for life, not just for Christmas'.
Yet still, an alarming amount of pets, not just dogs, are being abandoned every year. The surprising thing is that many of these pets are not puppies or kittens, but older pets whose owners have turned their backs to.
To make matters worse, many of these pets are in poor health and have been neglected by their owners.
The DSPCA's Corporate Relations Manager, Suzanne McGorvern commented, "what saddens us most at the DSPCA is seeing so many older animals being abandoned in the lead up to Christmas. This happens every year but 2021 has seen a huge increase in our intake. These pets have been with their owners for many years and to end up in an animal shelter at this stage in their life is so unfair. They arrive here terrified, confused and in a lot of cases very ill. The deserve better than this."
WHY ARE OLDER PETS BEING ABANDONED?
Unfortunately, many people do not properly consider the commitment involved in caring for a pet and are unwilling to dedicate enough time or money on them. In other cases, people realise that they do not have the adequate space at home. Some people simply don't have the patience to raise and care for pets and others may simply be cruel and abandon the pet when they are no longer small and 'cute'.
When it comes to older pets, there can be more varied reasons as to how they end up either abandoned or in shelters , ranging from owners passing away to couples divorcing and neither wanting to keep the pet and other family issues.
IMPACT OF LOCKDOWN ON PETS
One major factor which explains the recent increase in abandoned older dogs is related to the effects of the coronavirus pandemic. Many people have suffered economic hardships due to lack of business or losing their jobs, and as a result, they can no longer afford to take care of their pets, especially if these pets are ill and require expensive treatment or surgery.
Lockdowns have led to a large increase in people buying pets to keep them company. However, many people who rushed to find a companion have then gone on to abandon them post-lockdown. A survey carried out by Lottoland earlier this year revealed that 1 in 8 people got a new pet during lockdown, although 60% were not worried or aware that pets are likely to develop anxiety when their owners are away. 4% said they would seriously consider giving their pets away if they misbehaved at home, with the figure rising to 7% in Dublin.
Lottoland's Country Manager for Ireland, Graham Ross, stated "our in-depth survey has not only highlighted the increased pet ownership from our changed lifestyles but also the looming crisis when confused animals start to return to long periods of inactivity and alone time."

Anxious pets can misbehave by chewing furniture or urinating and defecating in the house, which can in turn lead to their owners giving them up.
Graham Ross, Lottoland's Country Manager for Ireland, alongside a representative of the DSPCA
WHAT CAN YOU DO TO HELP ABANDONED PETS?
On a more positive note, there are millions of people who love animals and are ready to help.
A study carried out by Lottoland showed that out of 2,000 dog owners, 80% of them preferred to speak to their pets rather than their partners. Showing how much people truly confide in their pooches.
The best way to help an abandoned pet would be to adopt one. The next best thing would be to foster one.
Fostering a pet means that you take care of a pet temporarily, until it is ready for adoption.
Fostering is a great way to help a pet if you are unable to commit to caring for a pet long term. Forget the saying 'you can't teach an old dog a new trick' - you actually can teach an old dog a new trick. In fact, older dogs are usually easier to train as they are less likely to get distracted in comparison with puppies, meaning they are able to concentrate better.
HOW TO FOSTER A PET
If you are interested in fostering a pet, head over to the DSPCA website and complete Foster Form.
Fosters must be 18 years of age and have their own transport.
Fosters need to live within a reasonable distance from the DSPCA shelter in Rathfarnham as they will need to attend regular veterinary check-ups for their foster pet.
Fosters need to be around during the day to care for their foster pets so they cannot work full time or part time.
WIN-WIN CHARITY LOTTO
If you are unable to foster a pet but would still like to help out, you can support the DSPCA by donating. Lottoland has pledged its support to the DSCPA by donating through its Win-Win Charity Lotto.
Lottoland's Graham Ross said "it is so upsetting to hear that the DSCPA staff, who do such fantastic work all year round, are facing such a surge in older pet abandonments at a time of year when so many families are considering making the step to bring a new pet into their homes. Through the support of our Win-Win Charity Lotto and Scratchcard, which directly funds contributions to this amazing charity, we know these older animals will get the very best medical care and rehabilitation support from the team in the DSPCA this festive season but there is no substitute for a caring foster home and so we're joining with Suzanne and all the DSPCA team to ensure that through this awareness campaign, as many pets as possible hit the rehoming jackpot this Christmas!"
For every €1.50 (the price of a single line) which you bet on Win-Win Charity Lotto, 30c goes to charity.
To bet on Win-Win Charity Lotto, select 5 numbers from a pool of 1-54 plus a SuperBall from 0-9. You can also use the QuickPick option. To win the jackpot, you need to match all 5 main numbers plus the SuperBall. The draw is based off the results of Spain's El Gordo de la Primitiva (not to be confused with the Spanish Christmas lottery 'El Gordo de Navidad') i.e. you will be betting on the outcome of El Gordo de la Primitiva.
The starting jackpot for Win-Win Charity Lotto is €5,000,000.
CHRISTMAS AT LOTTOLAND
There's so much to look forward to this Christmas at Lottoland!
The Spanish Christmas lottery El Gordo de Navidad is the world's biggest lottery with a prize pool of an incredible €2.4 billion. Even better is that the odds of winning the jackpot of €4 million are un unbelievable 1 in 100,000! Meaning you have a much better chance of winning the Spanish Christmas lottery than any other major lottery. Furthermore, there are literally thousands of chances to win smaller prizes.


To top the year off, there's the Mega 2022 New Year's Eve Lotto with a mega jackpot of €100 million!

Christmas is a time for giving. If you're feeling generous, by betting on the Win-Win Charity Lotto you would contributing to helping out pets in need. Perhaps you're generosity will be rewarded with good karma and you may end up with a little extra help yourself if you win the jackpot!
Sources:
irishexaminer.com/news/arid-40275257.html
dublinlive.ie/news/dublin-news/worrying-surge-older-pets-being-22400139
mirror.co.uk/news/uk-news/millions-people-choose-confide-dogs-24730734
---