Lotto News 22 September 2017
Achieving your ambitions
A Guide to Setting Goals in Life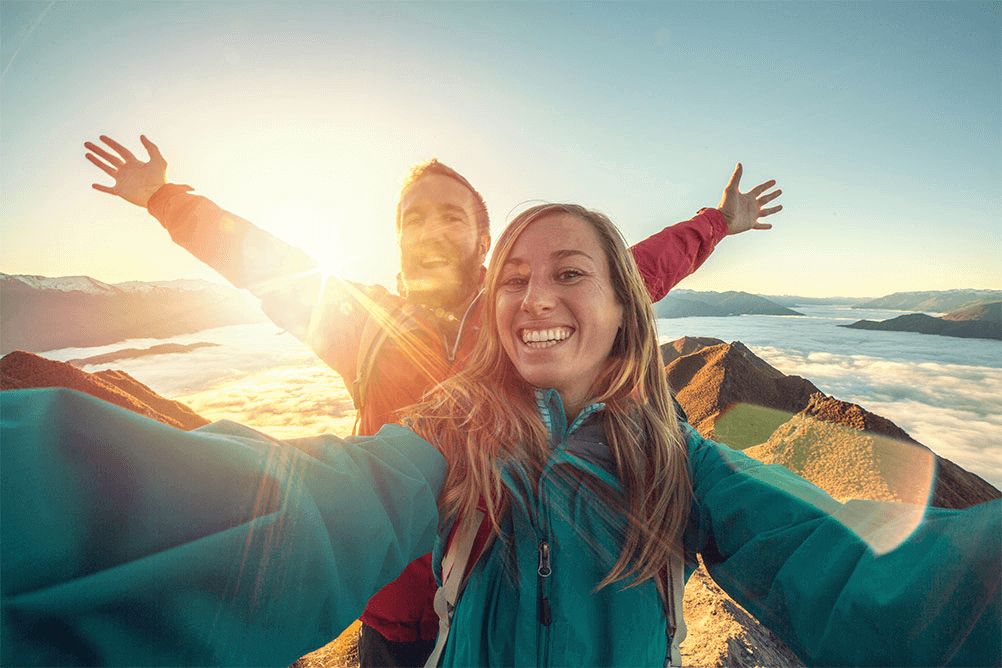 The Iceberg Illusion: what lies behind success?
There are lots of examples of different types of life goals that might occur when the question comes up, for example, it's about saving for a deposit on an apartment or for a dream car. Get a promotion or find your dream job, build a family or get that degree you've always dreamed about! Or maybe start going to the gym to get in shape. So of course, there are a multitude of different life goals. But how do you really set yourself a life goal, and why is it so important to create a realistic target to aim at?
Often people do not see the hard work that goes into actually achieving your goals. Before we move on, we thought we would illustrate this so-called 'Iceberg Illusion'. As you can see, there is a lot going on in this illustration! Nothing comes for free, and often not without sweat and sometimes tears. There is always hard work behind success! It's something important to keep in mind before you read on and learn how to set up smart, achievable goals.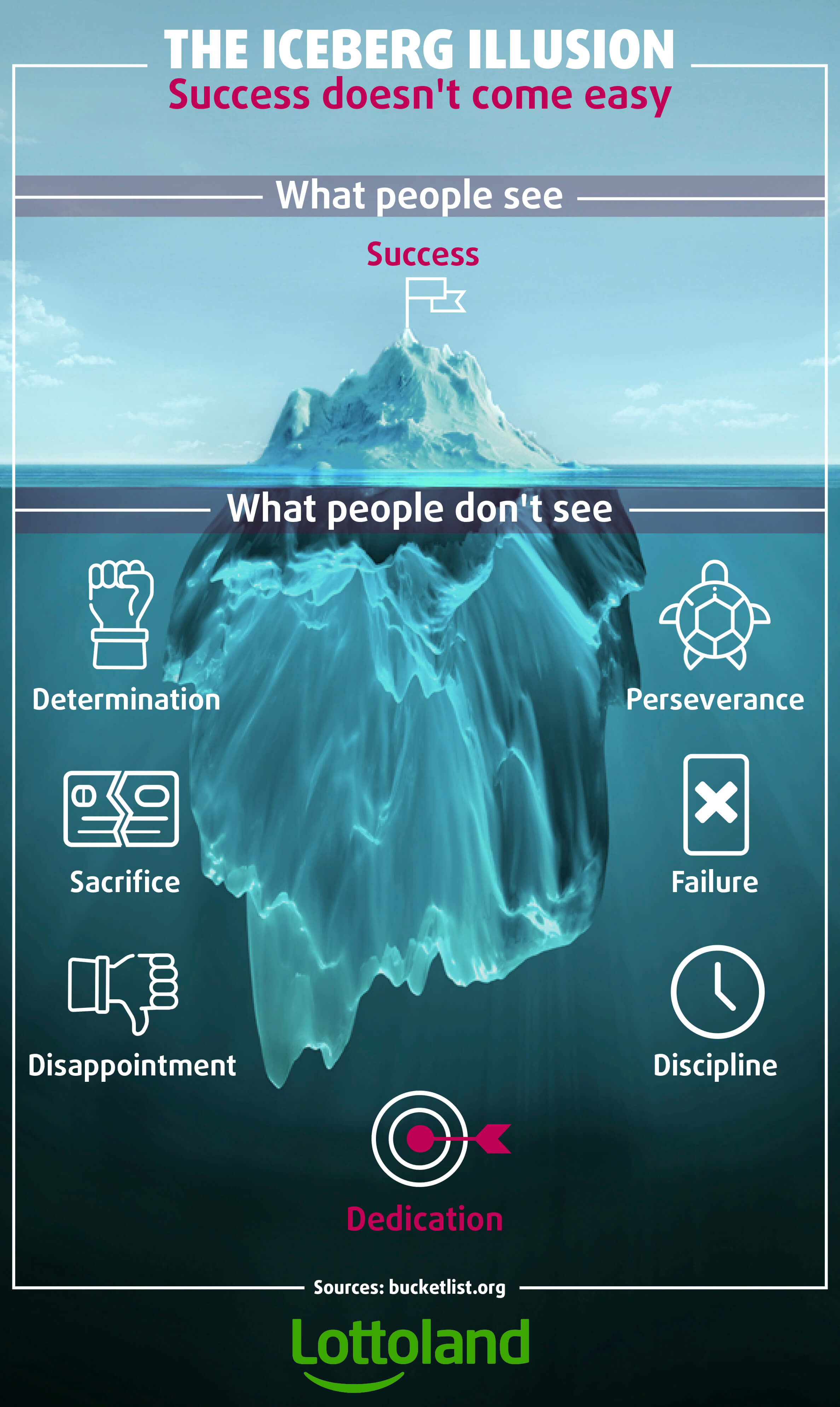 What are examples of different life goals?
There are many examples of different types of life goals that you often think about when the question comes up. For example, it might be a question of saving money into a flat or a dream car, making a career and getting a dream job, family or going to the education that you have always dreamed about! Or maybe go to the gym and get back in shape? There are a multitude of different life goals. But how do you really set up a life goal, and why is it so important to set up a realistic life goal?
Why is it important to set realistic goals in life?
It's all about setting up what are called 'SMARTA' goals, based on the initials of the 5 principles involved (Specific, Measurable, Acceptable, Realistic, Time-bound, Achievable). It's very easy to set a goal, and that's something everyone can do. However, what is much more difficult is to overcome the obstacles in your way, and to keep going until your goals are achieved. This is where a lot of people fall down. Many set themselves unrealistic goals, goals that are extremely difficult to reach and therefore give up at an early stage. However, if you follow the 'SMARTA' rules then you will give yourself the best possible opportunity of completing your goals.
Specific - The first principle of SMARTA goals states that the goals must be specific. So what does this mean? The fact that a goal is specific means that the goal is precise and defined in a well-calculated way, so it cannot be misinterpreted in any way. Let's take an example of an unspecified goal like "I will save money every month". That's a little vague, so let's create a specific target like: "I will save €100 every month". Set up a specific goal as they are easier to follow and, therefore, much easier to track and see if you've actually achieved them.
Measurable - This point means that the targets should be measurable. It should be easy to know when your goal has been met. For example, if you aim to "get fit" then it's not easy to know when you have actually achieved this goal. There is no direct measure for when you have gotten 'fit'. Instead, it should be possible to measure exactly what you want to achieve. For example, you could aim to bench press 80 kilos, or maybe to lose 2 stones in weight, or maybe to be able to run a 5K within 25 minutes.
Acceptable - Furthermore, it is hugely important that you can stand behind your goals and accept exactly what is required. Of course, this point becomes even more important if there are several people involved in trying to attain the goal, such as an athletics team or a company. Then everyone agrees with the goal and works towards it together!
Realistic - When setting up a goal, it is important that the goal is feasible and realistic, and so the goal must not be too difficult. Nor should they be too easy to reach, as if something is really that easy then perhaps you should be setting your sights higher. Strive for a goal that feels like a challenge, yet which is still feasible! If you set up a goal which is too difficult, it is easy to become disheartened and give up far too early.
Time-bound - One thing that matters when setting your goal is to have a clear start and end date for in mind. It's important to set a time when you want your goal to be met. If you have no fixed end date, then it is too easy to make excuses and find reasons to 'take a week off' (which can turn into a month, or a year!). Setting a firm date allows you to chart your progress and act accordingly.
Achievable - When setting up a goal, it is important that the goal is feasible and realistic, but at the same time the goal must not be too difficult. Nor should they be too easy to reach. Strive for a goal that feels like a challenge, yet feasible! Setting up an incredibly tough goal for example, it is easy to lose interest and give up your goal far too early when you are not making enough progress.
The famous people who struggled to achieve success
Sometimes it's inspiring to read about people who set themselves different types of goals in life, and even though they encountered a variety of obstacles, never gave up. We become aware of famous people after they become famous, and so it can be easy to forget just how hard many of them have worked to get into that position.
Imagine how different society and our lives would have been if some of these famous people had given up their dreams when they encountered various obstacles. The message we can take away is to never give up, and don't let anything stop you from fulfilling your dreams.

What this study on New Year's Resolutions says about life goals
According to a famous study conducted by the University of Scranton, 92% of all who set a New Year's resolution failed to achieve their goals. That's a whole lot of failure! 19% of people achieve their resolutions every second year, while 1 in 4 people never succeed in keeping a New Year's resolution.
In the study and the graphics below, the statistics look a bit more positive. This particular survey was conducted in the UK. We're guessing that you can recognize yourself in some of the New Year's resolutions shown below.

Do you feel inspired now? Get ready to achieve your goals!
Did you make a New Year's resolution which didn't make it past the end of January? Well there's no need to wait until next year, because there is no time like the present when it comes to setting positive life targets for yourself. Do you want to create a blog? Travel to Iceland? Learn how to swim? Set yourself a challenge today. Write it down, and mark a date on the calendar by which time you want to have achieved your goal. Set your mind to it, follow the SMARTA rules, and you really can change your life for the better!
---