Lotto Winners 10 October 2017
Enjoy a Happy and Successful Life
Discover the Power and Limits of Positive Thinking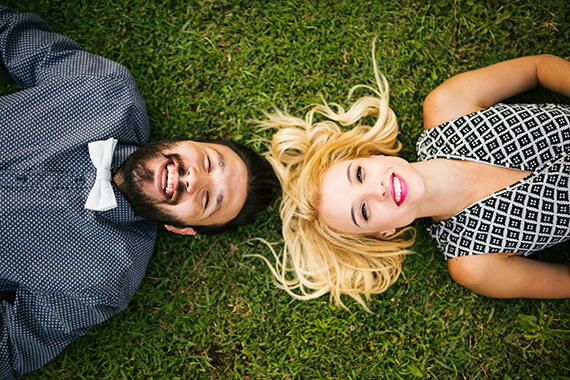 You may well have heard the phrase: "Positive thinking will let you do everything better than negative thinking will."
But how exactly is positive thinking supposed to work? Can it really influence us and change our lives for the better? Does it mean that we should look at our real-life problems in a positive way all the time? Is it possible to think positively as a way to get rid of those private doubts and fears that keep us awake in the middle of the night?
We are going to look at what positive thinking experts have to say and whether there are some proven techniques that will help us to break away from negative ideas.
How do we define positive thinking?
Sometimes it feels like positive thinking is all we hear about today - from blogs, expert articles, motivational books, happy films, and so on. All these positive publications, as well as scientific studies, claim that optimistically tuned people are generally better at dealing what life throws at them than pessimists. It has been proven that optimism and a positive view of the world even affect the immune system and general health. Just a simple smile or a laugh can act as a form of medicine!
The term 'positive thinking' can be easily explained as an orientation towards positive things, towards the bright side of life. It deals with the way we think about ourselves, about other people and how we perceive the surrounding world. The emotions we experience reflect the way we think. According to psychologists it is about redirecting and focusing attention on what is positive in our life rather than on those problems that are increasingly asking for our attention.
Thinking positively does not mean to deny the existence of problems and negative aspects of life. At the same time, this does not mean that we should look at reality and ignore negative emotions. Just the opposite. According to Edward Diener, a well-known expert in positive psychology, the long-term feeling of joy has led to people being able to overcome these problems and negative emotions.
Positive thinking and optimistic attitudes influence our lives
According to many experts, a positive approach helps us to cope better with the little stresses of everyday life and to emerge intact from more problematic situations. A positive outlook lifts mood, and helps us to conquer fears and negative thinking. If we adopt positive thinking, it changes not only our perceptions but also makes us happier and thereby more successful in life.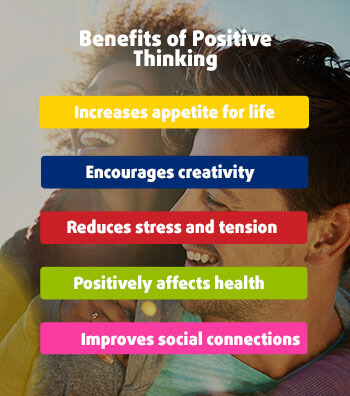 It has been proven that happy feelings stimulate our brains. As Psychology Today reports, pleasant feelings improve creativity, speed up our problem-solving abilities, and promote mental acuity.
Optimistic and joyful ideas increase the production of serotonin, one of the hormones of happiness that takes care of our personal well-being and improves the mood.
Positive thoughts improve the ability to analyse and think, boost our attentiveness and lead to a chain reaction of happy and positive thinking.
There is no doubt about the benefits provided by positive thinking and, on the other hand, the destructive impact of negative ideas on our lives. Thinking positively, however, is not a natural or default approach for many of us. How can we control the ability to think positively?
How to develop positive thinking - techniques
Most authors agree that positive thinking can be learned, and there are a lot of suggested techniques put forward as a way to learn this way of thinking. In the picture below, you can read the positive affirmations suggested by the motivational author Louise Hay.
Remez Sasson from the SuccessConsciousness.com site suggests the following techniques:
1. Visualisation
Take advantage of your imagination to visualize different situations, such as an upcoming job interview. Imagine, for example, that you successfully complete that interview and get the dream job you have been hoping for. When you are actually sat in front of your potential boss, your brain will automatically behave as if you have experienced this situation already, and as a result you will be more peaceful and self-confident. This in itself can actually help you get the job done. When it comes to visualization, be brave, and don't put any limits on yourself. The main rule is: always be positive in your imagination.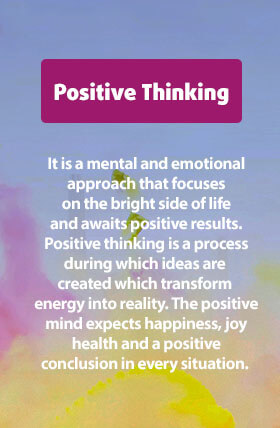 2. Positive words
Try to use only positive words. Whether when speaking aloud or in your thoughts, when you are talking to yourself. Observe what words you use. Try to replace possible negative constructions and sentences by positive or neutral ones. The way you talk to yourself and others affects what you really believe and how you think.
3. Positive Affirmation
Positive affirmations are positive statements that assure us that something is true. By regularly repeating affirmations we adopt the positive statement and believe it is true. As an example of a positive affirmation we can say: "I am unselfish and happy to meet new people!" Or "I'm happy with myself and my life."
4. Positive thoughts
Whenever a negative idea appears in your head, replace it with a positive one. Do not give up and persevere. In the long run, you will be able to train your brain by thinking positive thoughts automatically.
6 Principles for Dealing with Negative Ideas
Want to get rid of negative ideas? Choose one of these principles to handle them! Their author is Russ Harris, author of The Happiness Trap. The principles for controlling negative ideas were based on the method called Acceptance and Commitment Therapy (ACT) as described by psychologist Steven C. Hayes. Believe it or not, this methodology has been medically tested and has produced positive results for people suffering from depression, anxiety, and similar afflictions.
These six basic principles should effectively deal with negative ideas and help you to create a rich and meaningful life for yourself.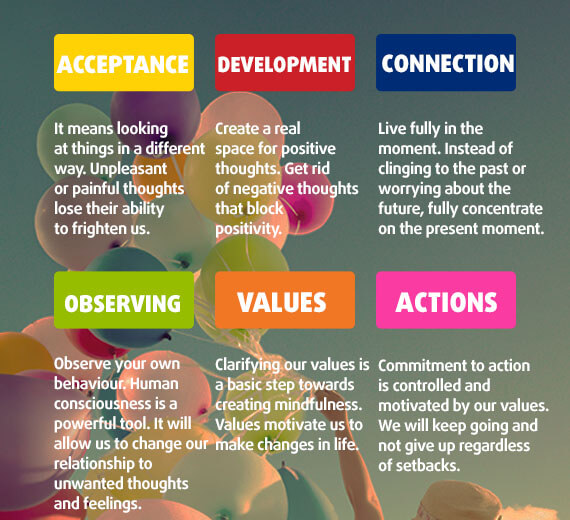 The author adds that these principles do not have to be followed. It is up to us whether and when we decide to apply them. We recommend that people try out the various different principles to see how well they work in our lives. The results will convince us which principles can change our lives in a positive way.
Limits of Positive Thinking
Unfortunately, none of the above-mentioned positive thinking techniques are going to work 100% every time. Positive thinking has its limitations and its boundaries. Especially during those times when someone is exposed to stressful and unpleasant situations. The previously mentioned Russ Harris outlines the following experiment in his book The Happiness Trap:
'When reading this paragraph, try not to think about ice-cream. Don't think of its colour or shape. Do not think about how it tastes on a hot summer day. Don't think of the sensation when it melts in your mouth. Do not think about licking the edges of the cone to stop the ice-cream getting onto your fingers...'
What do you think? I'm guessing that you couldn't stop thinking about ice cream. Maybe you want one right now! The author also gives other examples of how difficult it is to not think about something when you are forced to do so. When you are exposed to high levels of stress, it is practically impossible.
Although there are several principles to follow which aim to direct your life towards maintaining a positive attitude, unfortunately they do not always work. It is important to remember that each method has its own limits.
However, don't be afraid of those limitations. If you have not been able re-set your brain to promote positive thinking the first time you tried, try it again or choose a different method. Each of us is different and different techniques will work better for each of us.
Based on the idea of "positive theory", positive psychology emerged, which is a discipline supported by dozens of scientific studies. If you are feeling that things look a bit hopeless or you are not experiencing the brightest time of your life, you should at least give positive thinking a try to see whether it can help. Follow the recommended techniques and principles to get rid of negative ideas and learn to see the world in brighter colours. If you just need a boost to get you back on track, you can also find inspiration in motivational films, books and websites.
Source:
Lottoland.com/sk
---