Lotto News 13 January 2017
You Can Change Your Fortune Today
How To Have Good Luck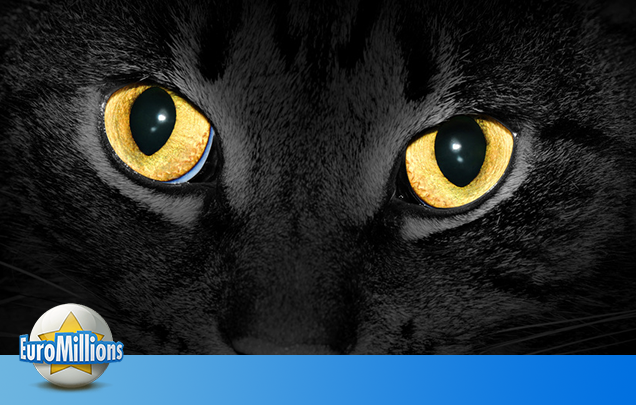 Couple of days ago my morning started off with a bang; the bedroom mirror fell off the wall and I got delayed sweeping up shards of glass.
Well there's a great start to the day!
Work was stressful and, more frustrating still, no matter what I tried to do, whether it was a work task or something annoying on my chores list, something, some delay or unforeseen external factor, always got in my way. It was as though the entire universe was conspiring against me.
I return home, exhausted, and as I approach the door a black cat darts past – just my luck!
But on the same day my partner found out she got that new job she was going for.
So, good day or bad day? It all depends on your…
Definition of Luck
So… how do you define luck?
No really, I'm struggling here. You can't dig it up out of the ground, you can't study it under a microscope, in terms of our physical reality it simply doesn't exist.
If anything it's a survival instinct, a way for us to process and categorize random occurrences.
When something random occurs that has a negative impact on our lives we call that bad luck.
When the opposite happens, like, say, finding a tenner on the street, we call that good luck.
Both come from the exact same place, nowhere. And the difference between both is merely a matter of perception.
Now; imagine there's two lads sitting opposite one another in a train, Lucky Larry and Mopey McDuff. Suddenly there's an accident, a serious one, and the train derails.
Both the lads survive and they're interviewed on Six One News.
First comes Mopey McDuff, wishing he never got on the train and bemoaning the fact that he's always unlucky, "things like this always happen to me!"
Next they interview Lucky Larry, who smiles at the camera and proclaims it a miracle nobody was killed in such a serious accident, "I'm lucky to be alive!"
Who's right? Who's wrong? Or are they both right, and wrong, at the same time?
What Brings Good Luck?
Charms, spells, crystals…
Throw them in the bin.
All of these things are absolute hocus pocus, and if you're a regular reader you'll know exactly what we think about that carry on.
It's the same thing we say about your lucky lottery numbers or your uncle's lucky fishing hat.
None of those things bring good luck.
What they do is far subtler; they bring the appearance of good luck.
They influence our subconscious and colour our perception so that we're more likely to focus on the positive things (i.e. good luck) and not notice the negative (bad luck).
Now of course these days we don't tend not to walk around with rabbits' feet or horseshoes in our pockets, we're not ignorant peasants, after all. No, since the dawn of the 20th century we gained a new talisman, the self help book.
Self Help Gurus
The Self Help industry is big business – worth in excess of $10 billion by even the most conservative estimates. And the reason is simple, we all want to feel happier and more successful.
Now in the old days there was really only one self help book you were expected to follow – it was quite long but came with ten simple to remember commandments.
But then along came Sigmund Freud, who tore the commandments up and told us that lusting and coveting was all perfectly natural and above board, thus ushering in the age of psychiatry and, with it, the brand new industry of self improvement.
Just in the nick of time, too, because people were desperate for answers. The old ways were crumbling, the world seemed smaller than ever, jobs were being replaced by automation and fear and anxiety was at an all-time high.
Sound familiar?
The best way to get ahead, said the gurus, was to better yourself, and that required a complete mental makeover.
In Napoleon Hill's "Think and Grow Rich", published on the eve of the Great Depression, you needed to think like a tycoon.
For Norman Vincent Peale, author of "The Power of Positive Thinking", it was all about looking on the bright side. First published in 1952 the book was heavily criticised for its overly-simplistic answers, though that didn't stop it selling millions.
Theories related to the so-called "law of attraction" have been with us for over a century, and new takes on it tend to crop up every decade or so. The last one to get serious mainstream attention was 2006's The Secret. Both the film, and accompanying book by Rhonda Byrne sold millions. It was also hilariously satirised on Family Guy when Brian Griffin published his book "Wish it, Want it, Do it!"
In reality, however, the real secret of luck won't be found inside a book, but inside you.
Plus, you can easily dilute the pages of every single self-help book ever printed into one simple sentence:
Change your outlook.
Because at the end of the day good luck charms and "positive thinking" books are placebos – the real magic happens inside YOU!
The Psychology of Luck
It's all about whether you are a glass half empty or a glass half full person.
It's about anxiety versus confidence.
It's about being the sort of person who says, "something will go wrong" versus one who goes, "everything will work out in the end."
Of course it's all too easy to be the former, especially in this age of peak anxiety.
Everywhere we look – on TV, in the papers, on the internet – it's doom and gloom, misery and fear.
The question is, do we give in to it? Or do we step back and get some perspective?
Changes come in waves, that's how life works. Some people see only the risks, others see the rewards.
In the end, the difference between who's right and wrong comes down to a coin toss.
How a random occurrence works out, good or bad, is out of our hands, no way of knowing for sure until it happens.
This distinction has been studied often by science, most famously by Richard Wiseman, the British psychology professor and author of his own self-help book, "The Luck Factor".
Wiseman was obsessed by notions of luck and so, set out to study it in detail. In one study he gathered two groups of people together; one group who identified themselves as lucky, and another who claimed they always had bad luck.
He separated the groups and asked them individually to count the amount of photos in a newspaper. All members of the unlucky group flicked through slowly, counting each photo one by one. The lucky group, on the other hand, finished sooner. Why? Because Wiseman had put a message that said "Stop counting. There are 43 photographs in this newspaper."
The "lucky" people all noticed this message but the unlucky ones were so focussed on the task at hand and anxious about not doing it correctly that they didn't notice the message, or, indeed, another message he embedded that said, "Stop counting. Tell the experimenter you have seen this and win £250."
His conclusion? There is a clear correlation between being more open-minded and feeling lucky.
Plus, according to Wiseman, we can all train ourselves to be luckier, happier, glass is half full people.
How To Banish Bad Luck
Think you're unlucky? Consider the story of the man who contracted polio in his thirties, lost the use of his legs, lived through the Great Depression, saw his country dragged into a world war and died due to prolonged cardiac illness.
The man was Franklin Delano Roosevelt. A man who refused to let his illness slow down his political ambitions and instead became one of America's most celebrated presidents.
FDR brokered the New Deal, which helped reverse the effects of the Depression, championed civil rights, presided over the formation of the United Nations and was instrumental in securing the Allied victory.
His entire life philosophy can be summed up in one immortal phrase from his famous inaugural speech:
"First of all, let me assert my firm belief that the only thing we have to fear is...fear itself — nameless, unreasoning, unjustified terror which paralyzes needed efforts to convert retreat into advance."
Powerful words, and all too easily forgotten and relegated to the wheelie bin of "back then", when in actual fact, it's precisely the sort of defiant fearlessness we all need, right now.
Irrational fear is the enemy of luck, it holds you back and stops you from fulfilling your true potential.
So take control of this fear, show it who's boss, say, "I'm in charge here, not you", banish the fear and your bad luck will follow.
How To Get More Luck
Superstition is a two-way street.
Negative associations appear to bring bad luck, while positive ones bring good.
Why? Well it's all to do with how our brain fills in the blanks of our every day world.
And there are SOOOO many blanks to be filled, we generally don't notice them unless we look for them, though every so often a huge one is thrown right in front of us.
And whenever that happens two voices emerge:
Voice One: "Go for it!"
Voice Two: "Yeah but..."
The first instinct we call our "gut" reaction, and nine times out of ten it's right.
Because it's already noticed something important that your conscious self has not.
Think of it as your inner caveman. We all have it, that bit of our brain that got us all through the Ice Age and helps us navigate the law of the jungle. Really handy for staying alive, but don't ask for details, it doesn't do details, all it can do is grunt at you.
When it tells you to stop, stop.
When it tells you to run, run.
When it tells you to leave, get the hell out of there!
And when it tells you there's an opportunity – grab it with both hands!
But then there's the other voice, your inner civil servant, the one that says, "yeah but…"
It's the voice that only sees disaster, the one that only ever sees the bad in people. The voice that's never paid you a complement in your entire life.
"Yeah but" is an irrational voice, though. Like the caveman it's just a basic survival mechanism so don't ever confuse it for higher human logic and reason.
Instead open your eyes, widen your field of vision and broaden your spectrum of experience.
Be aware and mindful of all that's around you – open yourself fully to new experiences and new opportunities.
THIS is the true secret to being lucky.
And you can achieve it easily, all it takes is a little practice and, before you know it, luck and happiness will be yours.
Don't believe me? Well try it for a day and see. After all you've nothing to loose and everything to gain. Or would you rather look at rain instead of sunshine your entire life?
Make Your Own Luck!
Right, so, let's say it straight. The probability of you winning EuroMillions is very low.
139,838,160 to one.
Those are the odds.
Not the best odds, and we readily admit that.
Straight away logic fails. It's extremely difficult, if not impossible, for the human mind to process such a number.
So we do what we always do in these circumstances, we "fill in the blanks."
The pessimistic approach is to say that your chances are so infinitesimal as to almost be zero…. Almost.
But the happy, lucky person will always ignore the other number and focus squarely on the one.
There's always one chance to be had. One chance of happiness is very different to none.
Am I saying you're definitely going to win? No, but all those who did had that same slim chance as you.
Ever notice how winners always talk about how they had a feeling they were going to win? It's not because they were psychic, it's because they were in that open, winning state of mind. The one that never let's a good opportunity slip by.
And the chance to win €61 million EuroMillions jackpot for just €2 is too good an opportunity to simply ignore!
---