Lotto News 11 September 2017
Find the key to happiness!
Hygge: the Danish Art of Happiness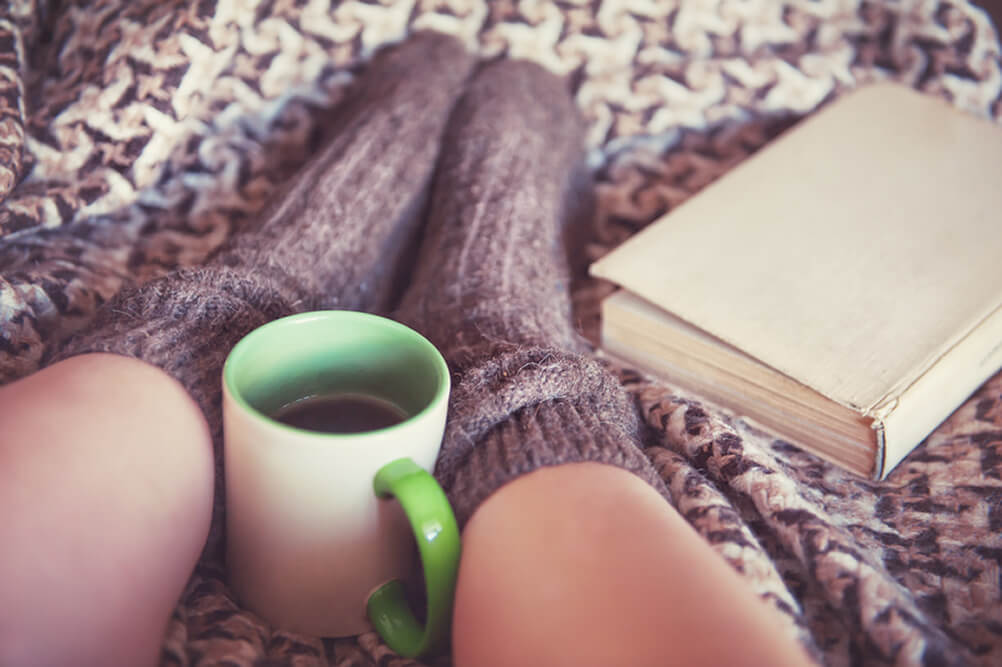 Can we be happy today?
In this day and age, we are engrossed in our work and our constant pursuit of a better tomorrow. We are constantly setting new goals and challenges for ourselves to move higher, make a career, have more money, buy new phones, cars or fashionable clothes. The development of modern technology and easy access to the Internet has meant that we now seem to spend most of our free time browsing news and watching the lives and successes of our friends, as well as celebrities we will never meet. Often (perhaps unconsciously) we compare ourselves to others, which pushes us deeper into the vortex of money and a kind of competitive striving for success.
As a result, many people complain about the lack of time and about overwhelming fatigue brought on by the demands of the modern world. People struggle to have any free time whatsoever from Monday to Friday. We do not have time to sit and meditate, read a book, meet with friends for a chat. After all, you have to stay longer at work, do the shopping, get things done at the office, fill out paperwork, meet with the accountant, pick up children from school or kindergarten, wash the car, cook dinner. By the time you do the housework, laundry, ironing, and so on you quickly find out that another day has passed and you have to lie down because tomorrow you will get up again at 6am.
So weeks and months go by, and we become increasingly overwhelmed and stressed. And even though your bank account appears to have more money in it, it can seem that it doesn't mean that we live better and our lives don't look as we would like them to. How to get out of this situation? What to do to be happy, even though the world is moving faster and faster?
Denmark - a nation that has discovered the key to happiness
The Danes have been at the forefront of the world's happiest people for years, and always rank highly in the 'World Happiness Report' carried out every year. Why are the people of this country so happy and what can we learn from them? Denmark is not a big country and the cold and rainy climate does not encourage its inhabitants to spend too much time outdoors. The history of Denmark is not too positive, as the Danes have lost every war they have been involved in for centuries. If we add to this some of the highest taxes in the world, it becomes hard to understand where the Danes are so lucky.
It turns out that the fortunate Danes are influenced by several factors which combine to lead to this feeling of national well-being. The role of the welfare state is of great importance here, with the heightened sense of security that this gives people, and the people themselves have become more open and confident in recent years. Free education and health care, high pay, and all sorts of benefits make Danes do not have to worry about their future and thus have more time for social and personal development.
Interestingly, scientists from the University of Warwick also showed that the people of Denmark are naturally happier than other nations because happiness is literally in their genes. Also, nations that are related to Danes are more fortunate than those who do not genetically have many relationships with them. In addition, the average Dane also has a higher level of serotonin, the so-called happiness hormone, which is responsible for our well-being.
However, many experts believe that Danish art of happiness really is something else. According to Professor Kaare Christensen of the University of South Denmark - Danes do not have the highest life expectancy, so they can enjoy small things and find peace in simple, everyday experiences. This unique approach makes it possible, despite many adversities, to focus on the things that are most important in life. A very popular saying in Denmark is "modest, but good". Is that hygge? Let's see!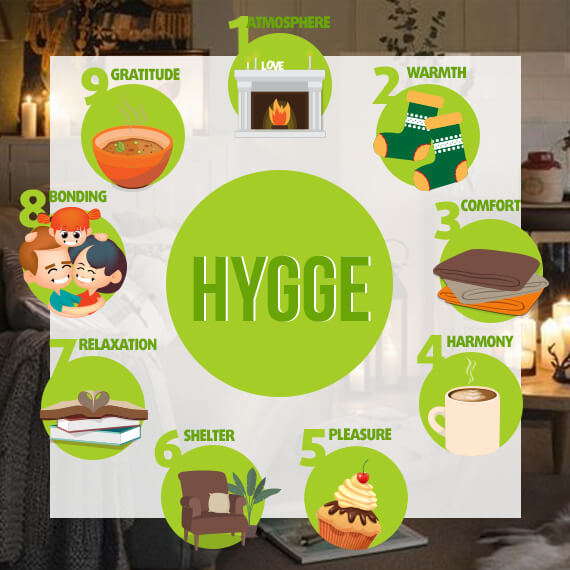 What is hygge?
The word 'hygge' (pronounced "hoo-ga") can't be translated into an equivalent word in English. A close comparison would be to say that the Danish hygge is about creating and experiencing a pleasant atmosphere or feeling of cosiness. This word comes from the Old Norse verb hyggia, meaning "to think" and "to be contented with something". Over time, hygge has also begun to mean "care," "security," "peace," and "home welfare," while borrowing the word "enjoy" and "comfort."
As you can see hygge can be described using various different words, but they are all talking about the same thing. According to the author of the book "The Little Book of Hygge", Meik Wiking, hygge is the art of creating a good atmosphere and the ability to find happiness in small pleasures. If you ask most Danes what the hygge philosophy is and why it enjoys so much popularity, they will just start laughing. Hygge is a natural way of life for them, so they are baffled that it has become some sort of product for export around the world, associated with a 'magical' good fortune. After all, to be happy it's enough to be yourself, enjoy life and do what makes you feel good. Marie Tourell Søderberg author of the book "Hygge: The Danish Art of Happiness" emphasizes that hygge can be found everywhere if you know what to look for.
Recipe for hygge, or how to achieve happiness wherever you are!
The Danish philosophy of happiness is currently enjoying great popularity. Fashion designers have grasped the concept of warmth and coziness and natural fibres. The Internet is full of fashion outfits, blogs, and tutorials on how to 'be hygge'. But the philosophy of this Danish ethos is a bit more complex than a sweater or a fashionable limited edition hygge lamp. What is the true recipe of Danish hygge?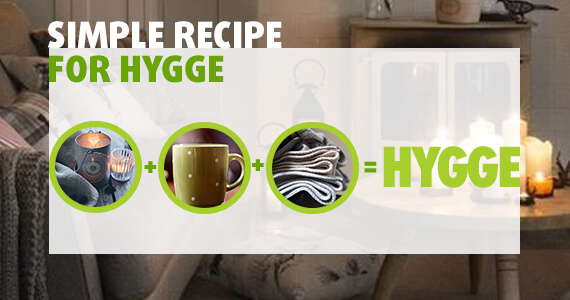 It is not difficult. Simply switch off your TV, radio, computer, tablet, mobile, and especially yourself. Go to the kitchen and prepare a cup of hot tea, coffee, cocoa, boiled wine, or a cup of any drink you love. Dress up in nice and comfortable clothes, get the warm blankets out from the wardrobe (or light fabrics in the summer), light candles or scents, turn off artificial and heavy lights and just relax. Dream and think about whatever gives you the most joy.
When do you feel the happiest? Is it reading books, meeting friends or having a big family meal? Is there anything you want to try out? Do you have a secret hobby or business plan that you haven't had the courage to try yet?
Try to plan a period of relaxation like this at least once a week, more if you can. In the beginning you may have trouble finding time. Think about what you would be missing from a your normal day? Would you spend it on social networks, watching youtube videos or one of those TV shows that repeats three times a day? Is this time spent more valuable than relaxing with a cup of good coffee and thinking about your life? Hygge is relaxation, it's the ability to live in harmony with yourself.
Ingredients needed for happiness
Meik Wiking, director of the Danish Research Institute for Happiness created the hygge manifesto, which describes all the ingredients of this delightful Danish philosophy of happiness. They include: atmosphere, presence (living in the here and now), pleasure, equality, gratitude, harmony, comfort, relaxation, togetherness and shelter.
Homely atmosphere is the basis
One of the most important ingredients of good Danish hygge is the warmth of home. And that does not mean a pleasant room temperature, but the feeling that you are really at home and there are people with you that matter.
Home is a place where you can relax and be yourself with your tracksuits and thick wooly socks. Nordic relaxation can be achieved in comfortable home-made clothes, a nice sweater, woolen socks, loose trousers, or wrapped up in a sheep's wool blanket. Once your hygge clothing is sorted, just find the most elegant corner in your house or apartment, get rid of strong artificial light, light a bunch of candles and drink a warm drink. Anything else? Just relax!

Light is one of the most important things you need to think about in order to create an atmosphere of hygge. Artificial light is wonderful, but a pleasant atmosphere brings is envoked by the use of candles. This is done by up to 85% of Danes, according to statistics - and an average citizen of Denmark burns about 6 kilos of wax a year. Incidentally, perfumed candles are not suitable for Hygge, as Danes consider them to be too artificial.
Connectivity and good social relationships
In hygge it is also very important to be able to break away from daily problems and activities that only take us free time. That's why it's a good idea to turn off your computer for a while, put off your phone or tablet and find a job that will make you stay here and now and above all recover the time you can devote to yourself and others. Because hygge is not about resting alone, but about proximity, bonding, the ability to maintain family relationships, and frequent contact with friends in a warm and important free atmosphere. It's not about inviting friends to a diner dinner at an elegantly laid table, but about comfort, a nice conversation with ordinary home snacks.
According to the European Social Survey, out of all European nations the Danes are the most likely to regularly meet up with family and friends. Good social relationships are so important to Danes that they are on average in 3 different organizations, associations and clubs that regularly meet and enjoy spending time together. In the end, you can't be happy while being alone.
The art of small pleasures
If you have managed to create a warm atmosphere in your home and detach yourself from everyday problems, it's time to enjoy it. If you feel like reading a book, listening to music, watching a movie, taking a hot bath, meeting friends, or taking your time and paying attention to your loved ones; just do it! Don't be afraid to enjoy your favourite snacks, chocolate or other sweets from time to time. In the end, hygge is the philosophy of happiness! Everyone should have a chance to relax and achieve inner harmony. Only in this way will we be able to see that our life is not so bad at all, that we have already achieved much of what we hoped to, and above all slowly learn to appreciate what we already have.
Make the time to have some fun, and your life will become truly hygge-filled!
Sources:
www.lottoland.pl
www.atlas.sk
---