Lotto News 17 June 2016
Go On Yee Boys In Green!
Ireland's Greatest Footballing Moments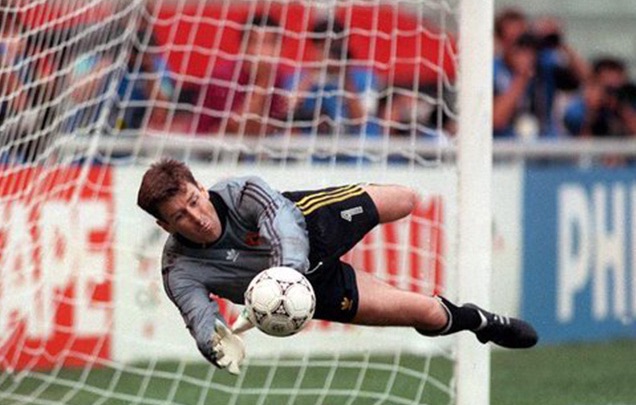 Fifty years ago England won the World Cup - and they've been banging on about it ever since!
More importantly though, thirty years ago a player from that winning team took over as manager of the Republic of Ireland - and thus began Ireland's journey to international soccer sucess.
Interesting times, it's a phrase that's been wrung out way too many times, but it's impossible to deny that the Charlton Years, 1986 to 1996, were anything but. Communism was collapsing, Mandela was freed, Thatcher was trounced by her fellow Tories – everywhere we looked there was change. And Ireland was no exception.
I don't think it's overly dramatic to say that our growing sense of optimism was nourished in that hot and heady summer of 1990, when we cheered the boys in green and Olé Olé Olé became the new Amhrán na bhFiann.
Ireland had qualified for the World Cup. And from here on in nothing was impossible!
#10 Ireland's Best Result
Even before our golden age Ireland's promise on the pitch was evident. Indeed, statistically speaking, this entry should be at the very top of the list; the match against Malta, who we trounced 8-0 at Dailymount Park in 1983.
Despite this performance we failed to qualify for Euro 84, though it did help sow the seeds for our first ever qualification four years later. So, in a sense, you can look at this as the moment when everything changed.
The pivotal match included goals by veterans like FAI Hall of Famer, Frank Stapleton, who shared the pitch alongside future heroes like Packie Bonar and Kevin Sheedy. It served as a "changing of the guards" of sorts, before Jack Charlton took over in 1986, and remains the highest number of goals ever scored in a match by the ROI squad. (So far!)
#9 John Aldridge Saves The Day
Having beaten Italy 1-0 in the opening match of USA 94, the nation was confident looking forward. But, following a gruelling match against Mexico in the sweltering New Jersey heat, Ireland's prospects looked grim.
Simply getting onto the pitch proved troublesome for Aldridge. At one point he started shouting obscenities at the dithering FIFA officials and we all shouted along with him.
Finally, Jack got the chance to make the substitution and it proved a smart move. Aldridge scored against the flamboyantly coloured Jorge Campos.
Despite Mexico beating us 2-1, we got through to the next stage – which we never would have done without John Aldridge.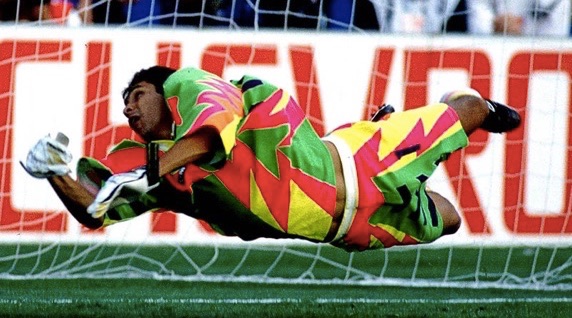 Jorge Campos, in one of his more reserved ensembles.

#8 Ireland Beat The World Champions
Our road to Euro 2016 had one huge obstacle in our path – the Germans.
Having won the World Cup with their devastating speed and skill the team seemed as insurmountable as the Berlin Wall when they took to the pitch in October last year.
Nobody thought we could hold out as long as we did, yet the Irish stood firm. Then, in the 70th minute, Shane Long's goal stunned the world.

Turns out even Justin Bieber is an Ireland fan, having congratulated the team via Twitter. (Ok Justin, your music's still awful but at least you've taste in sports!)
#7 Jason McAteer Gets Revenge On Holland
The Dutch have thwarted our efforts twice before. First in Euro 88, and again, in America, during the 1994 World Cup.
In 2001 the Dutch were looking to dash our hopes once more, but Jason McAteer had other ideas. Once again the goal came late in the game, at the 68th minute, though it still meant the team had to defend hard against the Dutch to ensure our entry to the Japan/Korea World Cup in 2002.
#6 Ooh Aah Paul McGrath!
Surely Ireland's most tireless, tenacious and dedicated defender; Paul McGrath is a national treasure who challenged an entire generation of the world's best footballers. His finest hour was in the New York Giants stadium, defending against Italy at the 94 World Cup. Even up against the likes of Roberto Baggio and Zola, McGrath stood firm. This, as the Joker told Batman, is what happens when an unstoppable force meets an immovable object!

#5 Robbie Keane vs The Germans
Here's a moment that proved hugely popular with our fans on Facebook, and again it involves the Germans. As is often the case with Irish football it was a nail-biting experience.
Having scored the opening goal, the Germans were content to hang back a little, hoping to coast through and have an easy match. For this they were punished, in injury time no less, by Robbie Keane.

#4 The Carnival Atmosphere of Italia '90
Many of our Facebook fans didn't cite specific games, but rather recounted their memories of Ireland's first World Cup appearance – a time of great celebration.
The party could be found everywhere, in factories, in hospitals, in schools and on the streets. Kids were left out of school early, adults left work or, if that wasn't possible, TV screens were brought in. These were special circumstances, and, for that whole summer, the nation celebrated as we never had before, or since.
We collected the Panini stickers, the commemorative coins from Esso and ate Mars bars because apparently that's what the Ireland squad ate too. We bought tricolour bunting, flew flags from every window and every single kid on the block had that exact same Jack the Lad t-shirt.
Jack Charlton, the Englishman who became an unofficial Irishman until Mary Robinson made it official and he became an honorary Irishman. But of course by then it was merely a formality.
Our followers on Facebook had some heart-warming stories to tell. One house had its front wall painted as a giant scoreboard, others threw huge parties that spread out into full-on neighbourhood events. All in all, a magical time.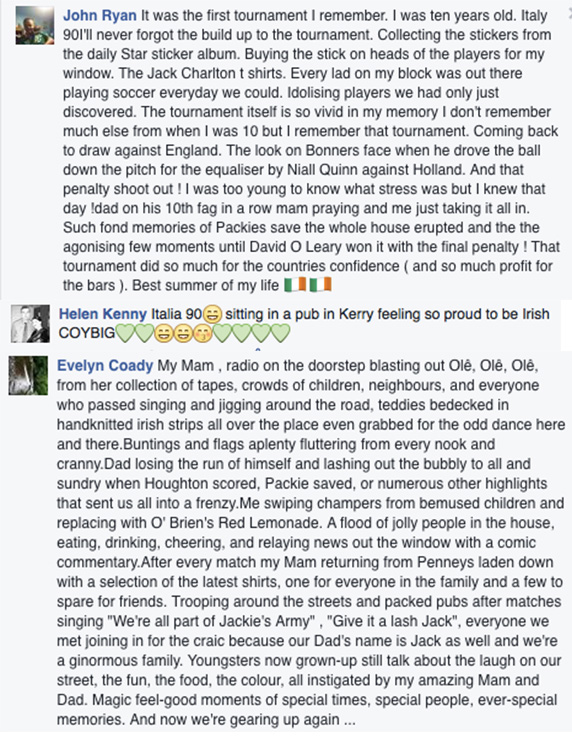 #3 Ray Houghton's Revenge Against Italy
We all chuckled at Colm Meaney's Schillachi t-shirt in the movie The Van, because we all remember how utterly depressed we felt when the Italians knocked us out of the 1990 World Cup.
Four years later, only minutes into the match at Giants' Stadium in New York, Ray Houghton exacted sweet revenge.
I recall watching the match at my friend's house when, during stoppage time, his dad dropped to his knees on the carpet like James Brown, banging the floor with one of those inflatable novelty hammers; "blow the bloody whistle ref! Blow the bloody whistle!"
Finally, he did. And the entire street erupted. The Italians were favourites to win the Cup, and we'd just beaten them 1-0!
#2 Who Put The Ball In The English Net?
Talk about beating them at their own game! Houghton, once again, scoring a historic 1-0 victory against England at Stuttgart in Euro 88.
The jubilation of that moment cannot be understated. One of our Facebook followers told us that her husband's cousin got so carried away that he jumped up into the air, almost getting filleted by a ceiling fan. But of course everyone just carried on watching the match! Sounds about right!

#1 The Nation Holds Its Breath
1969 – Americans landed on the moon. Who cares.
Ireland's "one small step" was a penalty shootout against Romania. And Packie Bonner was our Neil Armstrong.
For those few tense minutes a dome of silence descended over the entire country. The streets were deserted, no cars, no people, it was like the entire population had been abducted by aliens.
The nation didn't merely hold its breath, our sphincters, too, were all tightly contracted in unison. Terrifying, edge of the seat, fingernails drilled into the armrests, then O'Leary's goal, and Packie Bonnar's save – an explosion of noise and green colours, dancing in the streets, "Olé! Olé! Olé!"
Hair was pulled, furniture was inadvertently smashed and many of us ended up going out and getting smashed as well, at least that's how our friends on Facebook tell it.
The late Prince may have partied like it's 1999, but for Ireland, we'd rather party like it was June, 1990!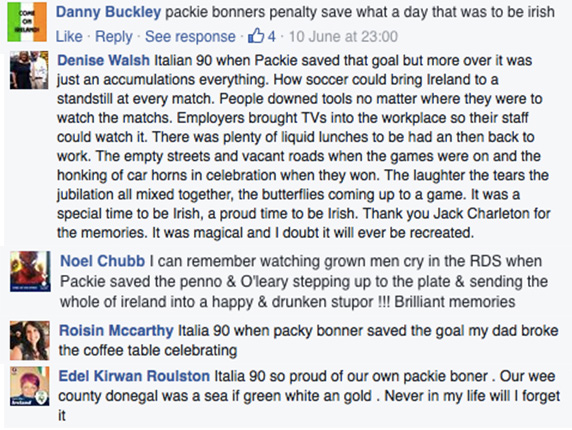 BONUS!
I decided leave you all with one last memory of my own which, I'm sure, will give you all a good chuckle – perfect Friday "the boss isn't looking" viewing to put a smile on your face.
Presiding over all these great moments in football, there was the late Bill O'Herlihy, flanked on either side by the diametrical duo of Dunphy and Giles.
Dunphy, in particular, proved troublesome to the nation's stomach but luckily there was an alternative. Flick over to Network 2 and you'd find the Den offering far more sensible and satisfying post-match analysis with Billo Hurling, Amoan Grumpy and Johnny Styles.
Enjoy! :D
Que Sera Sera...
Even two goals down, and completely outnumbered by French fans in their home stadium, Irish voices could be clearly heard. The Fields of Athenry floating up from the stands, the chanting and cheering each time we got posession. As Irish football has shown us time and time again you should never stop believing, there's always a chance, however slight. Which is precisely why Irish fans get so much love.
Dissapointed? Of course we are! Bit of a sore head? Quite possibly! Staring out the window at grey skies, everything now seems silent. But the sunshine will return, and we've still got plenty of summertime left to enjoy. Then, before you know it, The Boys In Green will be back in action, squaring off against Serbia for the 2018 World Cup!
Besides, with €44 million to be won this Friday there's still a chance you could win big in Europe this summer with EuroJackpot.
---