Lotto Winners 01 April 2015
From Ben Afleck To Peter Griffin - On-Screen Lottery Winners
Lottery Themes In TV & Movies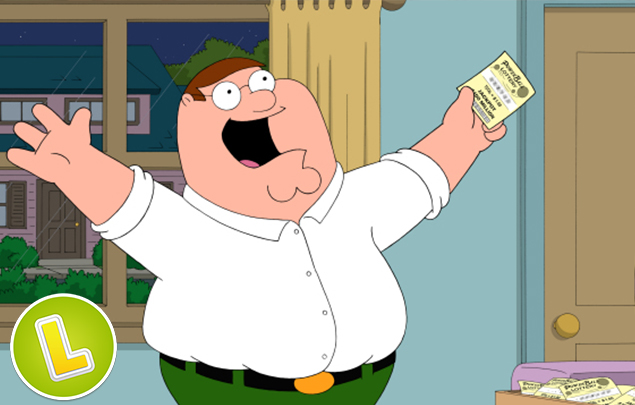 Lottery themes in TV
Rosanne
Following the success of The Cosby Show the 80s was plagued by mushy family sitcoms. Then along came Rosanne, the perfect, edgy antidote. As well as being uproariously funny and featuring a strong cast the one element that made the show so successful was its realism – the Connor family were far from affluent, they were a simple blue-collar family who struggled to make ends meet.
The show ran for nine seasons, by which point John Goodman was in the process of making the jump to movie roles. Winning the lottery seemed like an easy way to wrap up the show on a happy note, however later it was revealed in a later episode that the lottery win was all just a fantasy.
Their winning numbers were picked in an unusual fashion. The show's character Jackie choose the three first ones because she believed those were "just standard numbers" that had to be there. The number four was picked because Roseanne claimed that was the number of planets in our solar system. The number 8 was picked after the number of parking tickets she got in a specific parking lot and the number 36 was the number of times she salted her hospital food.
Friends
In an episode called "The One With The Lottery" the Friends gang get lottery fever after Phoebe's psychic predicts that they will win the lottery. In the end even sceptic Ross is won over. However they soon begin squabbling as to how to divide the winnings causing Phoebe to throw the tickets away. (She should have played online at Lottoland!)
The Office
In the US adaptation of The Office a syndicate of warehouse workers won a large jackpot and weren't subtle in their celebration. They ran through the office and mooned fellow staff members before quitting their jobs. The rest of the staff are dismayed and, with no warehouse workers to fulfil a large order, are forced to do the heavy lifting themselves.
The Simpsons
Springfield boasts not one but two lottery winners. The first was local news-hack Kent Brockman, who, while announcing the numbers live on Channel 6, realised he'd won the lottery himself. Not surprisingly Springfield's other residents weren't impressed.
Kent Brockman's Winning Numbers: 3, 17, 25, 38, 41, 49
In a later episode, "Million Dollar Maybe", Homer Simpson wins the lottery after a fortune cookie message tells him that he would have a lucky day. He buys the ticket at the Kwik-E-Mart and ends up winning $1 million – but there's a catch. To buy the ticket he had to break a promise to Marge, and so, rather than admit his mistake, Homer sets out to spend all the money as quickly as possible with the enthusiastic support of Bart.
Homer Simpson's Winning Numbers: 1, 6, 17, 22, 24, 35
Family Guy
Springfield wasn't the only animated town to get a dose of lottery fever. In the town of Quahog, Rhode Island, Family Guy Peter Griffin got such a severe dose that he ended up sending his family to the poorhouse, having spent every single penny they had on tickets. One of those tickets proved to be a winner, however, and the Griffins became overnight millionaires.
Of course Peter Griffin is not a man known for his smart investments. I mean how much do you think the Petercopter and the Hindenpeter set him back? Indeed smart isn't a word that one can readily apply to Peter Griffin, unless you're talking about his smart-ass comments. So it should come as no surprise that he blew all his family's winnings thus ensuring everything was back to normal the following week. Well, normal for the Griffins anyway.
Winning Numbers: 3, 31, 0, 8, 44, 17
The Lottery
In a storyline no doubt inspired by the success of the Children of Men movie adaptation, this American TV series was set in a dystopian future where a pandemic of infertility has ravaged the planet. In America only 100 human embryos exist in the hands of the "Department of Humanity" – who use a lottery system to divine who shall give birth to the children. The show's grim subject matter was perhaps the reason it only ran for one season.
Cold Case
In an episode called "Lotto Fever" the Cold Case team investigate a mechanic who, having won the lotto, seemed to have spent all his money before winding up shot. It's not the first time lotteries and whodunnits were combined. In "Death Hits The Jackpot" Columbo investigates a man who, while going through a bad divorce, wins the lottery and ends up murdered – though obviously Columbo gets to the bottom of it all!
Monk
Monk, the show about its eponymous the obsessive-compulsive P.I. is another detective series rich with lottery references, most notably "Mr. Monk and the Paperboy".
The episode involves a couple of lottery vendors stealing a ticket from an unknowing winner and then trying to keep the very same winner from seeing his numbers in the media. This includes stealing his morning newspaper from the doorstep, where the paperboy alluded to in the episode title meets his demise.
Winning Numbers: 8, 12, 17, 26, 34, 25
Lost
Anyone remember Lost? Of course you do. This show had us all hooked for the better part of six years. However, the supernatural and intriguing show failed to satisfy many of the fans with its 2010 finale. Many felt the show's now famous creators, J.J. Abrams and Damon Lindelof, failed to answer some of the plot's open questions. But if the finale didn't exactly offer the pay off everyone was hoping for, the show's supposedly cursed lotto numbers did. In the show, the character Hurley won over 100 million dollars using numbers that would stalk him throughout the remainder of the show. As often in fiction, the win didn't turn out for the better. But things are different in real life. In 2011, almost 26,000 fans won on MegaMillions after playing the very same numbers used in the show. Each and every fan won $150 each in a small scale case of life imitating art. By the way, had you or any other Lost fans won the jackpot with those numbers, you wouldn't have had to settle for a shared pot. Our NumberShield would have protected you and your jackpot from being split with 26,000 other players.
Winning Numbers: 4, 8, 15, 16, 23, 42.
Breaking Bad
Had Walter White actually won the lottery then maybe his story might have turned out much better – though it would have been far less entertaining.
Most of you should know the premise by now: Walter White is a chemistry teacher diagnosed with cancer. To secure the financial well being of his family after he's gone, he uses his chemistry skills to "cook" crystal meth. Throughout the series we watch as Walter (or Heisenberg to use his criminal alias) gradually transforms himself from Mr. Nice Guy to a ruthless drug kingpin.
By the fifth season of the crime drama White has literally racked up barrel-loads of cash. He hides his stash in the New Mexico desert and makes the best note-to-self ever by playing the co-ordinates of his stash on the lottery. He then puts the ticket on the fridge.
Winning Numbers: 34, 59, 20, 106, 36, 52
Ok, so I just did a round up of one of the most-watched shows of all time. But perhaps you didn't know this: if you type in the location of the stash (N 34 59'20 W 106 36' 52) in Google maps you get to the location of a certain Albuquerque TV studio, where a certain show was shot. No kidding.
Lottery themes in movies
Willy Wonka/Charlie And The Chocolate Factory
Lotteries aren't meant to be played by minors, but chocolate-coated nutcase Willy Wonka didn't care. He hid a handful of golden tickets inside his famous Wonka chocolate bars and those lucky enough to find one got treated to a tour of his ultra-secret Chocolate Factory – with hilarious consequences. The classic Roald Dahl book remains a firm children's favourite for over half a century and was the subject of both a 1971 movie with Gene Wilder and another with Johnny Depp in 2005, directed by Tim Burton.
Paycheck
Based on a short story by sci-fi master Phillip K Dick (on whose works movies like Bladerunner, Total Recall and Minority Report are based) Paycheck is a fiendishly clever sci-fi techno thriller starring Ben Afleck. As with much of Phil K's work it involves plenty of time-based paradoxes that – spoiler alert – results in the main character being able to predict a future lottery draw!
Winning numbers: 17, 44, 4, 26, 37, 40, 22
Lucky Numbers
Friends star Lisa Kudrow is back in another lottery story, this time starring alongside John Travolta. Lucky Numbers is a black comedy about a broke and morally dubious weatherman looking for a way to rig the state lottery so he can pay back his debts and come out rich on the other side. As you can probably guess not everything goes quite according to plan. Well worth watching if you fancy a few giggles.
Winning numbers: 22, 70, 16, 9, 27, 07
Lucky
In this black comedy protagonist Ben's lifelong infatuation for co-worker Lucy is finally reciprocated after he claims a $36 million state lottery win. Only there's a slight snag – Ben's a serial killer who killed, among others, the real lottery winner. And when Lucy finally discovers this things get a little complicated, to say the least.
Waking Ned
Ned Devine wins the lottery – then immediately dies of shock. His best friends decide that his good fortune need not die with him and therefore set out to claim the winnings "in his memory" by defrauding the lottery inspectors. The movie was quite successful both at home and abroad and quickly became a cult classic globally. It stars veteran Irish actor David Kelly, coincidentaly, also starts in the 2005 Willy Wonka adaptation.
Winning numbers: 19, 40, 4, 7, 25, 29
Lotto Land
Yup, we're so amazing they made a movie about us! Well, ok, you got me – this movie came out in 1995 and has nothing to do with us, other than having a similar name and featuring a lottery win as a plot device. Lotto Land was an independent movie set in the mean streets of New York combining an often-gritty setting with themes about following your dreams and finding love. To quote the movie, "if you can buy your dream for a dollar, that's all it's worth, ain't it?" We couldn't agree more.
Finder's Fee
A man named Tepper finds a wallet on the way home from work, and does the decent thing by tracking down the owner and letting him know he found the wallet. It later transpires that the wallet contained a winning lottery ticket worth $6 million. The twist is that Tepper and his friends have a weekly poker game where a lottery ticket is thrown into the pot, and he uses the lottery ticket he found, not realising that it was a winner.
It Could Happen To You
Perhaps one of the best-known lottery-themed movies, It Could Happen To You stars Nicolas Cage as a cop who, having been caught short changed at a diner, offers to tip his waitress (played by Bridget Fonda) with a lottery ticket on the promise that, should his numbers come up, he'll split the win. After the numbers do come up Cage decides to honour his promise – much to annoyance of his wife (played by tempestuous squawk-box Rosie Perez). If you haven't seen the movie already you should definitely check it out – it's a funny and touching story about greed versus integrity and finding true love.
Winning numbers: 6, 12, 16, 26, 64, 08
Lottery Ticket
This lottery-based comedy features the acting talents of Bow Wow and Ice Cube. It did not get a great critical reception. The movie follows Kevin (Bow Wow) as he discovers he has won an enormous $370 million fortune, and the complications that ensue when his friends, family and neighbours find out.
A Hollywood Ending…
If you too would like to hit the jackpot and ride off into the sunset and would like something a little bigger than this Friday's EuroMillions jackpot we've got the perfect alternative. It's called EuroJackpot, the young contender to EuroMillions' throne, and this Friday it boasts a jackpot of €36 million – which would make it a very Good Friday indeed! So if you haven't done so before it's the perfect time to play EuroJackpot!
---