Lotto Winners 15 May 2019
Fortunate Footie Fans
Lottery Winners Who Bought Football Clubs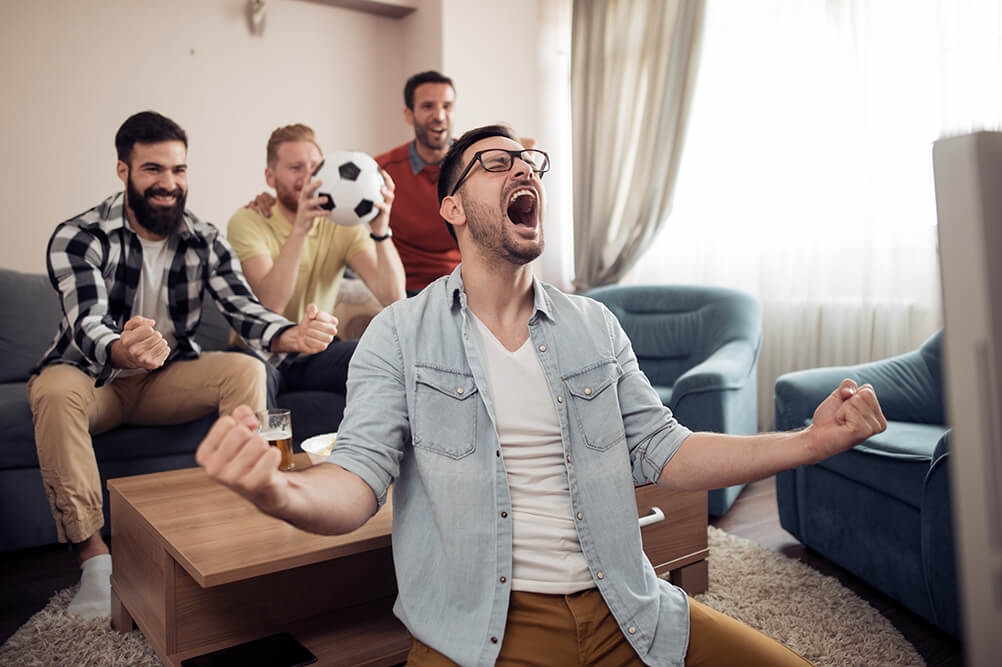 Here are four lucky lottery winners who used at least some of their winnings to invest in a local football club. Not always the wisest investment, but then football fans are not always the most rational of people!
NEWPORT COUNTY – LES SCADDING – SUCCESSFUL STINT

Welsh football club Newport County AFC has spent most of its history yo-yoing between the lower tiers of English professional football. An unlikely run in the European Cup Winners Cup tournament in 1980 was a bright point, but otherwise there has been little for fans to cheer in the hundred-plus years of the clubs' existence. Although they had no way of knowing, a lottery windfall was about to have a direct impact on their favourite team.
One of those fans decided to take matters into his own hands after scooping a jackpot of £45.5 million in June 2009. Bristol-born Les Scadding was a petrol-tank driver for 27 years before hitting the jackpot on Europe's biggest lottery. Scadding – or 'Lotto Les' as he became known – acted as chairman of the club between 2012 and 2015 and invested an estimated £1.25 million in the club. Since his time in charge coincided with County's promotion from non-league football back to Division 2 of the English Football League – where they narrowly missed a play-off place to Division 1 - he could justifiably claim to have been a success in the role.
LIVINGSTON FC - JOHN MCGUINNESS – RAGS TO RICHES AND BACK AGAIN

It is probably fair to say that John McGuinness had a less satisfactory time during his period as a football investor. The former nurse became Scotland's biggest lottery winner when he won more than £10 million on the lottery back in 1996. The sudden windfall enabled Mr McGuinness to move out of his parent's one-bedroom house, pay a lump sum to his ex-wife and arrange for a sumptuous wedding to his new bride. The Celtic fan was looking to invest in a football team, and after considering Motherwell and Hamilton decided to put a million pounds into Livingston F.C. from West Lothian.
Initially the club enjoyed great success, earning promotion to the Scottish Premier League and playing high-profile friendlies against internationally renowned teams like Manchester United and Newcastle. However, misplaced trust and a certain naivety was to prove John's undoing. In 2001 he signed a document related to loans taken out to the club, without realising that he would be responsible for these loans if the club defaulted. When this duly happened, McGuinness was liable for the debt and what remained of his lottery windfall was wiped out. These days the former winner would struggle to afford a season ticket for the club, much less a similar investment.
TORQUAY UNITED – PAUL & THEA BRISTOW - MOST GENEROUS LOTTERY WINNERS

Known as Britain's 'most generous' lottery winners, Paul and Thea Bristow certainly earned the appreciation of local club Torquay United for their unselfishness. Besides donating to worthy causes such as their local scout troop and a nature conservation programme, the Bristows stepped in to rescue the long-running club at their darkest hour. After 80 years in the football league, and many near-misses, Torquay were finally relegated to the Football Conference at the end of the 2006/07 season. With the club in dire financial straits it looked like the storied organisation may be about to go bust, until a certain lottery-winning couple rode in to save the day.
Paul Bristow led a consortium of financial backers to take over the club in 2007, and he was named as the new chairman of the club. Torquay made it back to the Football League at the end of the 2008/09 season, capping a remarkable turnaround for the club under the stewardship of Mr Bristow. Sadly, Paul passed away in 2010, but Thea remained involved with the club as a director. In 2013 she became chairperson of the club herself, still an all-too rare feat for a woman in the world of professional football. Even when stepping away from Torquay in 2015 for health reasons, Mrs Bristow retained the affections of the fans due to her continued selflessness. Despite the family having invested an estimated £3 million in the club since becoming involved, she sold her shares for just £1 to leave the club in a much more stable financial condition than it was when the lottery-winning benefactors arrived.
PARTICK THISTLE – COLIN WEIR – INVESTING IN THE FUTURE

Colin Weir and his then-wife Christine won a massive £161 million from the lottery in 2011. With so much money to spend, the couple were able to fulfil many personal dreams as well as sharing their good fortune with others. Luckily for Glasgow-based Partick Thistle F.C., some of that wealth would be coming their way to give the cash-strapped club a much-needed boost. Competing for fans in Glasgow with Scottish giants Rangers and Celtic has been a thankless task, so a lottery boost was most welcome.
Fortunately for the Glasgow minnows, Colin and Christine (since divorced) were long-standing fans of 'Thistle'. Rather than splash a wad of cash on the latest hotly-touted striker or midfielder, Colin hoped to have a longer-term impact on the club. With that in mind the lottery-winner donated £750,000 to create a youth academy for Partick Thistle in 2013, allowing the club to develop talent from within for the first time. Further donations have followed, totalling more than £2 million to date, which has allowed the academy to make large strides towards self-sufficiency. As a mark of its appreciation, Partick Thistle has made Colin Weir the first official patron of the club and renamed the main stand in his honour.
OTHER FORTUNATE FOOTIE FANS

Supporting a football team – especially one at the wrong end of the table – can lead to a lot of heart-ache. However, there are plenty more stories about footie fans whose support has indirectly led to a lotto win. Like Leyton Orient fan Paul Long who decided that his teams rare 3-0 victory was a lucky omen, and the ticket he bought as a result turned out to be worth a very fortunate £9.3 million. Meanwhile postman Matthew Evans was able to build a football pitch in his back garden and follow his beloved Wales team around Europe thanks to a £2.3 million jackpot win.
If you feel inspired by our footballing lottery winners, then check out some of the lottery bets available from Lottoland and see if you can hit the back of the net with a big win.
---