Lotto News 08 August 2016
Make This Summer Hotter Than Copacabana
Mega Sena – The Big Brazilian Lottery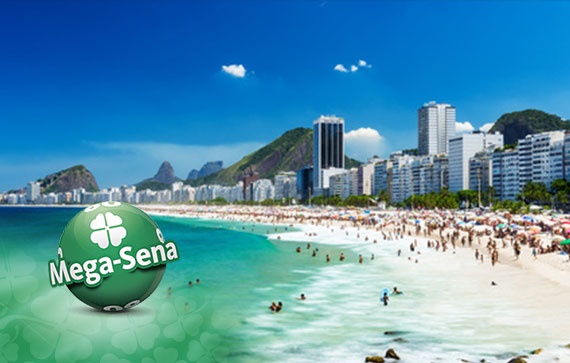 What do you think about when you think of Brazil? Coconut cocktails? Lush rainforests? Football and Formula One legends? Exotic ladies dancing at Rio carnival? Guys strutting in their speedos on Copacabana beach, waxed and tanned from head to toe? Or perhaps it's Christ the Redeemer on his mountain perch, arms spread wide so as to survey and embrace it all?
From our vantage point, with our never ending cycle of bright spells and scattered showers, Brazil appears as a bright and glamorous kaleidoscope of colour, sound and sensation. A land of constant sunny celebration obsessed with life, music and football, compared to here, where our ice creams are more likely to drown than melt mid-summer.
Now I know what you're thinking – sure, another man's grass is always greener. And in climate terms I know where I'd rather be, but what about the Brazilian lottery - how does that stack up then?
Mega Sena Facts
Mega Sena is the main Brazilian national lottery and costs €1.50 to play, so 50c cheaper than the Irish Lotto. The game is phenomenally popular in Brazil, where people generally play as part of a special syndicate known as a Bolão.
Draws are held either within a TV studio or in the "Luck Truck" – a special mobile drawing station that travels up and down the vast nation allowing members of the public to participate in the running of the draw.
The biggest ever regular Mega Sena prize was approximately €53 million, while the biggest overall prize was worth €74 million for the annual "Mega da Virada" superdraw of 2014.
Mega Sena Rules
Mega Sena is a very easy lottery to play. Simply pick six numbers from a range of 01 to 60 – and that's it! There are no bonus games, no additional draws/games to complicate matters, just pick and play!
Mega Sena Odds & Prize Tiers
Mega Sena has three large prize tiers. Match all six numbers to hit the jackpot, known as the "Sena." Match five to win the "Quina" or second prize or match four to hit the "Quadra", or third prize. You can get a full breakdown of the prize tiers in the table below.
| | | | |
| --- | --- | --- | --- |
| Prize Tier | Name | Prize Pool | Odds Of Winning |
| 1 | Sena | 35% | 1 in 50,063,860 |
| 2 | Quina | 19% | 1 in 154,518 |
| 3 | Quadra | 19% | 1 in 2,332 |
Mega Sena Vs. The Irish Lotto
Brazil versus Ireland isn't a match up I'd would have imagined happening in my lifetime, but after their 2014 World Cup performance I'm inclined to think we'd come out on top.
But let's forget footballs and look at lotto balls – how does the exotic, sun kissed Mega Sena fare against our trusty rain-drenched homegrown stalwart?
Well, in terms of price both games are well matched, but as far as odds are concerned the Irish Lotto has the Brazilians well and truly beat. Compare the maximum jackpot sizes, however, and Brazil once again gains the upper hand, though it should be noted with such a high lottery-playing population Mega Sena doesn't get anywhere near the same level of rollovers as the Irish Lotto, so the jackpot doesn't always get a chance to grow that high.
| | | |
| --- | --- | --- |
| | Irish Lotto | Mega Sena |
| Price | €2 | €1.50 |
| Format | 6/47 | 6/60 |
| Draws | Wed / Sat | Thur / Sun |
| Prize Tiers | 7 | 3 |
| Jackpot Odds | 1: 10,737,573 | 1 : 50,063,860 |
| Min Jackpot | €2 million | €1 million (approx.) |
| Record Jackpot | €18.9 million | €78 milliom (approx.) |
A Wild Brazilian Party Awaits You…
The Olympics aren't everyone's cup of tea, that's for sure, but everyone loves an unexpected windfall. And there's much to be said about trying something new – a change in direction often leads to a change in fortunes. So if you're looking for some sunshine in your life check out Mega Sena, the Brazilian Lottery today.
---