Lotto News 12 December 2019
Love, Luck and Money!
The 10 Strangest New Year's Eve Traditions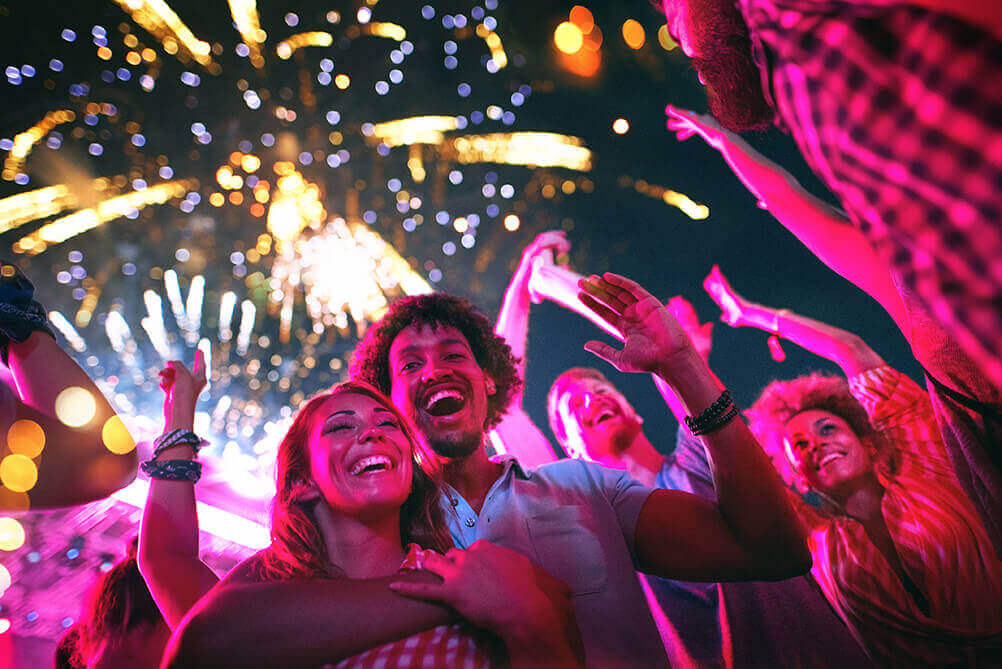 Staying with the positive mood for what lies ahead, Lottoland has prepared a special list for you featuring the 10 most interesting New Year's Eve traditions and superstitions from all around the world.
Just out of curiosity, or to have luck shine in your direction, why not have fun with our selection of strange superstitions? As a bonus, you'll get to learn all about New Year's Eve celebrations and to find a great way to compete for millionaire prizes without leaving home.
What are New Year's Superstitions All About?
The word superstition comes from the Latin "superstitio" and its meaning leaves no doubt: it is a belief without reason or facts to back it up - often attributing magical or fortunate explanations to certain events.
"Superstition" is a widely held but irrational belief in supernatural influences, especially as leading to good or bad luck, or a practice based on such a belief.
You have probably heard of dozens of superstitions: knocking on wood three times to ward off evil, avoiding walking under a ladder, or even waiting for extra money to come your way when your hand feels itchy.
And the New Year is the most popular time of the year for superstitions and lucky charms because it represents the end of one cycle and the beginning of another. Almost all of these are related to the rejection of the old in favour of the new and the pursuit of a greater good in the coming year.
In this article, besides learning all about New Year, you will also be able to check out the most interesting traditions from around the world. Let's get started!
How Did New Year's Eve Celebrations Begin?
As you can already imagine, New Year's celebrations are common to just about every culture. Regardless of the calendar adopted, celebrating the change of cycle is commonplace in countries all over the world.
We are accustomed to the Western New Year's celebrations, which began in 46 BC with a decree from the Roman Emperor Julius Caesar. It was he who set the first day of January as being New Year's Day.
And so the popular holidays began - each in its own way, they evolved to the familiar celebrations you know today.
But while sparkling wine and midnight fireworks are essential parts of New Year's Eve celebrations around the world, the superstitions and traditions vary from one country to the next.
Many have deep roots, others are just funny... some can even be quite dangerous! Are you curious? Then check out our list of the 10 most interesting New Year's Eve traditions from around the world!
Strange New Year's Eve Traditions from Around the World
Selecting the most interesting New Year traditions and superstitions is not an easy task: in a country like Brazil alone there are dozens of very curious habits to choose from. However, we have prepared a special selection with traditions from all over the globe and from various cultures. Check it out!
10 sTRANGEST NEW YEAR'S EVE SuperstiTIONS
OrigIN
SuperstiTION
Brazil
Jump seven waves
Spain
Eat 12 grapes at midnight
China
Don't sweep up
Brazil
Wear lucky colours
Belarus
Rooster ritual
Switzerland
Drop your ice-cream
Columbia
Burn last year's doll
South Africa
Throw furniture out the window
Brazil
Don't eat chicken or turkey
Philippines
Make some noise
1. Jump Seven Waves
Why don't we begin with some of those Brazilian superstitions?
If you've ever watched a Youtube video about Brazilian New Year's Eve celebrations, then you've surely seen people head to the seafront and start jumping over seven waves.
The belief is that 'Iemanja' - the Queen of the Seas will purify the energies of everybody who successfully jumps over the waves of her waters.
Whether it's tradition or just for fun, a little more positive energy doesn't hurt anyone, does it?
2. Plan Your New Year Colours
If there is one thing that Brazilians put a lot of value on it is their appearance!
Although the most commonly worn colour on New Year's Eve is white, you can vary your look with other shades and still enjoy making a splash and attracting what you want most for next year. At least, that is according to the local superstition.
Are you looking to win some cash, fall in love or to be healthier? Don't worry, the Brazilians claim that there is a perfect colour to achieve each of these goals:
THE BEST COLOURS FOR NEW YEAR'S EVE
CoLOUR
MEANING
White
Purity, Calm
Red
Passion
Yellow
Money
Blue
Harmony
Green
Luck
Pink
Love
Purple
Transformation
And there's nothing to stop you from mixing two or more colours to make all your New Year dreams come true!
3. Avoid turkey and chicken at dinner
Always a popular option at Christmas, these birds bump into New Year's superstition when it comes time to make up the New Year's Eve party menu. This is because there is a belief that back-scratching animals cannot be eaten on New Year's Eve, as they are unlucky.
This goes especially for chicken and turkey. According to supporters of this tradition, the solution to the menu is mainly pork: a beautiful ham guarantees luck and will still fill your party with flavour. Seafood is also a great choice to replace poultry on the menu.
So if you are planning a celebration with Brazilian friends, it is worth choosing the protein carefully and avoiding the dissatisfaction of the most superstitious guests.
4. Eat 12 grapes at midnight
Let's start talking about some New Year's Eve traditions from elsewhere in the world!
If you're spending New Year's Eve in Spain or many other Latin countries, the first few seconds after midnight may seem strangely quiet. But it's for a good cause: people's concern is to eat 12 grapes, one to bring good luck for every month of the year to come.
The rhythm is set by the clocks of church clocks in the first seconds of the new year. For those Spaniards who do not live near a church bell, several television channels broadcast the 12-second countdown; All in the name of bringing good luck all year long.
Well, it has been pretty quiet so far, right? Jumping waves, choosing your outfit, avoiding birds and eating grapes are all super easy to follow. Now let's start intensifying things a bit.
By the end of this list, you will be left wondering at what some people are capable of doing in the name of New Year's traditions!
5. No Sweeping the House
Want a good excuse for not having to clean the house on New Year's Day? Just say you follow the Chinese tradition.
According to this Oriental superstition, sweeping the house in the time when the calendar changes is the same as sweeping away good luck from your home.
Of course, if your little corner needs cleaning, that's a pretty hard custom to follow… but it also avoids a little work for a good cause!
6. Throw an ice-cream onto the floor
Swiss New Year has many things in common with the festivities of other Western countries: urban attractions, fireworks, drinks and special menus. But if you're there on New Year's Eve, it's a good idea to save some coins to buy an ice-cream with.
But don't think it's because you are about to start the year by cooling off in chilly Switzerland. Tradition says that you have to throw your ice cream onto the ground! That way you will be able to enjoy peace, wealth and good health for the next 12 months.
So, do you dare to destroy a delicious dessert in the name of this superstition?
7. Make some noise to ward off evil spirits
In the Philippines, fireworks are not just a visual spectacle, as the idea is to make enough noise to scare away evil spirits.
So whether you are looking to spend New Year's Eve in the capital Manila or on one of the stunning beaches in this Southeast Asian country, get ready to join in with one of the world's loudest New Year rituals!
8. Throw furniture through the window
In Johannesburg, South Africa, New Year's Eve has left a lot of people feeling nervous about the big night. Imagine that you are walking down the street and suddenly a nightstand collapses in front of you. Safe to say that would probably make you jump!
But this story is far from fiction. While this is one of the most recent superstitions on our list, this beyond-dangerous fashion is catching on in South Africa. But is it in the name of good luck or just making a mess?
Of course, we don't need to remind you that this is one New Year tradition which no-one should follow at home. Just here on this list you have seen a lot of other easier, cheaper, and more peaceful examples of earning some good fortune for the coming year.
9. Burn last year's doll
Do you feel the need to shake off your bad feelings after a disappointing year, or want to let go of all those negative energies?
Well, Colombian tradition will tell you that you need to make a doll that represents the year that is going away and then to burn it. But there's still a hint of pyrotechnics in this story: the doll must be stuffed with fireworks.
In other words, the idea is not just to burn last year's doll… it is literally to make it explode!
10. Let a rooster determine your future love
And to wrap up our list of New Year's superstitions, let's go with a matchmaking tradition straight from Belarus!
There, girls who want to get married have a rather unusual ritual when it comes to attracting a prospective husband. They wait for New Year's Eve and then sit in a circle, each with a pile of corn in front of them, and place a rooster in the centre of the group.
According to the ritual, the girl with the little mound of corn the rooster chooses will be the next to marry. A superstition very similar to that of catching the wedding bouquet, if you think about it!
What does New Year's Eve Mean?
New Year's Eve is the name given to the worldwide commemoration of the calendar's passage to the next year - regardless of which date system is used.
In most countries, the New Year's feast takes place on the evening of the calendar's turn, ie on the last day of the last month. However, in some cultures, such as China, New Year celebrations can last weeks.
Going back to the beginnings of this feast, the first day of the New Year was dedicated to the Ancient Roman god Janus - after whom January is named. In pre-Christian Roman times, Janus was known as the god of new beginnings and gateways, so perhaps New Year celebrations haven't changed all that much over time after all!
The Date of New Year's in Different Cultures
And since we're talking about so many different cultures, did you know that the celebration on December 31st / January 1st only happens in some parts of the world? For other countries and religions, the calendar year changes at very different times.
For China, Taiwan, Hong Kong, Macao and Singapore and some other eastern locations that follow the lunar calendar, the New Year takes place from January 21st to February 21st at the famous Spring Festival.
Meanwhile, the Jewish New Year, called Rosh Hashanah, is celebrated between September and October. More specifically in the first two days of the seventh month of the Hebrew calendar.
Islamists celebrate Hijri New Year, held on the first day of Muharram between September and December. Since the Islamic lunar year is much smaller than the Gregorian solar calendar, the exact date may vary widely.
But the most curious case is undoubtedly that of India. With so many different regional cultures and religions within the same territory, there are over 15 different New Year celebration dates on Indian lands.
Start the New Year as a Millionaire
Ultimately, all of these superstitions boil down to one principle: the wish for even better, happier days in the year to come. But you can do more than just relying on superstitions to have a chance at a more prosperous future.
Place a bet on MEGA 2020 or any of the many lottery betting options available at Lottoland and with a bit of luck you will get the new year off to a winning start!
Happy New Year!
Sources:
https://www.redtedart.com
https://blogs.transparent.com
https://www.foodrepublic.com
https://thehoneycombers.com
https://www.ceifx.com
https://www.washingtonpost.com
https://theculturetrip.com
https://www.mentalfloss.com
---