Lotto News 16 June 2015
Win Multi-Million British Jackpots
Play The UK Lotto From Ireland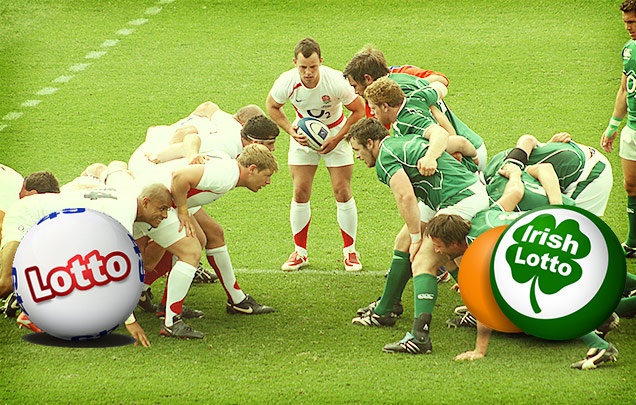 So, get ready. It's time for a lottery lineout - in this article we put both lotteries head to head to see how they fare. Who will prevail, the high-jumping jackpots and raw power of the British, or the tenacious, hard-driving, high-scoring Irish Lotto?
UK Lotto Facts
The UK Lotto has been running since 1994 and celebrated its anniversary last November. In 2012 the lottery celebrated its 3,000th millionaire. The highest jackpot to date is £42 million (approx. €56.86 million). Draws are broadcast on the BBC and, like the Irish Lotto, are held every Wednesday and Saturday.
UK Lotto Rules
Playing the UK Lotto is easy. In fact, if you've ever played the Irish Lotto then its UK cousin shouldn't present any difficulty whatsoever. The basic game structure is pretty much the same; six numbers are drawn, plus a bonus number. The only difference is that you've more numbers to pick from – six from 49, rather than just 45 for the Irish Lotto.
UK Lotto Odds & Prize Tiers
The table below provides a breakdown of the different prizes plus their respective odds of winning. The prize amounts in the third column are average prizes and are subject to fluctuation, as, indeed, are the currency conversion rates in Euros.
UK Lotto Vs. Irish Lotto
So, how do these two lotteries stack up? Well as you can see the Irish Lotto is cheaper and has better odds but the UK Lotto wins hands down when it comes to money paid out. (Note that the information in the table below is subject to change, in particular currency exchange rates, which may have fluctuated considerably from time of writing.)
Head To Head
So, which lottery are you going to go for this Wednesday?
Well, if you want to play it safe and go for the lottery you know and love, with a comparatively low jackpot of €2 but better jackpot and overall odds, then you can play the Irish Lotto.
But, if you fancy a change, not to mention a chance to win nine and a quarter times as much, a staggering €18.5 million (which, itself, is 4 million shy of the highest ever Irish Lotto jackpot), then it's time to reach out across the Irish Sea and play the UK Lottery from Ireland.
---