news 30 September 2016
Where The Record Breaking Jackpots Were Won
The Top 5 Biggest EuroMillions Winners Of All Time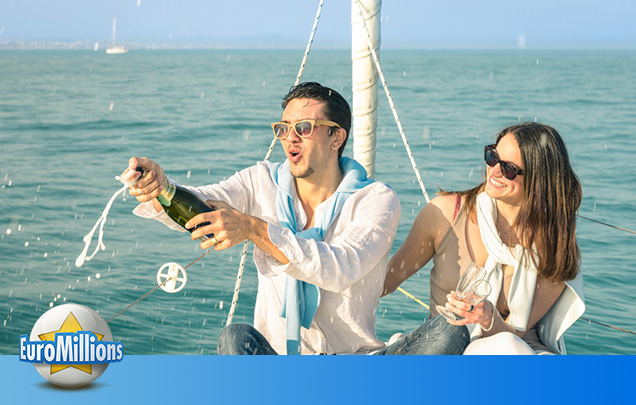 Top Five Record EuroMillions Jackpots
Europe's most popular lottery, without a shadow of a doubt, is EuroMillions. (It's also the most popular lottery with our friends on Facebook.) In terms of jackpot size it also ecclipses its closest rival EuroJackpot, Europe's other big multi-national lottery, by a considerable measure. As of 2012 the EuroMillions jackpot size has been capped at €190 million though as the lottery continues to thrive further increases to that amount in future cannot be ruled out.
Play now
For now, however, the highest amount won in EuroMillions is €190 million - an amount which has been won not once but twice since the jackpot cap of 2012. In the map below you'll see where the top five EuroMillions jackpots were won, followed by leaderboard table and winner profiles.
Biggest EuroMillions Prizes
Rank
Date
Prize
Location
1
10/08/2012
€190 million
England
2
24/10/2014
€190 million
Portugal
3
25/06/2013
€187.9 million
Ire/Bel
4
12/07/2011
€185 million
Scotland
5
13/11/2012
€169.8 million
France
EuroMillions' third largest jackpot was split by two winners, one from Limburg in Belgium and one from Dublin, Ireland, earning each of the lucky anonymous winners €93.9 million.
The biggest overall win in Belgium to date is €100 million, claimed by an anonymous winner back in 2007. The largest Irish win so far remains that of Dolores McNamara from Limerick. Her massive €115 million win back in 2005 made her the first of many record-breaking EuroMillions winners. (More on her in a bit.)
So, techncially Ireland gets into the top three but since we're talking about the BIGGEST winners here and a shared win it doesn't technically count. So, let's instead look at the table below, and the biggest single winners of all time:
Biggest EuroMillions Winners
Rank
Date
Prize
Location
1
10/08/2012
€190 million
England
2
24/10/2014
€190 million
Portugal
3
12/07/2011
€185 million
Scotland
4
13/11/2012
€169.8 million
France
5
20/11/2015
€163.5 million
Portugal