Lotto Statistics 07 December 2018
Crazy Lotto Stats
40 Fascinating Lottery Facts & Figures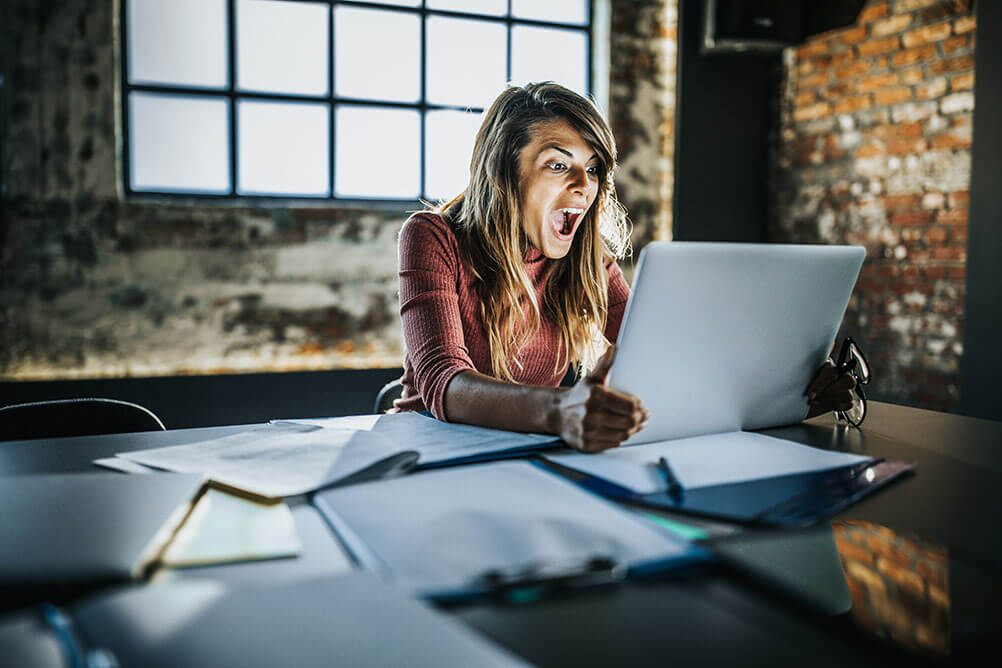 Have you heard the one about the man whose bad maths led him to a lottery windfall? Or about the trucker who rose from the dead to become a two-time lottery winner? Get ready to have your mind blown as we present our list of the forty craziest lottery stories, statistics and facts.

THE NUMBERS GAME
1. Who enjoys a flutter on the lottery more, men or women? Well, according to a 2013 survey 55% of males were positive about lotteries as opposed to only 42% of women.
2. A survey found that 99% of British lottery winners kept playing after their numbers came up. And of those, 70% were sure that they would win again.
3. According to statistical research American winners don't claim an astonishing $2 billion worth of lotto winnings every year.
4. Where would you store your winning lottery ticket so nobody else could get their hands on it? Apparently almost 30% of female lottery winners keep their lucky ticket safe and sound in their bras.
5. Surveys found that 48% of British workers kept working at their day jobs after hitting the jackpot. In contrast, Seems like Americans are happier in their jobs as 67% said they wouldn't quit even if they won $10 million.

6. A UK survey found that the average lottery winner buys 4.5 cars, but 10% of those winners buy 10 or more. Not sure why they'd buy half a car but when you're that rich, why not?
7. Think that lotteries aren't fun? Well seems like the average American doesn't agree. In 2016 Americans spent $80 billion on lottery tickets; more than the amount they spent on movies, sport tickets, books, music and video games put together.
8. A Dublin-based syndicate led by an accountant of Polish origin came up with a plan to 'buy' the Irish lottery. They spent 6 months and £820,000 trying to buy every possible combination of numbers for the £1.7 million lottery jackpot. They managed to buy 80% of the tickets, enough to make a profit of around £310,000.
9. It's the age-old question about lotteries: does hitting the jackpot really make you happier? A survey of winners found that the answer was 'Yes' with 55% saying the win had improved their mood, 43% that it made no difference either way and an unlucky 2% who said the win made them less happy than they had been before.
10. A lottery win as big as $11.2 million would go to a lot of people's heads, but not Allen and Violet Large from Canada. The couple in their 70s gave away every single cent of their jackpot win, with most of it going to hospitals.

LUCKY LOTTO WINNERS
11. He has been dubbed both 'the world's luckiest man' and 'the world's unluckiest man', but Croatian Frane Selak had the last laugh. After surviving 7 potentially fatal accidents involving cars, trains and planes over the course of his life, his luck turned at age 73 when the ex-music teacher landed an €800,000 lottery win.
12. What could be better than winning the lottery? How about if all your friends, family and neighbours won too? That's what happened when every resident in the tiny town of Sodeto, Spain bought shares in the same winning number on the Spanish Christmas Lottery. Every resident except one: a Greek man who didn't share the Spanish obsession with this lottery.
13. Aussie trucker Bill Morgan was declared legally dead for 14 minutes after a crash, but miraculously came back to life. He bought himself a scratch-card to celebrate, and won a car worth $27,000. When a TV crew asked him to buy another to recreate the moment, his luck got even better as the new ticket was worth $250,000!
14. Ever had one of those moments when you don't have any change for a tip? In 1984 a New York police officer solved this problem by tipping his waitress with a share in his lottery ticket. When it won $6 million he kept his word and gave her half.
15. One Chicago couple took the concept of remaining anonymous after a lottery win to the next level. They kept their jobs after winning $30 million and didn't tell anyone at all about their win, not even their two teenage kids.
16. Winning the lottery once is enough for most people, but Joan Ginther managed to hit the jackpot in the Texas lottery 4 times in a decade. The fact that she is a former math professor with a PhD in Statistics from Stanford University led to speculation that she had a secret winning formula, but if that was the case she elected to keep quiet about it.
17. When a record 110 people claimed the second prize (between $100,000 and $500,000) of the March 30 Powerball draw, officials suspected foul play. Turns out they had all used the numbers found in fortune cookies manufactured by the same company.
18. When a North Carolina man asked his wife to pick up a couple of Powerball tickets she decided to teach him a lesson. She bought a $10 'Carolina Millions' ticket to prove that lotteries are a waste of time - and ended up winning a million dollars!
19. Traditional wedding vows speak of sticking together 'for richer, for poorer', but it seems that not everybody agrees with that sentiment. When Denise Rossi won $1.3 million in the California lottery she immediately applied for a divorce without mentioning the big win to her husband. He discovered her deception years later thanks to a wrongly mailed letter, and was awarded the full amount of the win in court.
20. Even celebs like to try their luck on the lottery once in a while. Pop Queen Madonna managed to win €120,000 on the Italian SuperEnaLotto which she generously donated to a charity helping to build schools in Malawi.

LOTTO HISTORY
21. The earliest lottery games have been dated all the way back to 100BCE in Ancient Rome and even earlier in China. Augustus Caesar brought in a lottery where all citizens of Rome could buy tickets for prizes consisting of the treasures the army had brought back from their latest conquest. Some of the money raised by this lottery went into the care and upkeep of the city.
22. Going back to around 200 BCE, the Western Han Dynasty used a lottery to pay for repairs and additions to the Great Wall of China.
23. Lottery draws these days are often hosted by glamorous TV presenters flanked by serious-looking accountants. England's first official lottery had a higher wattage celebrity take charge when it was held by no less than Queen Elizabeth I, 450 years ago.
24. You could say that a lottery was at least partly responsible for the founding of the United States. King James I granted the Virginia Company of London authority to hold a lottery to raise funds for a great exhibition. The profits from this exposition were used to create Jamestown, the first English colony in the New World.
25. The title of the world's biggest lottery goes to the famous Spanish Christmas Lottery, often called 'El Gordo' (the fat one) after its top prize, due to its massive prize pool of €2.3 billion. This lottery started in 1812 to fund Spain's war against Napoleon's armies, with orphan boys used to pick out the winning tickets from golden pots. Today school-kids from a former boys' home announce the winners in song form during the live TV show that accompanies this much loved lottery.
26. Ancient Roman Emperor Elagabus organised what must go down as one of the nastiest lotteries of all time. He distributed free lottery tickets by catapulting them into the city where the people would scramble for them, which seems pretty generous on the face of it. However, the dangerously temperamental emperor decided to liven things up by adding venomous snakes in with the tickets. Later on, some of the prizes were replaced with less desirable objects such as a dead dog or even an order for the ticket-holder to be executed.
27. The celebrated 17th century French writer Voltaire famously stated that 'Common sense is not so common'. He showed plenty of sense early on in his life when he teamed up with a statistician to win the French lottery. Removing pesky financial worries allowed him to flourish as a writer and philosopher.
28. In an astonishing coincidence, a lottery held by the Zimbabwe Banking Corporation was won by none other than Zimbabwean president Robert Mugabe in 2000. What are the odds of the (allegedly) corrupt president getting such a lucky break?
29. The origin of some words has been lost in the mists of time, but we're pretty sure we know where 'lottery' comes from. The Dutch word of 'lot', meaning a share of something became 'loterij' and by the 16th century we had arrived at 'lottery' via the Italian 'lotto' and 'lotteria'.
30. The Irish Sweepstake lottery became hugely popular all over the world between the 1930s and 1960s. It was illegal in dozens of countries but tickets were still smuggled into destinations all over the globe. Although the Sweepstake was supposed to be raising money for Irish hospitals, in fact corruption from the operators to the ticket-sellers meant that only around 10% actually made its way to those needy hospitals.

WACKY WORLD OF LOTTERIES
31. A Chinese bank manager came up with a rather risky financial plan when he decided to steal $26,000 from his bank and use the money to buy lottery tickets. Amazingly his plan succeeded and he won enough to repay the cash and make a good profit. However, his luck ran out when he tried the trick again with $6.7 million, losing all but $95,000 of it and ending up in custody.
32. Even the Vatican has its own lottery. Tickets cost €10, the top prize is a car, and all of the proceeds go to the Pope's charities.
33. The Swedes have come up with an interesting variation on the lottery. The speed camera captures the licence plates of motorists who are speeding as well as those keeping to the limit. One of the law-abiding drivers will be randomly selected to win a percentage of the fines imposed on the speeders.
34. In 1992 a group of Australians pulled off an audacious assault on the Virginia lottery in the USA. Backed by 2,500 investors they bought just about every combination possible for an outlay of $5 million, and scooped the $27 million jackpot.
35. Another person who earned the moniker 'luckiest man in the world' is Mohammad Basheer from India. He was a passenger on the Emirates plane which crash-landed and exploded on the Dubai airport in 2016. Not only did the 62-year-old escape unscathed, but the lottery ticket he had bought a before boarding was worth a cool million dollars.
36. When the same six numbers were drawn in Israel's state lottery twice in the same month it defied odds of trillions to one. When the same thing happened in consecutive Bulgarian lottery draws in September 2009 the authorities got involved, but it turns out that the coincidence was a genuine one.
37. The Indian government came up with a way to use the lottery format to tackle the rapidly escalating population growth in that country. People who volunteered to be sterilized are given 600 rupees and entered into a lottery where they can win various electrical household products and a top prize of a new car.
38. In China, lottery winners are required to turn up in person to claim their winning cheques and pose for publicity snaps. However, a loophole in the rules means they are not required to show their faces on these occasions. This has led to numerous winners donning different costumes so as to retain their anonymity, with Mickey Mouse, Baymax and giant pandas among those hitting the jackpot in recent years.
39. Every time that you buy something in a shop in Taiwan, you are earning yourself a lottery ticket. That's because every receipt at every store is a ticket for a government lottery which has top prizes worth more than $300,000. The government introduced this scheme in 1951 to combat stores which were avoiding paying sales taxes by not providing customers with receipts.
40. Some time in the mid-70's, a Spanish gentleman went in search of a lottery ticket ending in the number 48, for the Spanish lottery. He succeeded in his quest and as luck would have it his ticket was a winner. When asked why he was so insistent on finding that exact number he replied, "I dreamed of the number seven for seven nights. And seven times seven is 48."
Whoever said that maths were important in life?
If you have been inspired by any of these remarkable stories then you may just feel like taking a chance on one from the range of international lotteries available online with Lottoland.
Sources:
https://edition.cnn.com
www.washingtonpost.com
www.therichest.com
www.smithsonianmag.com
bestlifeonline.com
www.kickassfacts.com
www.maltatoday.com.mt
www.telegraph.co.uk
https://crazyfacts.com
http://news.bbc.co.uk
www.newschannel5.com
---