Lotto News 03 January 2017
It's Aussies Vs. Yankies!
US Powerball vs. Australian Powerball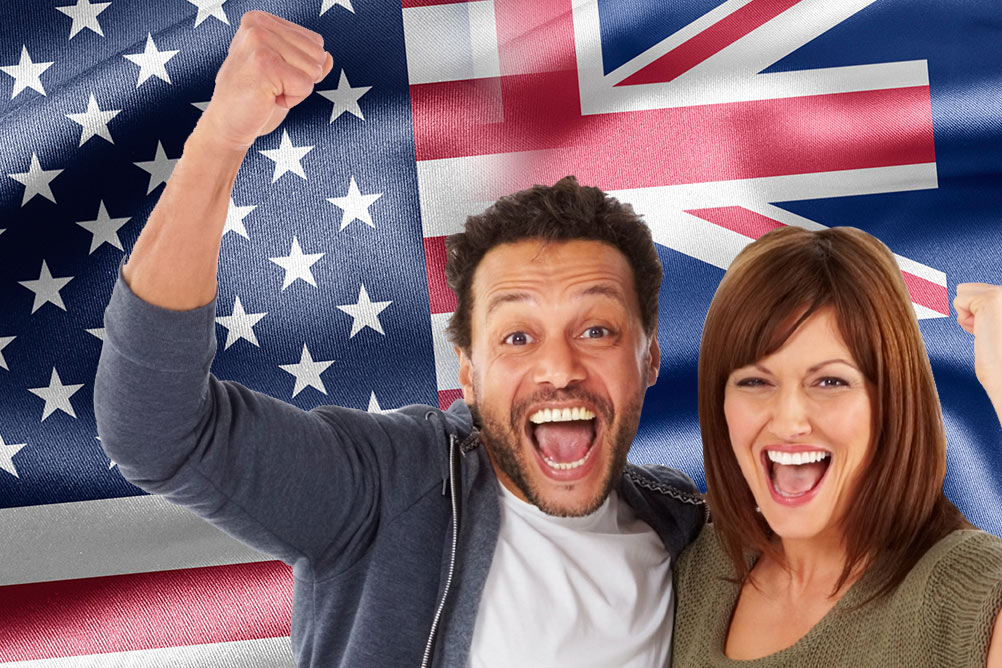 First off, by size and scale, it's clear to see that American PowerBall is the clear winner. Though that's hardly a surprise given the fact that America's also the world's largest economy and Australia's currently ranked #13.
In terms of population, and therefore potential players, the US beats Australia many times over. There's over 324 million Americans in the world, compared to 24 million Australians. (Of course Australians are enthusiastic travellers, born with a backpack in some cases, which makes it seem like there's way more of them!)
When comparing lotteries it's not always about the big numbers, however. Yes we want big jackpots, but we also want decent odds of winning! And when viewed in this manner the playing field suddenly becomes way more evenly matched.
American Powerball
PowerBall started back in 1992, and it was itself a reinvention of a previous lottery called Lotto*America. It was the first of its kind, using two drums – a regular number drum plus a second for the Powerball numbers.
This new format would inspire other lotteries worldwide, including rival American lottery MegaMillions and, closer to home, EuroMillions.
PowerBall has the distinction of having the most record jackpots of any lottery in the world. Last year, January 2016, it took the title from MegaMillions in spectacular style when it became the first jackpot to exceed $1 billion US. The jackpot eventually rolled over to coming in at $1.58 billion, or over €1.2 billion, making it the biggest lottery jackpot of all time.
To win the jackpot in you need to match 5 from 69 regular numbers and 1 Powerball from 26. No easy feat, however; your odds of winning the jackpot are 292,201,338:1, making it the second most difficult jackpot at Lottoland.
There are nine prize divisions in total, however, and your overall odds of winning a prize are less than 25:1. This beats Australian Powerball, which has only eight, and higher overall any-prize odds, at 78:1.
PowerBall also has a special feature called PowerPlay, a multiplier feature which increases the size of non-jackpot wins by up to 10x.
So, in a nutshell, PowerBall offers huge jackpots at poor odds, average winning odds overall plus the ability to multiply non-jackpot wins by up to 10x. It should be noted, also, that last January's record jackpot was a freak occurance and nothing's come close since.
Australian Powerball
The Australian Powerball held its first draw in May of 1996. Since then the lottery has grown in popularity and provided some of the biggest Australian jackpots of all time. This includes 2009's record jackpot of $80 million AUD (approx. €54.8 million), the second largest jackpot ever won in Australia.
With minimum guaranteed jackpots of $3 million (approx. €2 million) Australian Powerball is seriously outperformed by its American namesake in the jackpot department, as the graph below shows.
So it's significantly smaller in jackpot terms, but at the same time you're almost four times more likely to hit a jackpot with Australian Powerball than you are with the American original. Unlike the US version, though, there's no extra multiplier feature like PowerPlay.
The format of the Australian Powerball (6 from 40 plus 1 extra number from 20) offers odds of 76,767,600:1, versus American PowerBall's astronomical odds of 292,201,338:1.
Finally, there's one area where Australia is a clear winner – price. A game of American PowerBall costs €3, double Australian PowerBall's price per line. This not only gives Australian Powerball a considerable advantage against it's American counterpart, at just €1.50 a line, it's a serious contender against more familiar games like EuroMillions too.
Similarities
Besides the name there really isn't much these two lotteries actually do have in common. Yes, both games feature a special "Powerball", but the number range of these Powerball numbers, and indeed the number range of both games as a whole, differs hugely.
The only other similarity is that both draws are held on Thursdays. Well kinda. America's Wednesday night draw corresponds to 4am on Thursday, Irish time, while Australia's draw, on Thursday night, corresponds with our Thursday morning. So one's hours behind us, another plenty of hours ahead so it's really just a happy accident that both happen on the same day.
Conclusion
So, have you picked a winner yet? Because we're still having a tough time.
In terms of jackpots, American PowerBall wins hands down. Same goes for overall winning odds. The addition of the PowerPlay option to multiple non-jackpot wins only sweetens the deal. In terms of bang for your buck, American PowerBall gives you more of everything.
Unfortunately that also means more odds stacked against you, whereas you're almost four times more likely to hit the Australian Powerball jackpot, on a lottery that's half the price.
So, my advice, try your luck on both! Have a small, €1.50 flutter on Australian Powerball and go big with American PowerBall – only at Lottoland!
---